Pom-Kee
Pomeranian / Keeshond Hybrid Dogs
Information and Pictures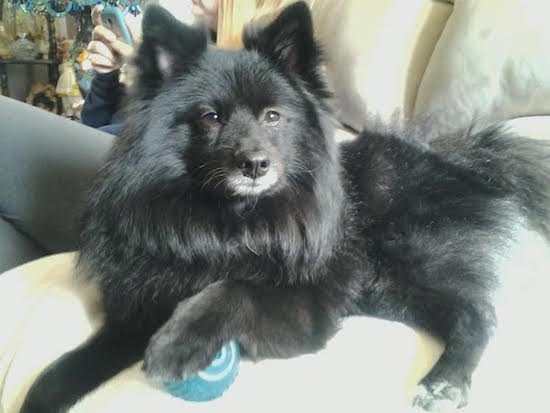 Kota Bear the Pom-Kee at 5 years old—"Hello! Kota's mother was a 7-month-old Keeshond and his father a 2-year-old Pomeranian. At 5 years old, he weighs 22 pounds (10kg.). He is very smart and watches TV with me and interacts with animal shows, barking and jumping up to the screen with a toy in his mouth! He is very loveable, loyal, smart, and still plays with his toys, with me. He has a high level of separation anxiety, as I'm disabled and I am with him all the time. He was easily trained for tricks, and can bring me toys I ask for, by their name (even from another room). I got him when I was newly widowed, so he's very psychic-like with my moods. He's usually at my feet, but if my eyes fill up with silent tears, he somehow knows and jumps up next to me to kiss the tears away. He loves everyone in my circle of friends and family, but will bark (as a warning) to a stranger until I tell him it's ok. He knows our daily routine to the point he reminds me when it's time to eat and sleep. Yes, he "talks" to me even from the next room, to get my attention if his treat time is late. He waits at the door and watches the driveway when I tell him who is coming to see us, until they pull in, then he barks hello and leads them to me. He is the love of my life and best friend I ever had."
Other Names
Pomkee
Description
The Pom-Kee is not a purebred dog. It is a cross between the Pomeranian and the Keeshond. The best way to determine the temperament of a mixed breed is to look up all breeds in the cross and know you can get any combination of any of the characteristics found in either breed. Not all of these designer hybrid dogs being bred are 50% purebred to 50% purebred. It is very common for breeders to breed multi-generation crosses.
Recognition
DRA = Dog Registry of America, Inc.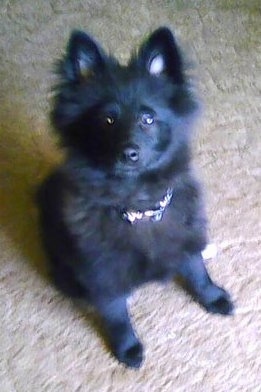 Kota Bear the Pom-Kee as a puppy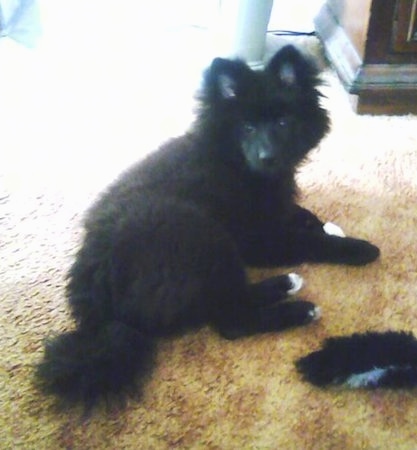 Kota Bear the Pom-Kee as a puppy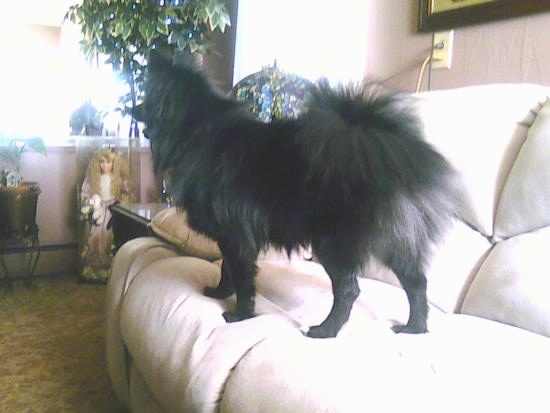 Kota Bear the Pom-Kee standing on the couch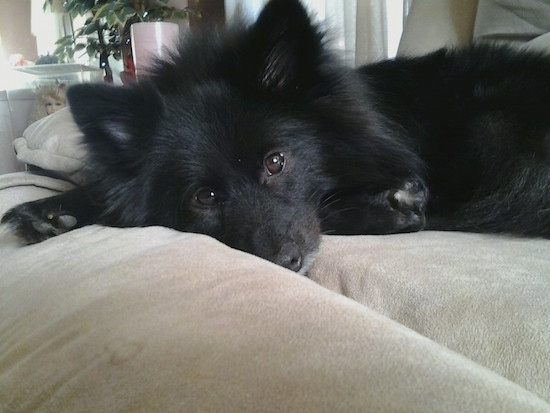 Kota Bear the Pom-Kee taking a nap on the couch