Rescue a Chi-Chi
Chi-Chi Puppies for Sale
Chi-Chi
Chihuahua / Chinese Crested Hybrid Dogs
The Chi-Chi is not a purebred dog. It is a cross between the Chihuahua and the Chinese Crested. The best way to determine the temperament of a mixed breed is to look up all breeds in the cross and know you can get any combination of any of the characteristics found in either breed. Not all of these designer hybrid dogs being bred are 50% purebred to 50% purebred. It is very common for breeders to breed multi-generation crosses.

"This is Quinn, our Chinese Crested x Chihuahua mix puppy. His mom was the Chinese Crested and his dad was the Chihuahua. Both his parents weighed 8 lbs. and he is sitting just at 1.6 lbs. in this picture. He was born in a litter of 7, some looking like full Chihuahuas, some looking like Quinn and two were completely bald! They looked just like a Mexican Hairless, except they were pink! Quinn is 7 weeks old in this picture and he is already VERY feisty! He plays well with my other small dog but is afraid of the sheer size of our big dog, but he's getting used to him. He mostly plays with the tiny cat toys like stuffed mice and bell-filled balls because they are just his size. He still sleeps a lot, of course, but grows more active every day. His skin is very soft and his fur is super fluffy. He LOVES kids and just adores my 2-year-old daughter."
ACHC = American Canine Hybrid Club
DDKC = Designer Dogs Kennel Club
DRA = Dog Registry of America, Inc.
IDCR = International Designer Canine Registry®
DBR = Designer Breed Registry
Quinn the Chi-Chi puppy at 7 weeks old

Quinn the Chi-Chi puppy at 7 weeks old
Spike the Chi-Chi (Chinese Crested / Chihuahua hybrid) at 8 months old, weighing 5.5 lbs—"He should not get much, if any, bigger. He is a great dog, very sociable and energetic."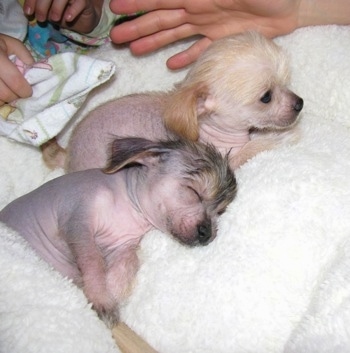 "This is a picture of brother and sister Chi-Chi (Chihuahua / Chinese Crested mix) puppies at 6 weeks old. There dad was a powder puff Chinese Crested and there mom was a Chihuahua. So far, they love to follow us all over the house and are very playful. They both love to be held and enjoy being in a warm lap."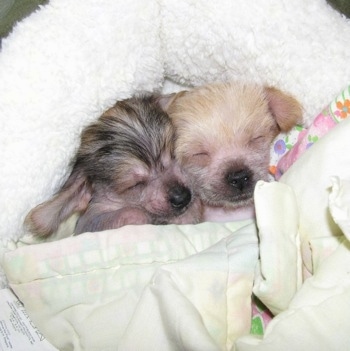 Brother and sister Chi-Chi (Chihuahua / Chinese Crested mix) puppies at 6 weeks old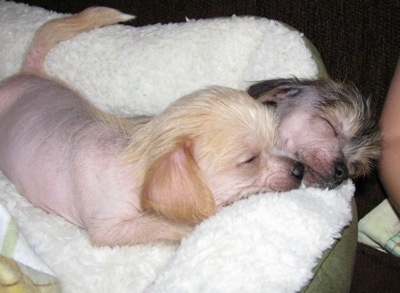 Brother and sister Chi-Chi (Chihuahua / Chinese Crested mix) puppies at 6 weeks old
Small Dogs vs. Medium and Large Dogs