ACHC = American Canine Hybrid Club
DDKC = Designer Dogs Kennel Club
DRA = Dog Registry of America, Inc.
IDCR = International Designer Canine Registry®
DBR = Designer Breed Registry

Adult Gollie—mom is a Collie, dad a Golden Retriever.
_________________________________________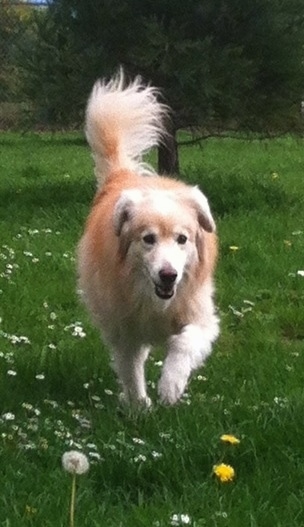 Seth the Gollie (Golden Retriever/ Collie mix) at 15 years old—"Seth was a Golden Retriever/Collie mix rescue puppy. He lived to be over 16 years old. Besides a couple of malignant tumors that were caught early (when he was 10-12 years old), he didn't have any major health issues until he tore his cranial cruciate ligament just before his 16th birthday."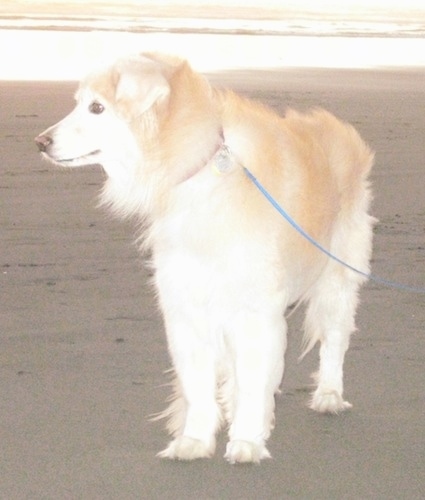 Seth the Gollie (Golden Retriever/ Collie mix) at 15 years old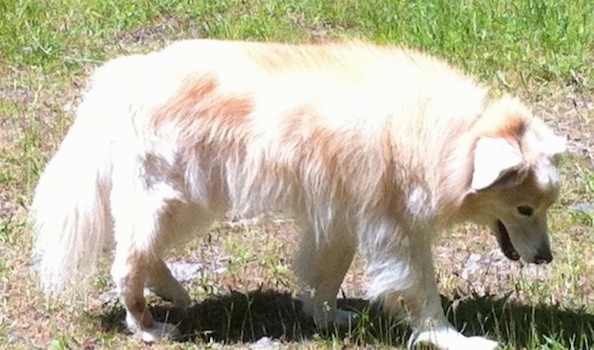 Seth the Gollie (Golden Retriever/ Collie mix) at 15 years old
_________________________________________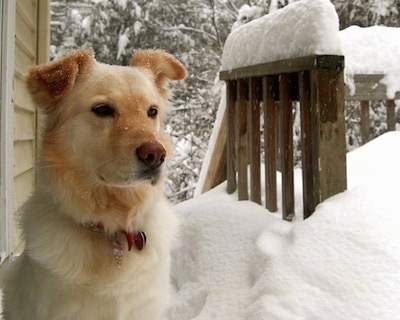 "Unlike many of the Gollies shown on the DogBreedInfo site, in Sasha the coloring and looks of the Golden Retriever dominates. Her "Collie" shows mostly in the ears and the ruff of fur around her neck."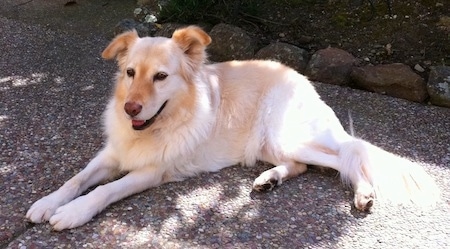 "Here's a shot of our dog, Sasha, a Golden retriever / Collie (Gollie) mix at 4 years old. Sasha is the most mild-mannered dog we've owned. She's smart, quiet, loyal, patient and friendly to all, including other dogs (actually her "best friend" is one of our cats; they're always together). Sasha will bark at the doorbell, but welcomes anyone we let in. While we don't walk her off-leash, she'll frequently attend us in the yard without bolting off. She has the ruff-like "mane," pointed muzzle and perky ears of a Collie, and the coloring and eagerness to please of a retriever."
_________________________________________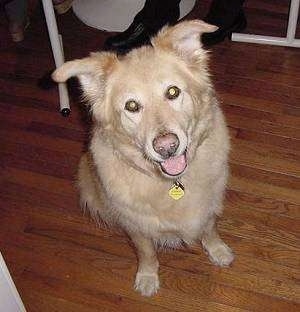 Sandy the Gollie—"This dog is probably one of the cutest, sweetest dogs on the planet! She is a Collie / Golden Retriever cross (Gollie). They got her from the Toronto Humane Society when she was a puppy. Unfortunately she had been abused, but they took her in and raised her to be the sweet dog that she is!! "
_________________________________________
"Deirdre (the big one) at 8 months old and an 8-week-old Gollie puppy from the next litter with the same set of parents—these dogs have wonderful temperaments, but they were being extra good when this photograph was taken."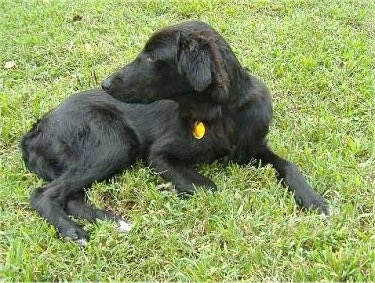 Deirdre the Gollie (Collie / Golden Retriever hybrid) at 5 months old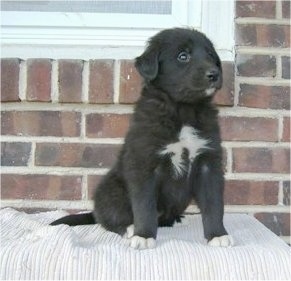 Gollie puppy (Collie / Golden hybrid)