English Cotralian
English Cocker Spaniel / Australian Shepherd Hybrid Dogs
English Cocker Spaniel / Miniature Australian Shepherd Hybrid Dogs
English Cocker Spaniel / Toy Australian Shepherd Hybrid Dogs
Information and Pictures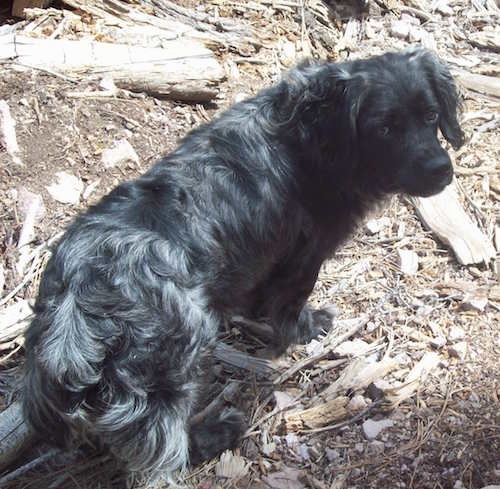 "This is Elwood Kangaroo Locke at 1 year old. Elwood is 1/2 English Cocker Spaniel and 1/2 Australian Shepherd. He has the looks of both breeds as well as the behavior and attitudes of both breeds. Elwood is the most lovable dog I've known. He loves to make new friends, both humans and pets. He is brother to 3 spoiled cats, Mentat, Rossi, and Evie. He is closest to Evie, they're best buds. He greets people by jumping up and kissing their nose (a habit we are trying to break him of). He loves to run, play tug-of-war, nip at your ankles when you run beside him (from the shepherd side), and he likes to find rocks under water. He is our best friend and we love him so much."
Description
The English Cotralian is not a purebred dog. It is a cross between the Standard, Miniature or Toy Australian Shepherd and the English Cocker Spaniel. The best way to determine the temperament of a mixed breed is to look up all breeds in the cross and know you can get any combination of any of the characteristics found in either breed. Not all of these designer hybrid dogs being bred are 50% purebred to 50% purebred. It is very common for breeders to breed multi-generation crosses.
Recognition
DRA = Dog Registry of America, Inc.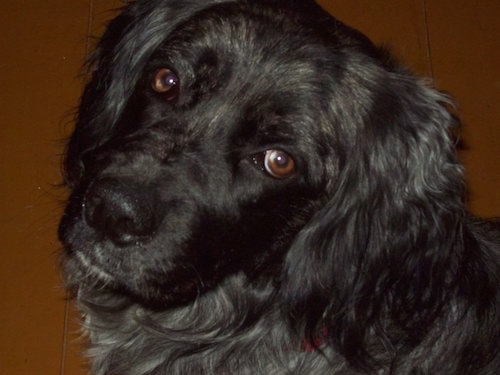 Elwood the English Cotralian (1/2 English Cocker Spaniel and 1/2 Australian Shepherd) at 1 year old.