Lucy the Golden Mountain Dog (Golden Retriever / Berner hybrid) at 7 months old—"She is loving, friendly and beautiful. She's very intelligent and so far has been very easy to train."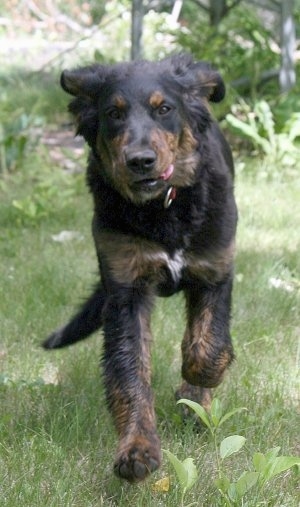 Lucy the Golden Mountain Dog (Golden Retriever / Berner hybrid) at 7 months old
____________________________________________________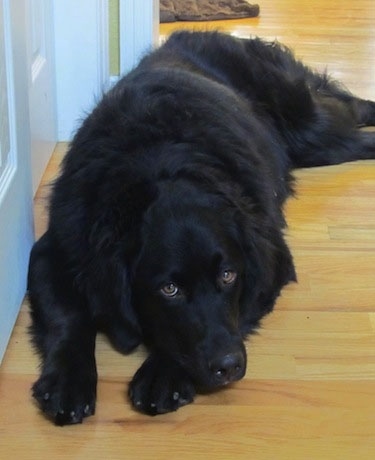 Quincy the Golden Mountain Dog at 1 year old—"We adopted Quincy from a home-breeder. His mom was half Bernese and half Retriever and his dad was pure Bernese (3/4 Bernese Mountain Dog 1/4 Golden Retriever), so as you can imagine, Quincy wasn't cheap. Most of his siblings had the Bernese markings, while Quincy and one of his sisters were pure black. None of them were gold, so I don't know why the breeders called them Golden Mountain Dogs haha. Currently, Quincy weighs about 80 pounds, and can rest his font paws on my shoulders quite comfortably and I am around 5' 7". This dog is amazing and perfect, but I can't say that for the breed as a whole, because, for one, I know that his brother has some behavior issues, and he is the only one of his kind that I have spent time with. But Quincy definitely got the best of both worlds. He is super smart, extremely loyal and eager to please, so training him is a breeze. Currently, I am training him some tricks and skills that service dogs know and use for a school project, and he is learning so quickly. Quincy's temperament is amazing, he is so laid back and easy going. He has only growled at our other dog, a Springer Spaniel who is older then him and very high strung, otherwise he just loves other dogs and has a blast at the dog park. All this dog wants is love and food."
Dog Breed Info side note: A dog's temperament is a direct reflection of its owner's ability to understand him and give him what he instinctually needs as a canine animal, not on the breed or mix of breeds in a dog.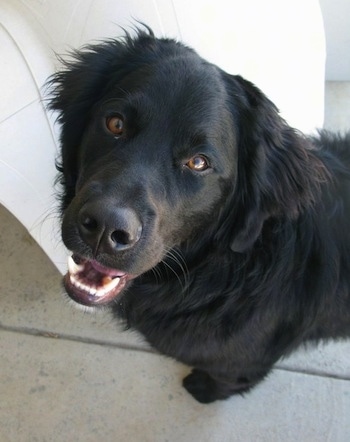 Quincy the Golden Mountain Dog at 1 year old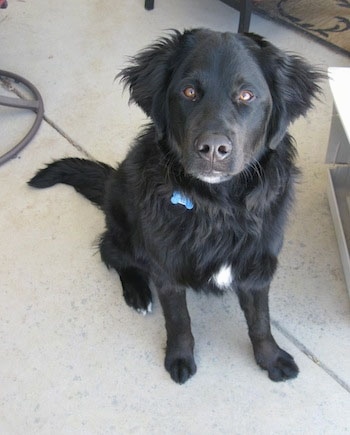 Quincy the Golden Mountain Dog at 1 year old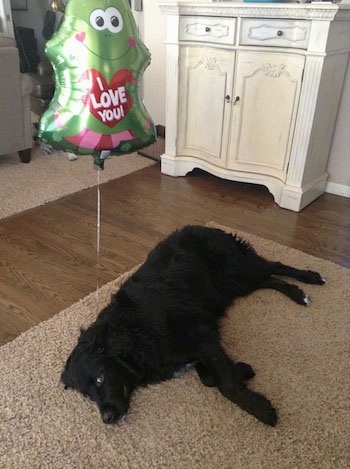 Quincy the Golden Mountain Dog at 1 year old
____________________________________________________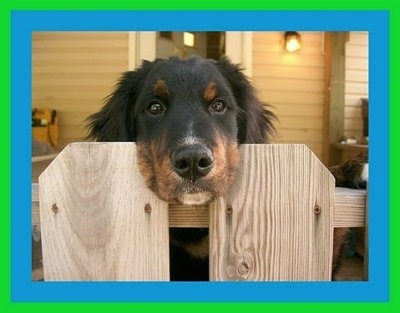 Golden Mountain Dog Peter peeking through the fence, photo courtesy of Baker's Bernese Blessings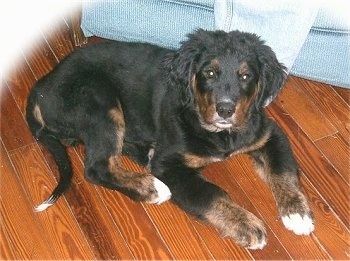 Peter, a Golden Mountain Dog puppy at 4 months old, photo courtesy of Baker's Bernese Blessings

"Coleman, whom I'm told has never met a person or dog that he did not like! A great ambassador for the breed and strikingly handsome." Photo courtesy of Baker's Bernese Blessings

"Red Sox, a second generation GMD. She's very soft and sweet—a lap dog. Here she is watching her favorite baseball team!" Photo courtesy of Baker's Bernese Blessings

"Peter, a true goof! He is very affectionate, smart, and loves water and mud!" Photo courtesy of Baker's Bernese Blessings
18-day-old Golden Mountain Dog puppy, photo courtesy of Baker's Bernese Blessings
18-day-old Golden Mountain Dog puppy, photo courtesy of Baker's Bernese Blessings