Rescue an Euro Mountain Sheparnese
Euro Mountain Sheparnese Puppies for Sale
Euro Mountain Sheparnese
(Euro Mountain Shepanese)
German Shepherd / Bernese Mountain Dog Hybrid Dogs
The Euro Mountain Sheparnese is not a purebred dog. It is a cross between the German Shepherd and the Bernese Mountain Dog. The best way to determine the temperament of a mixed breed is to look up all breeds in the cross and know you can get any combination of any of the characteristics found in either breed. Not all of these designer hybrid dogs being bred are 50% purebred to 50% purebred. It is very common for breeders to breed multi-generation crosses.
Recognized Names:
American Canine Hybrid Club = Euro Mountain Sheparnese
Designer Dogs Kennel Club = Euro Mountain Sheparnese
Designer Breed Registry = Euro Mountain Shepanese

Zara the Euro Mountain Sheparnese at 2 years old—"This is Zara as an adult. She has matured into a gorgeous, loving and very friendly big girl."
ACHC = American Canine Hybrid Club
DDKC = Designer Dogs Kennel Club
DRA = Dog Registry of America, Inc.
DBR = Designer Breed Registry

Zara the Euro Mountain Sheparnese at 18 months old—"He is a big, soft, friendly, cuddly bear."

Zara the Euro Mountain Sheparnese puppy as a young puppy—"Zara is a nine month old Euro Mountain Sheparnese, shown here as a young puppy. Her father is a Bernese Mountain Dog and her mother is a German Shepherd Dog. She is quite full-on and extremely strong but is responding well to training. She loves company but also likes her own space at times."

Zara the Euro Mountain Sheparnese puppy at 2 months old—"Zara is a loving, very intelligent, high energy puppy. Her parentage is Bernese Mountain Dog father and GSD mother. She has responded well to training although there is still some way to go. She is very well socialised and seems to recognise that children have to be treated with a bit of extra respect."
______________________________________________
Story the Euro Mountain Sheparnese at 4 years old—"Story is a mix of Bernese Mountain Dog and German Shepherd. I was given Story when she was 1 1/2 years old by a woman who could no longer care for her. She was very intelligent and knew a lot of commands such as sit, stay, come, paw, down, etc., but she refused to be leashed. She was also very anxious all the time and would bark constantly at the slightest noise. I attributed most of this behavior to the stress of moving, but when it didn't stop after a few weeks I knew something had to be done. During this time I began watching Dog Whisperer and using Cesar's techniques. I realized she needed more exercise and leadership than I was giving her. By providing more exercise and discipline her anxiety decreased. She's only nervous now at the vet [which we are still working on ;)]. One thing stands out from Dog Whisperer more than anything else. I had such a hard time trying to get Story to walk on a leash. In her first year and a half I don't think she was ever walked on a leash or if she was I don't think it was a good experience for her because she hated being on it. She would pull the leash out of my hand and try to chew it off of herself. She would jump and leap and try to get away from it. I watched one episode where Cesar slowly introduced the leash sitting next to a dog in a very non-threatening way. He let the dog smell the leash, feel the leash without it being attached to anything and slowly eased the leash over the dog's head. I used this technique with Story and it worked so well! After a few times she realized, "Hey, this is great! I get to spend time with my mom outside!" We haven't had leash troubles since. Story is now 5 years old and weighs 88 lbs. Her favorite activities are fetch and playing with her siblings, a 15-week-old puppy and 2 cats. She is now a calm girl. She needs exercise, at least 45 minutes a day. I normally take her outside for a short walk in the morning, a longer walk in the evening and at least 30 minutes of play time in the backyard, preferably fetch or tug. She dislikes garden hoses and baths."
Story the Euro Mountain Sheparnese at 4 years old

Story the Euro Mountain Sheparnese at 4 years old

Story the Euro Mountain Sheparnese at 4 years old

______________________________________________
Campbell the Bernese Mountain Dog / German Shepherd hybrid (Euro Mountain Sheparnese) at 1 year old, weighing roughly 90 pounds—"I call him my Berman Shepherd, lol. He is named in honor of soldiers serving in the 101st Airborne Division out of Ft. Campbell, Kentucky."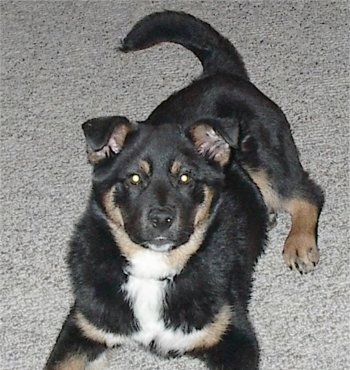 Campbell the Bernese Mountain Dog / German Shepherd hybrid (Euro Mountain Sheparnese) at 4 months old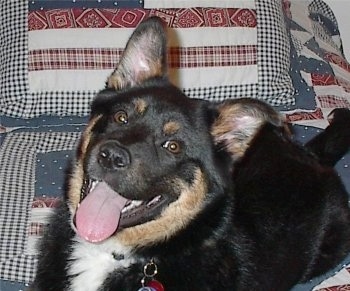 Campbell the Bernese Mountain Dog / German Shepherd hybrid (Euro Mountain Sheparnese) at 6 months old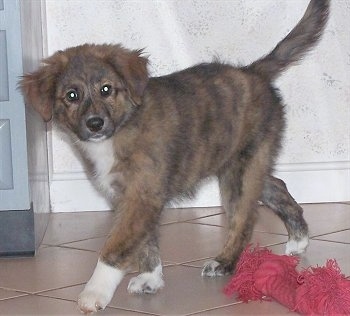 Sophie the Euro Mountain Sheparnese (German Shepherd / Bernese Mountain Dog hybrid) puppy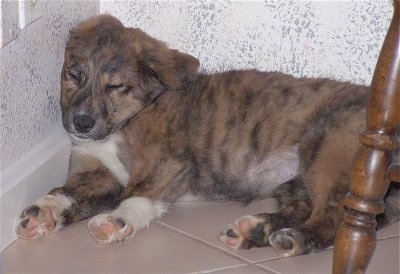 Sophie the Euro Mountain Sheparnese (German Shepherd / Bernese Mountain Dog hybrid) puppy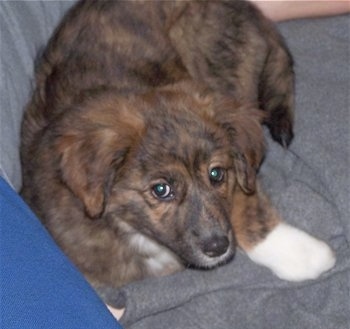 Sophie the Euro Mountain Sheparnese (German Shepherd / Bernese Mountain Dog hybrid) puppy