Westie-Laso
West Highland White Terrier / Lhasa Apso Hybrid Dogs
Information and Pictures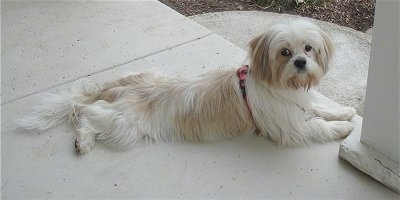 Muggles the Westie-Laso at 1 ½ years old (Westie / Lhasa Apso hybrid)—"She has one of the best personalities I've ever experienced in a dog. She's a great guard dog and also very friendly and outgoing. She loves people as well as other dogs that are friendly and she has an uncanny ability to sense instantly (and from a distance) dogs that would be aggressive toward her. She has tons of energy and can't seem to get enough of the snow. It's been a struggle to get her housebroken and she hasn't gained 100% of my trust at this point, but we're almost there! Muggles is extremely loyal and loves to ride in the truck. In fact, in her short little life, she's already been on a couple of cross-country trips in the truck and loves every minute of it!"
Other Names
West Highland Lhasa
Westi Lhaso
Description
The Westie-Laso is not a purebred dog. It is a cross between the Westie and the Lhasa Apso. The best way to determine the temperament of a mixed breed is to look up all breeds in the cross and know you can get any combination of any of the characteristics found in either breed. Not all of these designer hybrid dogs being bred are 50% purebred to 50% purebred. It is very common for breeders to breed multi-generation crosses.
Recognition
ACHC = American Canine Hybrid Club
DBR = Designer Breed Registry
DDKC = Designer Dogs Kennel Club
DRA = Dog Registry of America, Inc.
IDCR = International Designer Canine Registry®
Recognized Names
American Canine Hybrid Club = Westie-Laso
Designer Breed Registry = West Highland Lhasa or Westi Lhaso
Designer Dogs Kennel Club = Westie-Laso
International Designer Canine Registry® = Westie Apso