Pyrenees Husky
Great Pyrenees / Siberian Husky Hybrid Dogs
Information and Pictures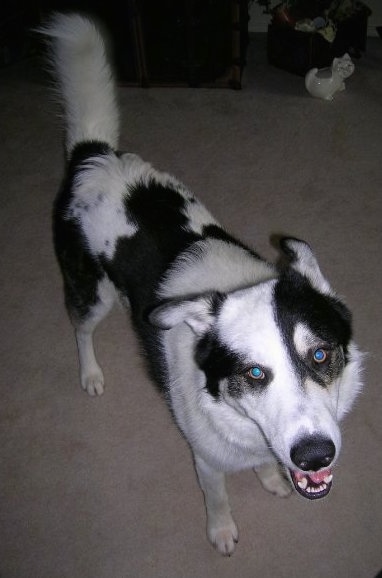 "Knightley was adopted from a semi-local shelter. He was a 1 year old, 100lb, 1/2 Siberian Husky, 1/2 Great Pyrenees. Love at first sight really. He's wonderful with everyone as well as other animals. He's a grand talker, not a howler (though he is capable of it), a mumbler, which is endearing to everyone who hears it. He's lazy in the house and playful outside. His only bad habit is he's a bed hog. He's the best four legged family member anyone could ask for and there won't be another like him."
Other Names
Husky Pyrenees
Siberian Pyrenees
Description
The Pyrenees Husky is not a purebred dog. It is a cross between the Great Pyrenees and the Siberian Husky. The best way to determine the temperament of a mixed breed is to look up all breeds in the cross and know you can get any combination of any of the characteristics found in either breed. Not all of these designer hybrid dogs being bred are 50% purebred to 50% purebred. It is very common for breeders to breed multi-generation crosses.
Recognition
DRA = Dog Registry of America, Inc.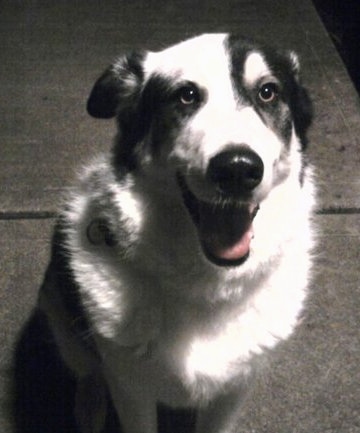 Knightley the 1/2 Great Pyrenees 1/2 Siberian Husky mix breed dog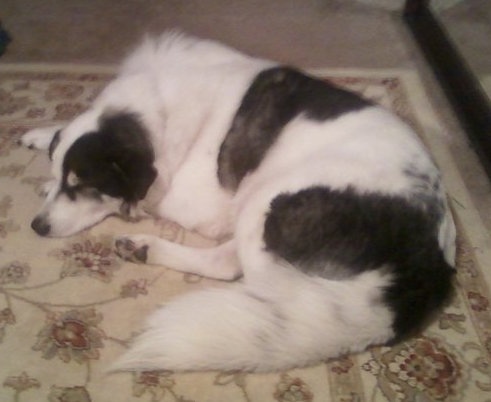 Knightley the 1/2 Great Pyrenees 1/2 Siberian Husky mix breed dog