Bichomo
American Eskimo / Bichon Frise Hybrid Dogs
Information and Pictures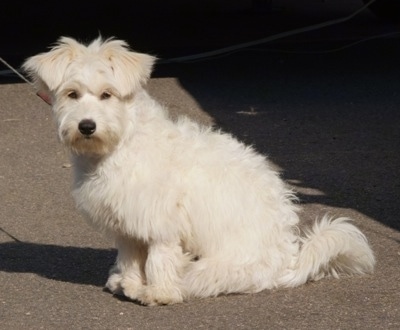 "Bichy is 8 months old in this picture. She is a Bichon and American Eskimo hybrid. She has a lot of trait of both breeds. She is as sweet in her personality as she is sweet to look at. She's one very happy pup. She travels with her best friend in a 42' luxury motor coach visiting many neat areas of this great country."
Other Names
Bichomo Frise
Bichimo Frise
Description
The Bichomo is not a purebred dog. It is a cross between the American Eskimo and the Bichon Frise. The best way to determine the temperament of a mixed breed is to look up all breeds in the cross and know you can get any combination of any of the characteristics found in either breed. Not all of these designer hybrid dogs being bred are 50% purebred to 50% purebred. It is very common for breeders to breed multi-generation crosses.
Recognition
ACHC = American Canine Hybrid Club
DBR = Designer Breed Registry
DDKC = Designer Dogs Kennel Club
DRA = Dog Registry of America, Inc.
IDCR = International Designer Canine Registry®
Recognized Names
American Canine Hybrid Club = Bichomo
Designer Dogs Kennel Club = Bichomo Frise
Designer Breed Registry = Bichimo Frise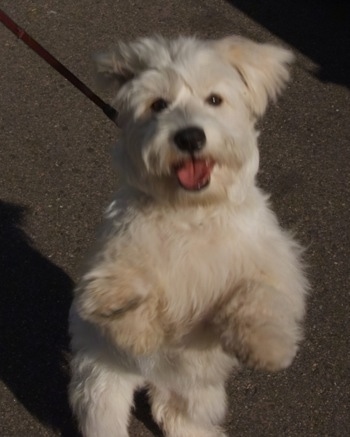 Bichy the Bichomo hybird dog at 8 months old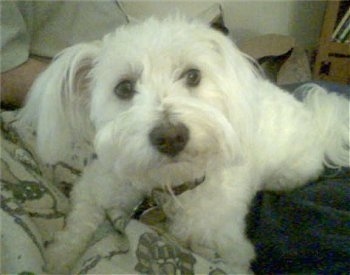 "Blizzard is an American Eskimo / Bichon Frise mix (Bichomo). She is 18 months old in this photo. She is a very happy and people-loving dog. Her hair is a mixture of both dogs. Most is curly, but she has straighter patches on her back. Her tail is more Eskimo. She weighs 17 pounds. She is about 13 inches tall at the shoulders. Her body length is about 24" from nose to butt, not including her curled tail. She was groomed about a month before this photo was taken."