ACHC = American Canine Hybrid Club
DDKC = Designer Dogs Kennel Club
DRA = Dog Registry of America, Inc.
IDCR = International Designer Canine Registry®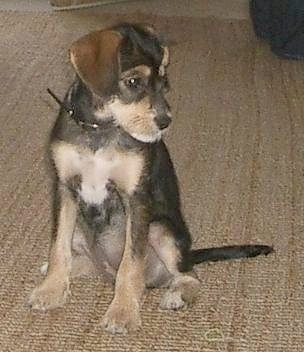 Daisy the Cavalier King Charles Spaniel / Miniature Schnauzer hybrid (King Schnauzer) as a puppy at 8 months old
Daisy the Cavalier King Charles Spaniel / Miniature Schnauzer hybrid (King Schnauzer) at 8 months old, taking a nap
______________________________________
"Riley is a 7-month-old King Schnauzer, a mix between a Miniature Schnauzer and a King Charles Cavalier. She is about the size of a Miniature Schnauzer. She is extremely smart. She was potty-trained within days of bringing her home at 8 weeks old, and she knows a ton of tricks. At three months old she learned to sit, lie down, shake, roll over, "bang" (play dead), spin around, jump up, hush, speak, leave it, drop it, come here, down and also knows all of the names of her toys. She loves to snuggle with people and is a wonderful listener. She cannot get enough of little kids; she loves giving them kisses and playing chase with them. She also gets along wonderfully with other dogs, however other dogs sometimes aren't a fan of her high energy. I take her to a dog park every day to wear her out a bit and she loves to play and run with the other dogs. Her favorite game is fetch, and she brings the ball right back. She prefers playing and running around with larger breeds; the smaller breeds don't seem to entertain her as much. She will get into chewing trouble, but she stops immediately on command. She is extremely curious, intelligent and lovable."
______________________________________
"Sandi the King Schnauzer at nearly 5 months old—she is a Mini Schnauzer and Cavalier King Charles mix. I am very surprised at how great of a dog she is. She is very intelligent and has a personality that's just too hard to ignore. She likes to be around people. At times, she will cuddle up on a lap or just plop down next to someone to take a nap. She follows me around the house when I am doing chores and always has a curious mind—she will sniff and inspect everything I touch or do! She is a quiet dog and hardly barks, however, she can be over-protective of her owners when outside. She loves to play fetch and enjoys actively interacting with people."
Sandy the King Schnauzer puppy at 5 months old

Sandy the King Schnauzer puppy at 5 months old
Sandy the King Schnauzer puppy at 5 months old
Small Dogs vs. Medium and Large Dogs