Rescue a Goldmaraner
Goldmaraner Puppies for Sale
Goldmaraner
(Goldmaraner Pointer) (Goldemaraner Pointer)
Golden Retriever / Weimaraner Hybrid Dogs
The Goldmaraner is not a purebred dog. It is a cross between the Golden Retriever and the Weimaraner. The best way to determine the temperament of a mixed breed is to look up all breeds in the cross and know you can get any combination of any of the characteristics found in either breed. Not all of these designer hybrid dogs being bred are 50% purebred to 50% purebred. It is very common for breeders to breed multi-generation crosses.
Recognized Names:
American Canine Hybrid Club = Goldmaraner
Designer Dogs Kennel Club = Goldmaraner Pointer
International Designer Canine Registry® = Goldmaraner
Designer Breed Registry = Goldemaraner Pointer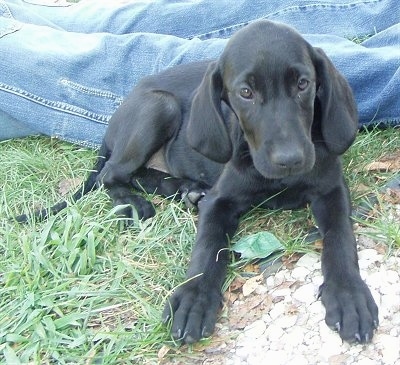 Goldmaraner puppy at 11 weeks old (Golden Retriever / Weim hybrid)
A Golden Retriever female and a Weim male had a litter of six solid black puppies. They look almost exactly like black Labs, but they've got the distinctive Weim ears. It is unclear at this point if the puppies will stay black or turn in color. Also, they were born with blue eyes (another Weim characteristic). Some of them have turned darker, while others haven't turned color at all.
ACHC = American Canine Hybrid Club
DDKC = Designer Dogs Kennel Club
DRA = Dog Registry of America, Inc.
IDCR = International Designer Canine Registry®
DBR = Designer Breed Registry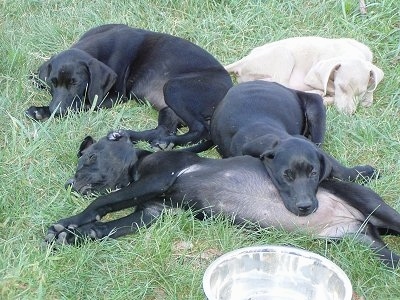 Goldmaraner puppies at 11 weeks old (Golden Retriever / Weim hybrid)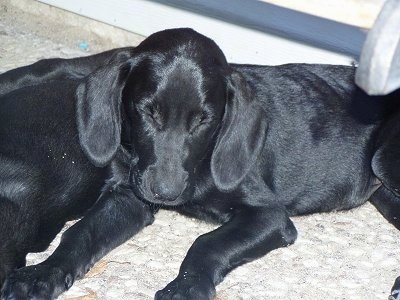 Goldmaraner puppy at 11 weeks old (Golden Retriever / Weim hybrid)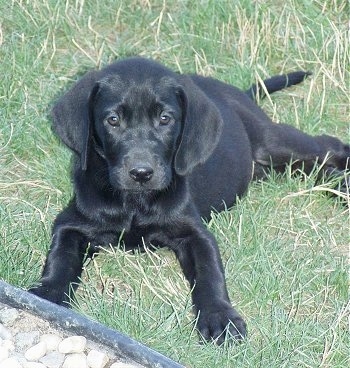 Goldmaraner puppy at about 4 weeks old (Golden Retriever / Weim hybrid)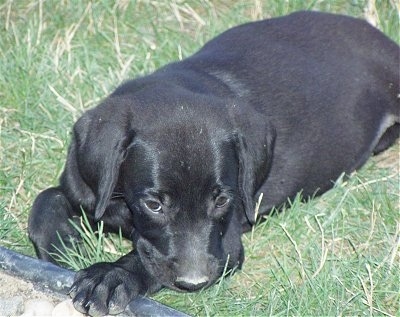 Goldmaraner puppy at about 4 weeks old (Golden Retriever / Weim hybrid)