Eye Grooming
A Show Dog's Life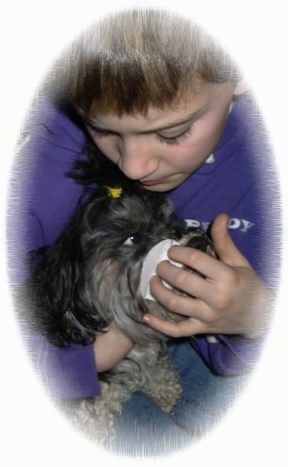 You should clean your dog's eyes daily with a cotton swab or cloth. This is a good job for children to learn; they can use a face cloth, Wet One or baby wipe. Pictured is 10-year-old Shannon grooming a dog's eyes.
Some breeds tear. Some say it is because the eyeball takes up the entire eye socket, and the tears overflow instead of draining. Some breeds, like toy breeds have narrow tear ducts. If you suspect an infection of the tear ducts, call your vet. Improper eye care and neglect can cause an eye infection, and eye infection can cause scarring, thus causing more of an eye tearing problem in the future.
In some breeds, this problem gets better after a year old. Teething can also contribute to this problem, as can different foods with dyes, improper diets, grooming negligence and it can be hereditary. This staining is often called "Poodle Eye." When a dog tears, dirt builds up and accumulates below the eye. You should use a fine-tooth comb, like a flea comb, on longhaired dogs'eyes to remove any debris from below the eye. This debris is not tears, but is what causes staining; it can cause the skin to go raw as it is bacteria, and has been said to cause Cherry Eye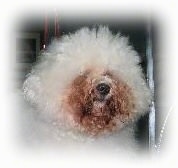 Before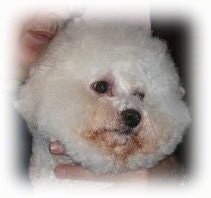 After
These are pictures of poor grooming on a longhaired dog's face, causing severe staining, or Poodle Eye. Before and after with 2 days of cleaning using an eye whitening solution. Submitted by Bev Busse of Heaven's Bichons.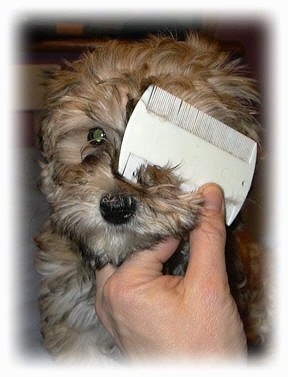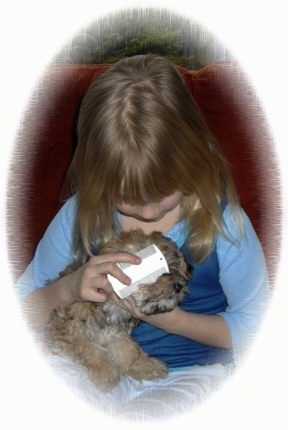 This is also a job that children can learn. Pictured is 8-year-old Emily grooming her puppy.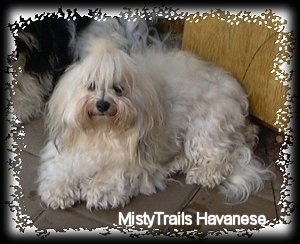 Other methods to help the eyes: Ponytails are great with longhaired breeds to keep the hair from falling in the eyes. Be very careful though, as if you plan to show your dog, you do not want breakage. Braids are a great way to keep your dog's hair out of his eyes without breakage.
Some people trim their dog's eye hair. If you show, you MUST check to see what is allowed and what is not allowed for your breed in the show ring. These pictures show how to trim eye hair and keep your dog's face looking clean and clear of stains.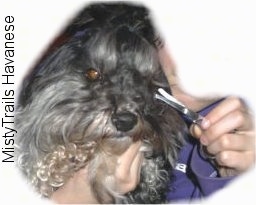 ALWAYS use blunt-tip scissors (this is not a job for a child).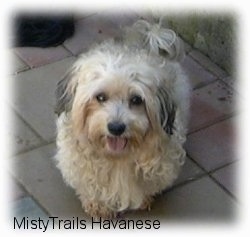 Trimmed up face/eyes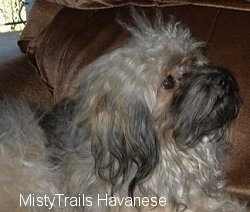 Eye trim, but left nose and beard hair.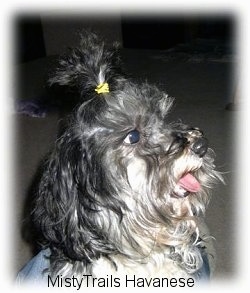 Trimmed up face/eyes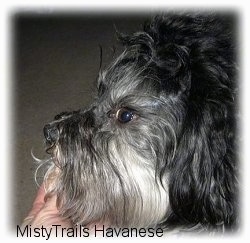 Trimmed up face/eyes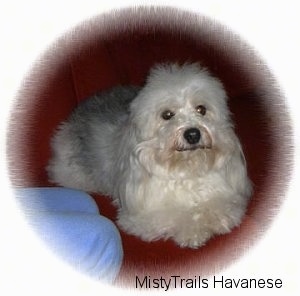 Puppy cuts: not allowed for showing, but great for pets. ALWAYS use blunt-tip scissors.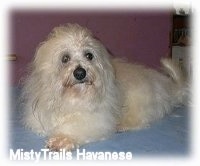 For showing, in some breeds such as the Havanese, all hair must be in its natural state. It is very important to have daily facial care to keep this hair clean.
Courtesy of MistyTrails Havanese