Rescue an Australian Cattle Dog
Australian Cattle Dog Puppies for Sale

Australian Cattle Dog Pictures
(Australian Heeler) (Hall's Heeler) (Queensland Heeler) (Blue Heeler) (Australian Cattledog) (Australischer Treibhund) (ACD)

Page 1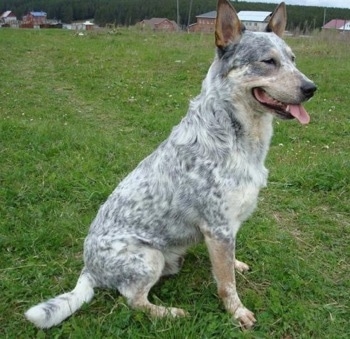 "My dog Shadow is a blue-speckled Australian Cattle Dog. I'm an American living in the Asian part of Russia (actually 26 miles over the European/Asian border). I wanted an ACD after meeting my son's rescued, mixed ACD while on a visit to the U.S. So after returning to Russia, I located a breeder in Germany (who brought Shadow's grandmother directly from Australia) and flew to pick up Shadow when he was 12 weeks old. He will be 4 years old this October. This picture, taken by a friend and sent at his urging, is of Shadow in a field where we play, near my apartment in Russia. He creates quite a stir here because to his breeders, Shadow may be the only "Russian" Australian Cattle Dog. Everyone wants to know what breed he is and where I got him. He is very true to his breed and to his name—he is definitely my "second" shadow, following me everywhere, whether inside or out. His favorite things are his chew bone and his Kong bouncer and, like all dogs, having his belly scratched. I have all Cesar Millan's books, DVDs, and I subscribe to his newsletter. Unfortunately, living in Russia precludes my watching his TV show. Having had some previous obedience training experience, I did okay with Shadow but Cesar has definitely improved my handling of Shadow."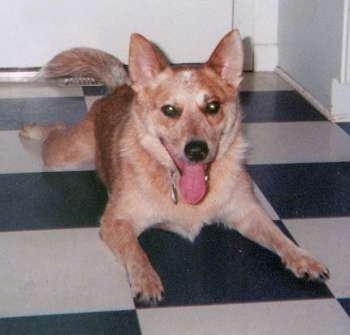 This is Griffin the Red Heeler in his breed-typical frog pose.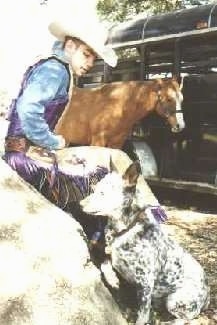 This is Bud owned by Carol Martin—See more of Bud on the Amazing Dog Photo page!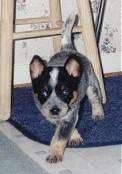 This is Storm, a 6-week-old Australian Cattle Dog puppy. Here he is trying to "herd" his owner (the person taking the picture).
Here's Storm...all grown up!

______________________________________
______________________________________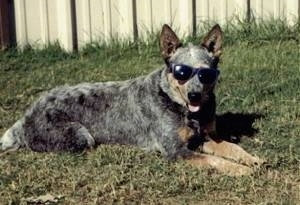 Two-year-old Bailey
______________________________________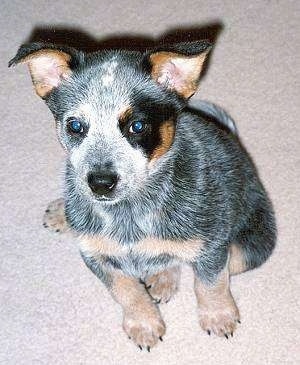 Bosky Blue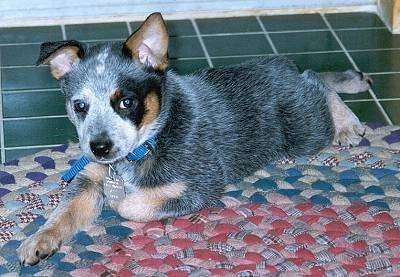 Bosky Blue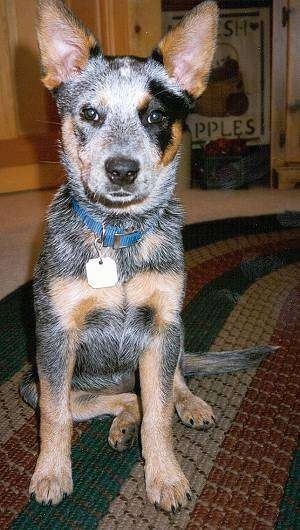 Bosky Blue grows up!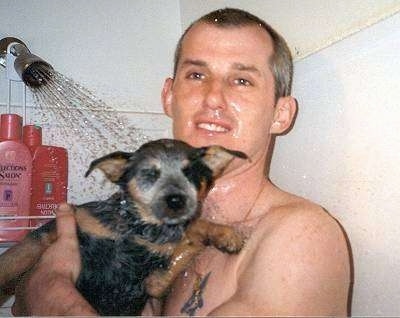 Jimmy and the unimpressed Bosky Blue puppy in the shower :)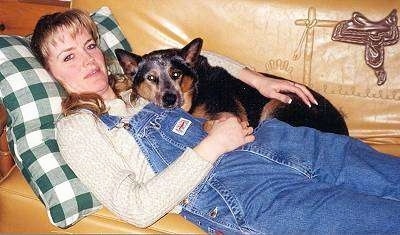 Bosky Blue resting with her owner
______________________________________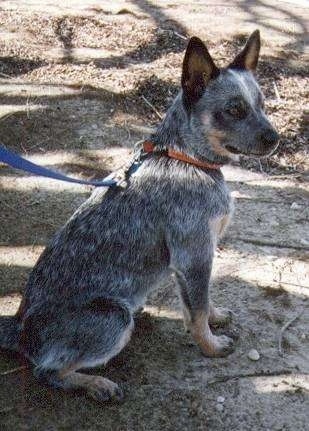 This is DownUnder WeeGirl Becka aka "Becka" at 3 months old. Becka is a half-sister to Bosky Blue; they have the same dad.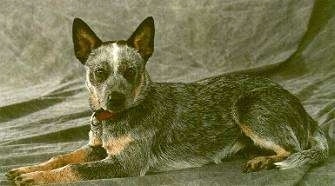 Becka at six months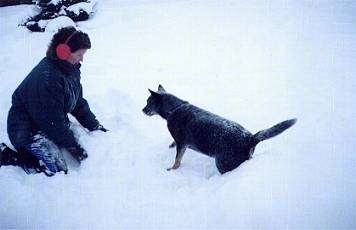 Becka at 4 years old playing with her owner; she loves to play in the snow!
Australian Cattle Dog Pictures 1
Australian Cattle Dog Pictures 2
Australian Cattle Dog Pictures 3
Australian Cattle Dog Pictures 4
Australian Cattle Dog Pictures 5