Rescue an Australian Shepherd
Australian Shepherd Puppies for Sale

Australian Shepherd Pictures
(Australischer Schaferhund) (Aussie)
Page 3


"Walker 1998-2007—Walker was from Texas, of course, but loved living in Florida. We offered him a margarita but he never was a drinker."

"Walker came to us from South Texas Aussie Rescue (STAR) at approximately 9 months old and became an immediate member of the family. Kristie Muck from STAR said that they had him for about 6 months and couldn't understand why he hadn't been adopted. She thought that perhaps everyone wanted a merle, not a tri. Their loss was our gain. Happy at all times, he wanted to be involved in everything we did. He was the official mascot of Katy Little League and was happiest when a kid was hanging on his neck."


"Once we moved to Florida, he loved having a pool. We taught him to go in only from the steps and he never swam if we weren't with him. He did enjoy a good game of fetch in the water, though. Walker's pleasures in life were Penny, his Aussie sister, his human family, and squirrels. He never harmed anyone or anything and was always a pleasure to be with."

"We lost him this year to thyroid cancer and know we will never have another dog like him. We miss him."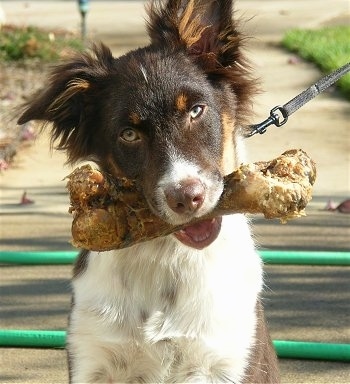 Marley the Aussie at 7 months old—"Marley is a lazy fat boy with a very sweet personality. He loves to chase squirrels and is a good fly catcher. Marley got his name from the well-known artist Bob Marley."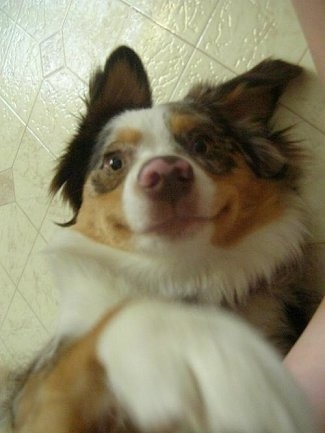 Jade the red merle Aussie at 10 months—"Jade is energetic with a love for the outdoors. She always has a smile on her face and loves to give kisses. We chose her name because of the color of her eyes."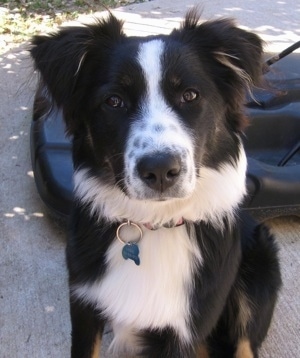 "This is my Australian Shepherd named Lassie. She is 6 months old in this picture. Her favorite game to play is soccer and she is really good. This is her latest graduation picture. As you can tell, she is gorgeous! I took this picture after she had finally calmed down. She is very smart and we taught her how to play tag, which is also one of her favorite games."
____________________________________
Jack at 10 months old

Jack at 10 months old

Jack at 10 months old

____________________________________

Adult Aussie dog

Adult Aussie dog

Adult Aussie dog

Adult Aussie dog

| | | | | | | |
| --- | --- | --- | --- | --- | --- | --- |
| | | | You may also be interested in... | | | |

Australian Shepherd Dogs: Collectable Vintage Figurines