Ba-Shar Pictures
(Sharp Asset)
Basset Hound / Scottish Terrier Hybrid Dogs
Page 1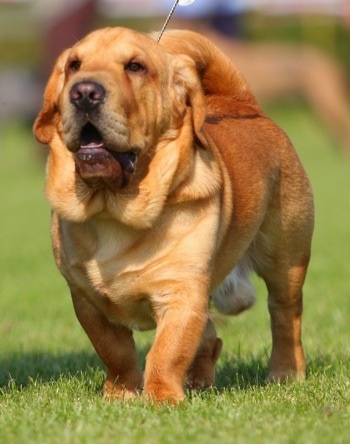 "Samson the Ba-Shar at 2 years old has won many Best Puppy classes at dog shows as he was growing up. He draws attention wherever he goes; everyone wants to know what breed he is. He is very good at canine agility and loves going through the tunnels and doing the jumps (even though he has short Basset legs). Despite having a stubborn Basset Hound for a father, he is extremely obedient. Samson is very chunky, weighing 26 kg and has a very thick, soft coat just like a teddy bear. Towards the end of last year Samson developed a food allergy and now has to be fed on a strict hypoallergenic food. I wonder if this has anything to do with the combination of the two breeds and if anyone else's Ba-Shar has developed a food allergy? He is doing very well on his new diet, though."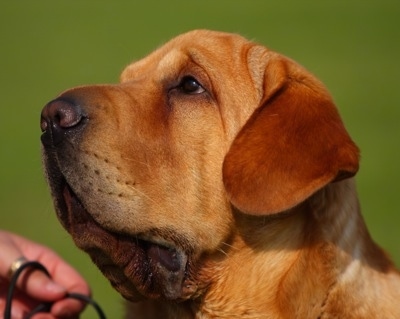 Samson the Ba-Shar at 2 years old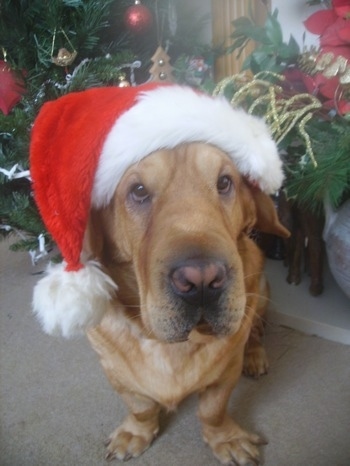 Samson the Ba-Shar at 2 years old playing Santa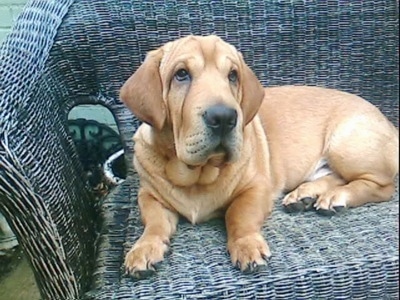 "Samson the Ba-Shar at 7 months old—he was born at my home; we have both mum (Lucy, a horse-coat, red fawn Shar-Pei) and dad (Marmaduke, a red and white Basset Hound). He is a chunky, playful bundle of fun. He turns heads wherever we go; everyone wants to know what breed he is. He weighs 25 kg at 8.5 months old and is slightly taller than his dad. He has his dad's Basset legs and long body. His nose and head are much like his mum but not as many wrinkles as the Shar-Pei and his coat is a deep apricot colour and very thick and soft, like a giant teddy bear and a wonderful thick 'basil brush' type tail. His lips seem to be a combination, very thick but very loose and he produces so much dribble and it flies in all directions when he shakes. He is very cheeky and has started to develop a stubborn streak. He also likes to sit down to eat and drink. He was easy to house train. He has a definite guard-dog character and likes to make himself heard with a very deep bark and it's very hard to get him to be quiet once he gets going with his woofing."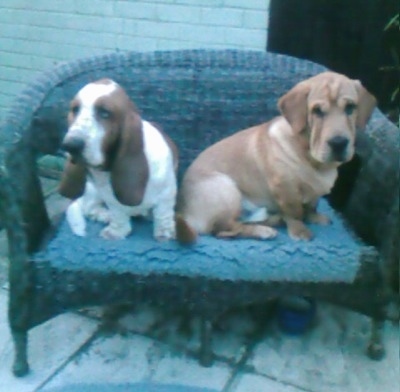 Samson the Ba-Shar (right) at about 7 months old with his dad Marmaduke (left) who is a purebred Basset Hound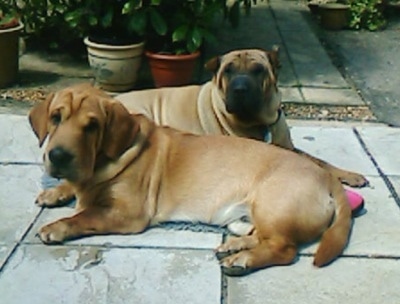 Samson the Ba-Shar (front) at about 7 months old with his mum Lucy (behind) who is a purebred Shar-Pei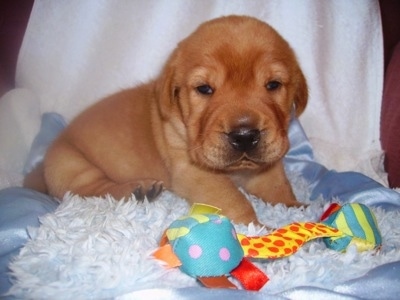 Samson the Ba-Shar puppy at 3 weeks old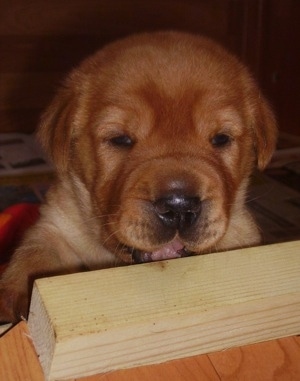 Samson the Ba-Shar puppy at 3 weeks old