Whelping and Raising Puppies Pictures
Pictures and Stories Page 10
A Premature Mal-Shi puppy and a litter of Shih Tzu puppies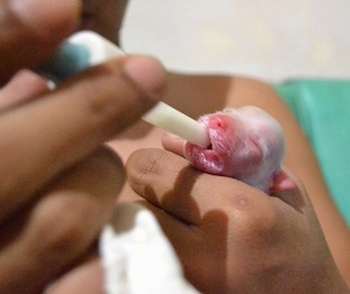 Premature Mal-Shi Puppy
Boris is a premature male Mal-Shi puppy. He's the only survivor among four puppies. He's incubated, suckling and swallowing well and his respiratory system is quite good. He's still under supervision. He is being fed using a dropper and we sometimes warm him with our hands or have him lie on our tummies for body heat. He's quite a fighter so we're also doing everything we can so he will survive. ^_^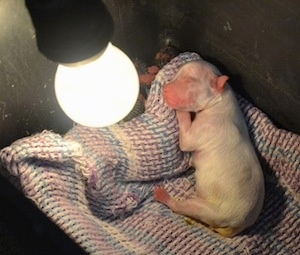 Boris the premature Mal-Shi puppy being kept warm under a heat lamp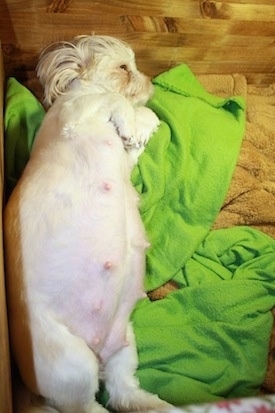 Rosalie is a purebred Shih-Tzu. She is 3 1/2 years old. She is the diva of the house. She loves to be cuddled and will stay with you as long as you cuddle her. She does bark, but only because she isn't getting attention. :) She HATES baths. Most Shih Tzu's I have met do. She doesn't really have any bad habits other than the barking. But that is not a constant thing. She barks when she wants to come in from outside, or if people come to the door and don't pet her. She is FANTASTIC with children. She loves kids, she will crawl in their lap. She is not a very licky-kissy dog either, but she will lick kids. I think she is pretty balanced dog, but all my Shih-Tzus are. It's my purebred Poodle that is a tad off his rocker. :P Rosalie gave birth to five beautiful Shih-Poo (Shih Tzu / Poodle) puppies. It was her first litter and she did a fantastic job. I was home with her for the whelp as I always am. She started at about 8:45 p.m.. and was finished by 12:00 a.m.. She was a fantastic mommy. Very attentive.
If you have pictures of your dam giving birth that you would like to share, send them in!
Although this section is based on a whelping of an English Mastiff, it also contains good general whelping information on large-breed dogs. You can find more whelping information in the links above. The links below tell the story of Sassy, an English Mastiff. Sassy has a wonderful temperament. She loves humans and adores children. An all-around mild mannered, wonderful Mastiff, Sassy, however, is not the best mother toward her puppies. She is not rejecting them; she will nurse them when a human places them on her to feed, however she will not clean the pups or pay any attention to them. It is as if they are not her puppies. This litter is getting mom's milk with major human interaction, manually giving each and every pup what they need. In return, the pups will be super socialized and will make remarkable pets, however the work involved is astounding. It takes one dedicated breeder to keep this situation healthy. Thankfully this litter has just that. Read the links below to get the full story. The pages within include a wealth of information that everyone can appreciate and benefit from.
Whelping: Close-to-Textbook Case