Bull Terrier and Miniature Bull Terrier Pictures
Page 1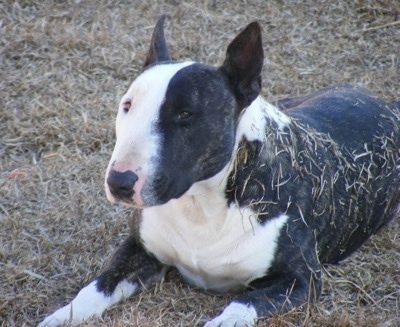 "This is a pic of Saint Cabrera that was taken in my backyard in South Carolina. He was born on September 8, 2005. His mother's name is Josie Gale Robertson and his father's name is Heartland's Velvet Elvis. I bought Saint for my husband as an "I love you" gift. I can still remember driving an hour out to the airport in Richmond, VA to pick him up. He was a strong bundle of joy. Saint had three litters with his dam Kimora Lee Cabrera. Saint was like one of our children. We celebrated his birthday and all. Unfortunately one day Saint got out of the yard by pushing a six-foot fence open that was a little weak or maybe he was just that strong. Well, we took all day and night looking for him on foot and car but we could not find him. We had neighbors helping and at 9 p.m. one of the boys came and said that he saw an animal control truck near the entrance of our community. Well, immediately we jumped in the car and went looking for the truck. When we got there the officer had already put him in the truck. I begged the officer to please let my baby out but he said, "No ma'am, I'm sorry but the rules are once they are in, the dog must go." Well, I begged and cried but the man refused. I asked him could I at least see him to make sure he was OK but he said no and got some basic info from me. Then he told me to just come in the morning to pick him up, but he would be fixed and I would have to pay for it. I asked why and he said that it was the law in SC. I shook my head and tears rolled down my face as he drove off with my baby boy in the back. Well, morning came and when we went to get our Saint boy from the animal control he was dead. The lady that had just come on duty explained to me that when she came in to work he was already dead. There were no answers for us. They couldn't tell me anything. So in memory of our beloved Saint boy may GOD bless all animals that bring us so much joy."
Other Names
English Bull Terrier
Standard Bull Terrier
Mini Bull Terrier
English Standard Bull Terrier
English Miniature Bull Terrier
Gladiator
Bully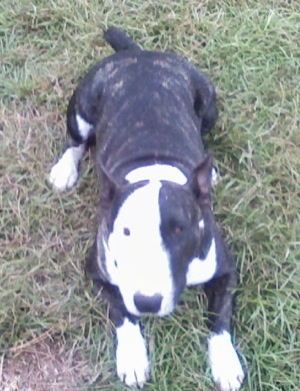 "This is the last pic taken of Saint Boy (Saint Cabrera) just chillin' in the backyard."
"This is Saint's wife Kimora Lee Cabrera. She is an all-white Bull Terrier."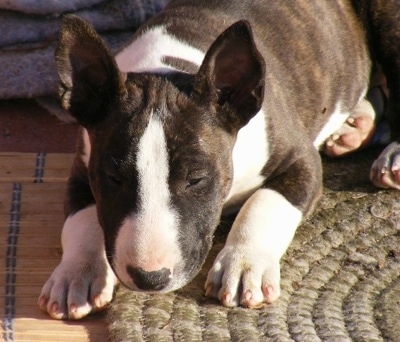 "Champ, one of Saint's puppies from his first litter"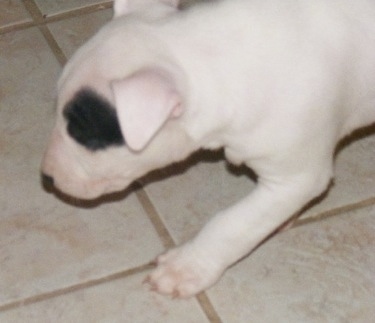 "One of Saint's puppies from his first litter"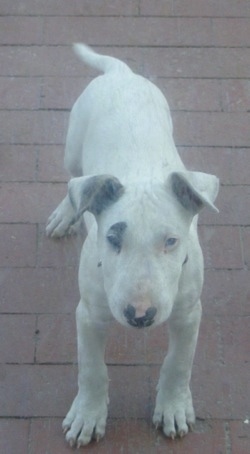 "This is the last of Saint Boy's pups. This pic was taking in our yard. His name is Captin Jack Sparrow."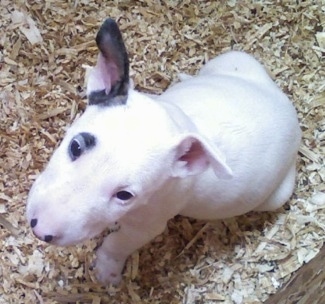 "Captin Jack Sparrow, one of Saint Boy's puppies"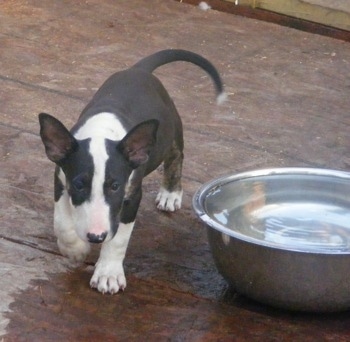 "This is Batman, one of Saint Boy's baby boys who has been placed in a good home."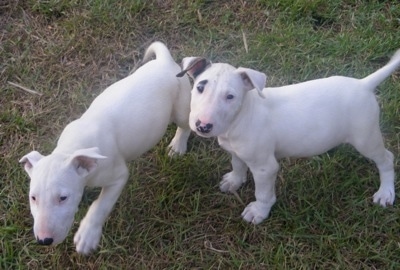 "The all-white pup is Big Gums, and last but not least is Captin Jack Sparrow."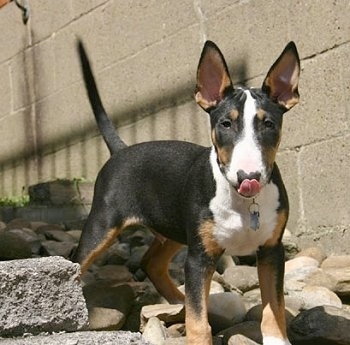 Ziggy the 5-month-old Bull Terrier is a purebred tricolor with a very playful and loving temperament.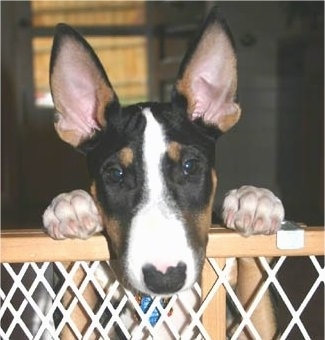 Ziggy the 5-month-old tricolor Bull Terrier looking over the baby gate.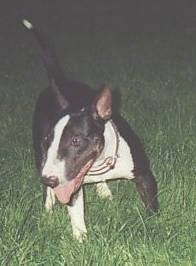 This is Tex. He is from Belgium.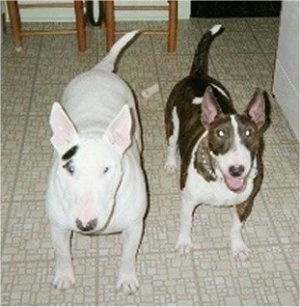 Murphy and Meggie, two happy Bull Terriers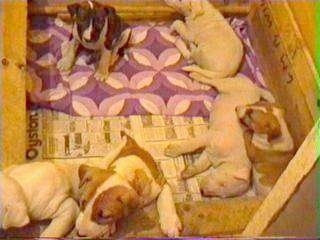 Zola's puppies—Zola is featured on the top of the Bull Terrier Info page.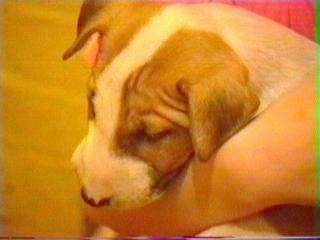 Zola's puppy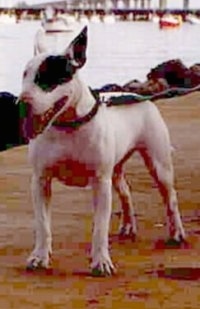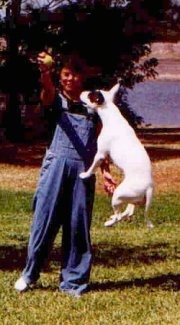 This is Tora showing off the unsuspected jumping abilities of Bull Terriers.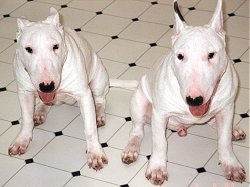 Meet Cleopatra and Rockefeller—"Dayna and Stephen McGinty of Gilbert, AZ are their proud owners and proudly explain, "They are the biggest spoiled babies. My wife and I have had many dogs in the past, but none that compare to these two. They have been to obedience classes, and are very well behaved...sometimes."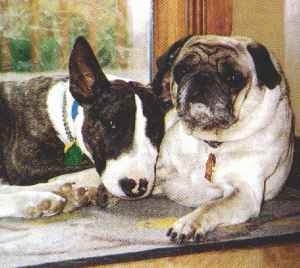 Although the Bull Terrier has the reputation of not getting along with other dogs, when they are raised together, they can be the best of friends.