Dogue de Bordeaux Pictures
(French Mastiff) (Bordeaux Bulldog)
Page 5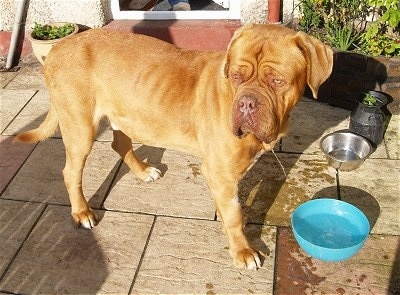 This is a picture of our beautiful Dogue de Bordeaux Clyde enjoying a refreshing drink of water in our back garden! He is 2 years old in this photo which was taken a few days before he sadly died of heart failure. It's a shame because he was such a clumsy yet lovely little dog and he had the patience of a saint! He loved his peanut butter flavored bones the most, but both him and our other Dogue de Bordeaux are such fussy eaters it's unreal. Anyone would think you are trying to poison them what with the time they spend sniffing any food you give them! Rest in Peace, little Clydles!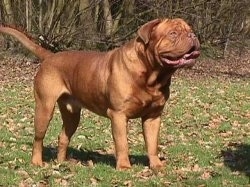 Photo courtesy of Dogue de Bordeaux Le Bordeaux Rouge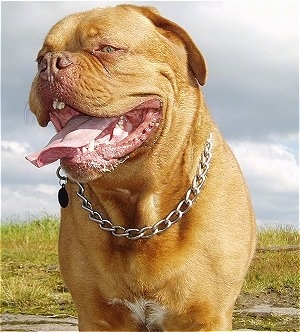 Beau, a 3-year-old Dogue de Bordeaux enjoying a day out with the family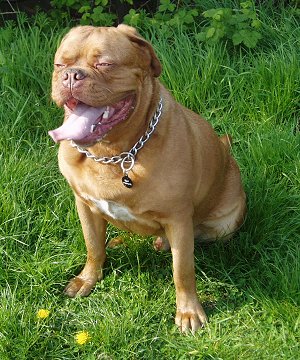 Beau, a 3-year-old Dogue de Bordeaux
Beau, a 3-year-old Dogue de Bordeaux collapsing at the end of the day on his bed for a hard-earned rest!!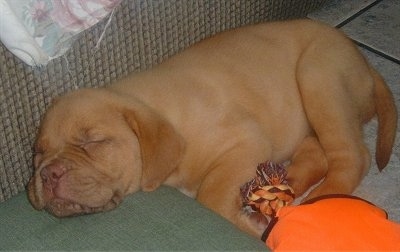 Jaz the Dogue de Bordeaux puppy—her owner says,"Jaz is not the easiest dog we have had to house and crate train, but she sure is the cutest. This pic was taken at 8 weeks old."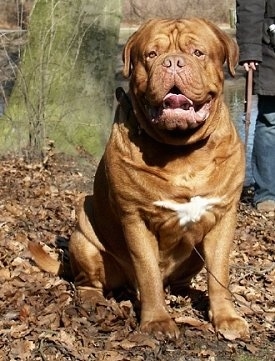 "Male Dogue de Bordeaux named Ti Amo de Dame Midnight aka Meeko at 2 1/2 years old—he is a Danish, Swedish, Norwegian, Nordic and International Champion. He is also Berlin Jugendsieger 2004. Photo courtesy of Kennel Hall of Fame."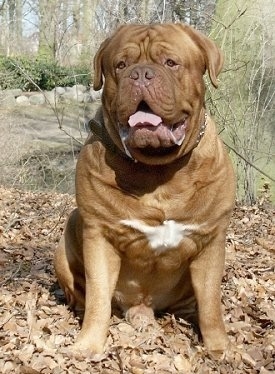 Ti Amo de Dame Midnight aka Meeko, photo courtesy of Kennel Hall of Fame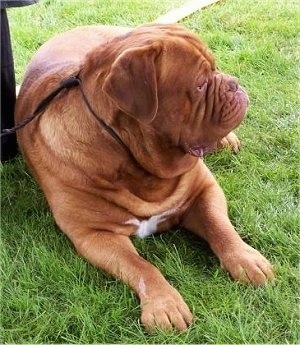 Ti Amo de Dame Midnight aka Meeko, photo courtesy of Kennel Hall of Fame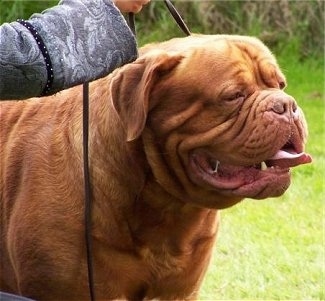 Ti Amo de Dame Midnight aka Meeko, photo courtesy of Kennel Hall of Fame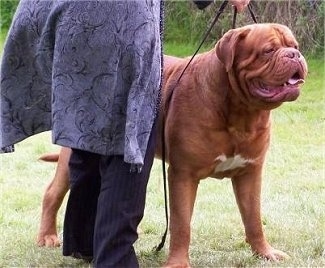 Ti Amo de Dame Midnight aka Meeko, photo courtesy of Kennel Hall of Fame