Rescue an EngAm Bulldog
EngAm Bulldog Puppies for Sale
EngAm Bulldog Pictures
(Olde Bulldog) (English American Bulldog)
American Bulldog / English Bulldog mix
Page 1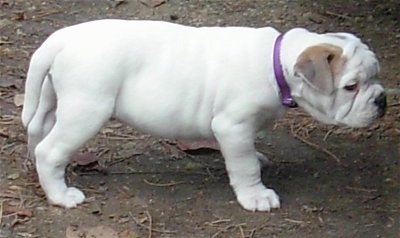 "Dub (short for Double Bull), shown here at 8 ½ weeks old, is an English Bulldog / American Bulldog mix. He is shorter and stockier than a purebred American Bulldog, but hopefully will not have the joint problems so common to the Bulldog. This was an accidental breeding, but the results sure are cute!"

"Dub at almost 4 months of age, weighing in at 37 pounds (English Bulldog / American Bulldog mix = EngAm Bulldog)—He is a character! He flops on the cat like she is a bean bag chair, much to her disgust, plays fetch like a retriever, and loves the outdoors no matter how cold it gets."

"Dub the EngAm Bulldog at 7 ½ months and 70 pounds—the photo was taken by Woof Studios. As you can see, Dub has turned into quite a ham! He rips around for about an hour a day, but his FAVORITE thing is sleeping. He has a sweet disposition and adores both people and other dogs. And cats, but mine could do without him!"
___________________________________
Kojak the English American Bulldog (EngAm Bulldog) at 10 month old and about 78 pounds
Otis the EngAm Bulldog puppy at 2 months old and about 15 lbs.

Otis the EngAm Bulldog puppy at 8 months old, and weighing about 35 pounds

___________________________________

Stitch the EngAm Bulldog (English Bulldog / American Bulldog hybrid)—his mother was a white English Bulldog and his father was a fawn American Bulldog. He is 1 year and 6 months old in this picture, weighing 60 lbs. and standing 16 inches at his shoulders.

Stitch the EngAm Bulldog (English Bulldog / American Bulldog hybrid) at 1 ½ years old with his ball

Stitch the EngAm Bulldog (English Bulldog / American Bulldog hybrid) at 1 ½ years old still on the couch

Blockhead—Stitch the EngAm Bulldog (English Bulldog / American Bulldog hybrid) at 1 ½ years old

___________________________________

Amos the EngAm Bulldog puppy at 6 weeks old (American Bulldog / English Bulldog hybrid)

Amos the EngAm Bulldog puppy at 6 weesk old (American Bulldog / English Bulldog hybrid)

___________________________________

EngAm Bulldog newborn puppy—the father is an English Bulldog (50 pounds) and the mother is an American Bulldog (50 pounds). Photo courtesy of BigBully Kennels

EngAm Bulldog newborn puppy—the father is an English Bulldog (50 pounds) and the mother is an American Bulldog (50 pounds). Photo courtesy of BigBully Kennels

EngAm Bulldog newborn puppy—the father is an English Bulldog (50 pounds) and the mother is an American Bulldog (50 pounds). Photo courtesy of BigBully Kennels

Chappell the EngAm Bulldog newborn puppy—the father is an English Bulldog (50 pounds) and the mother is an American Bulldog (50 pounds), Photo courtesy of BigBully Kennels

EngAm Bulldog puppies at 3 weeks old (Chappell on the right)—the father is an English Bulldog (50 pounds) and the mother is an American Bulldog (50 pounds). Photo courtesy of BigBully Kennels

Chappell the EngAm Bulldog Puppy at 9 weeks old and 20 pounds, photo courtesy of BigBully Kennels