Rescue an Entlebucher Mountain Dog
Entlebucher Mountain Dog Puppies for Sale
Entlebucher Mountain Dog
(Entlebucher Sennenhund) (Entlebucher Sennehund) (Entelbuch Mountain Dog) (Entlebuch Cattle Dog) (Entlebucher)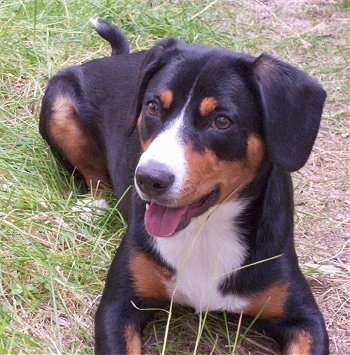 Shasta the Entlebucher at 2 years old—"Shasta is a wonderful dog; very obedient and definitely knows she is part of our family. She can't get enough cuddles; she loves to approach everyone on the street for a petting!"
Pronunciation

ENT-lay-boo-cur

Description

The Entlebucher Mountain Dog is a square, sturdy dog with typical working dog features. It has small, triangular ears and rather small, lively brown eyes. The head is well proportioned to the body, with a strong, flat skull. The long jaw is well formed and powerful. The feet are compact, supporting its muscular body. The smooth coat is close and harsh with symmetrical markings of black, tan and white. This tricolor coat has white on its toes, tail-tip, chest and blaze; the tan always lies between the black and the white. It has muscular, broad hips. The hocks are naturally well angled. The tail is sometimes docked.

Temperament

The Entlebucher Mountain Dog is a people-dog that loves to be surrounded by his people and friends. Alert and very eager to please, it was first used as a cattle driver; today it is used as a livestock guarder and a companion. The Entlebucher needs a firm, but calm, consistent pack leader who can properly communicate with the canine animal.

Height, Weight

Height: 19 - 20 inches (48 - 51 cm)
Weight: 55 - 66 pounds (25 - 30 kg)

Health Problems

-

Living Conditions

The Entlebucher Mountain Dog is not recommended for apartment life.

Exercise

This breed needs to be taken on daily walks or jogs, where the dog is made to heel beside or behind the human holding the lead, as instinct tells a dog the leader leads the way, and that leader needs to be the human.

Life Expectancy

About 11-15 years

Grooming

An easy-groom dog. Regular brushing will due. This breed is an average shedder.

Origin

The Entlebucher is named after a town and region in the Swiss canton of Lucerne. It is the smallest of the Swiss mountain dogs. While its origin is not certain, it is thought to be descended from the fighting and guarding mastiffs of the Roman legions. This breed is popular in Switzerland, but is rarely seen outside its native land. This rare breed was saved by the diligent efforts of Franz Schertenleib. Schertenleib heard of the many different Swiss mountain dogs that existed. In the 1800s, with the help of a Zurich show judge, Professor Albert Heim, Schertenleib scoured the Swiss Countryside searching for mountain dogs before they became extinct.

Group

Mastiff

Recognition

FCI, CKC, NKC, APRI, ACR, DRA, AKC, NAPR, ACA
FCI = Fédération Cynologique Internationale
CKC = Continental Kennel Club
NKC = National Kennel Club
APRI = American Pet Registry, Inc.
ACR = American Canine Registry
DRA = Dog Registry of America, Inc.
AKC = American Kennel Club
NAPR = North American Purebred Registry, Inc.
ACA = American Canine Association Inc.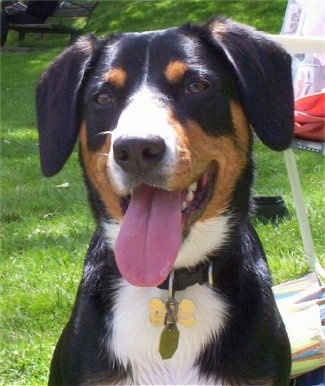 Shasta the Entlebucher at 1½ years old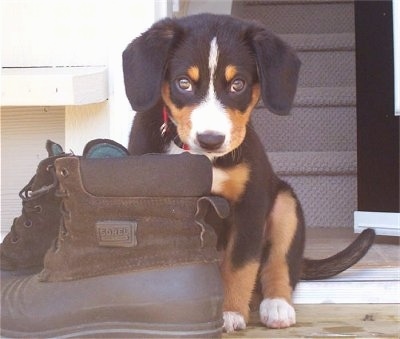 Shasta the Entlebucher puppy at 9 weeks old ready to get into trouble!
____________________________________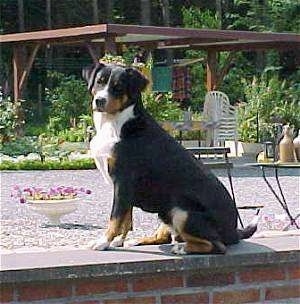 This is Xanti of Ambers Pride, from Belgium.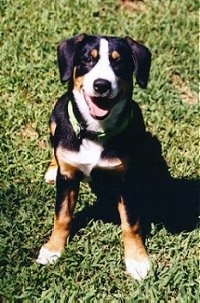 Photo courtesy of Der Lacheln Hunde "The Smiling Dogs"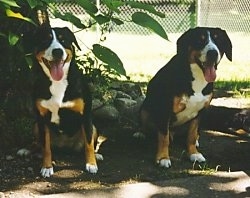 Photo courtesy of Der Lacheln Hunde "The Smiling Dogs"
.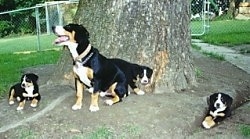 Photo courtesy of Der Lacheln Hunde "The Smiling Dogs"
.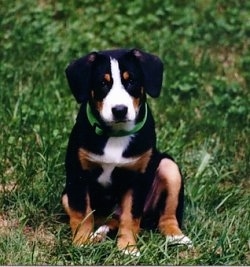 Photo courtesy of Der Lacheln Hunde "The Smiling Dogs"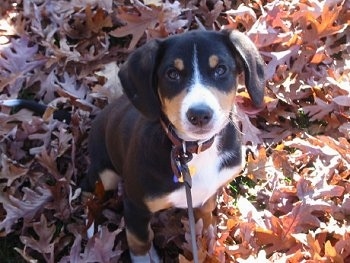 Lucy from Moratel Kennels at 3 months old, photo courtesy of Allyson McOuat and Chris Smith