Examples of Scam Emails
Page 1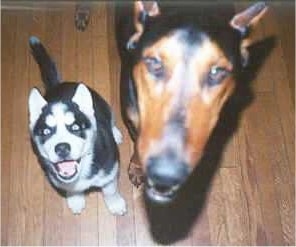 Here are some examples of scam emails. If you receive an email like one of these, you should simply delete it. Remember, if it sounds too good to be true, it most likely is. No one is going to give you a large sum of money for doing little to nothing to earn it.
Scam Email
My name is ANDY ROBBERT N.This is a very joyful day of my life because of the help Dr.AHAUMEREI has rendered to me by helping me get my ex WIFE back with his magic and love spell. i was married for 2 years and it was so terrible because my WIFE was really cheating on me and was seeking for a divorce but when i came across Dr.AHAUMEREI email [-------@-----.com] on the internet on how he has helped so many people to get their ex back and help fixing relationship.and make people to be happy in their relationship. i explained my situation to him and then seek his help but to my greatest surprise he told me that he will help me with my case and here i am now celebrating because my WIFE has change totally for good. she always want to be by me and can not do anything without my present. i am really enjoying my marriage, what a great celebration. i will keep on testifying on the internet because Dr.AHAUMEREI is truly a real spell caster. DO YOU NEED HELP THEN CONTACT DOCTOR AHAUMEREI NOW VIA EMAIL [-------@-----.com] or CALL HIM ON OR Whatsapp +0000000000000 He is the only answer to your problem and make you feel happy in your relationship.and his also perfect in 1 LOVE SPELL 2 WIN EX BACK 3 FRUIT OF THE WOMB 4 PROMOTION SPELL 5 PROTECTION SPELL 6 BUSINESS SPELL 7 GOOD JOB SPELL 8 LOTTERY SPELL and COURT CASE SPELL. Thank you very much Dr for your great work
Scam Email
i just broke up last week and it has been almost ten months we have been together. i kept calling him last night, and of course he was getting annoyed and getting very mad at me for doing this. i left him alone and i got a good night rest. when i woke up i remember that i don't have him in my life anymore. i texted him right away and we were talking normally. he was talking about how we could be "best friends" and or "best friends with benefits" which i don't want. i want him to just love me again. he keeps telling me "you need to get through this" or "it's not easy." the reason he broke up with me is because he doesn't want a girl friend. he tells me he loves me and he is acting perfectly normal towards me. he said that we can still hang out and such but i just want the liable "girl friend" and i don't know why he did this. i didn't do anything. i can do anything, eat, sleep, or hang out with my friends. i just dropped the plans with them because i'm too sad to do anything. i cried all yesterday. i have the "need" to call him and text him. but 3 days back he told me that is over, and that became so bad to me until yesterday my friend called Lissa introduce me to one online spell caster who promise to help me bring and re-unite both me and my boyfriend back, and today i am glad telling you all that The love spell work well and my boyfriend is right here with me on his bed together having good fun and thinking good about getting married soon, thank you GREAT DR JAJA for helping me bring back my lover in just 1 day i am very grateful, thank you!!!!! IF YOU NEED HIS HELP CONTACT HIM RIGHT AWAY NOW WITH HIS EMAIL and if you have any problem at all with him or you need prove here is my private work email contact me. or my existing home email account good bye friends and be happy and stay calm always
Scam Email
Hello Every One out here, Are you seeking for a love spell to being back the one you love?? I have decided that i am going to spend the whole day on the internet just to make sure that a lot of people are able to read my testimony about Dr.Sam who is a powerful and genuine spell caster, My name is Lisa Danley,I am from Stevenage,UK .I'm happily married to a lovely and caring husband ,with three kids. A very big problem occurred in my family seven months ago,between me and my husband .so terrible that he took the case to court for a divorce.he said that he never wanted to stay with me again,and that he didn't love me anymore.So he packed out of the house and made me and my children passed through severe pain. I tried all my possible means to get him back,after much begging,but all to no avail.and he confirmed it that he has made his decision,and he never wanted to see me again. So on one evening,as i was coming back from work,i met an old friend of mine who asked of my husband .So i explained every thing to him,so he told me that the only way i can get my husband back,is to visit a spell caster,because it has really worked for him too.So i never believed in spell,but i had no other choice,than to follow his advice. Then he gave me the email address of the spell caster whom he visited. So the next morning,i sent a mail to the address he gave to me,and the spell caster assured me that i will get my husband back the next day.What an amazing statement!! I never believed,so he spoke with me,and told me everything that i need to do. Then the next morning, So surprisingly, my husband who didn't call me for the past seven months,gave me a call to inform me that he was coming back.So Amazing!! So that was how he came back that same day,with lots of love and joy,and he apologized for his mistake,and for the pain he caused me and my children. Then from that day,our relationship was now stronger than how it were before,by the help of a spell caster. So, i will advice you out there who have any problem to please contact him through this email address:
Scam Email
Send respond only to: xxxxxxxx I Gen. Joseph F. Dunford Jr. US troops currently serving in Kabul, Afghanistan. You can trust?; I entrust $ 20 million dollars in your care? It will enlighten you more than this deal as soon as I hear from you. I just need a trusted person to help me get out and secure these funds so I am through with my duty here in Kabul, Afghanistan. Please for more details contact me personal e-mail: xxxxxxxx
Scam Email
Am sorry to bother you with this mail, but I'm out of the country in Philippines and found myself in a terrible situation which i really need to take care of now, I had my bags stolen from me and personal belongings.. I have tried to sort things out with the necessary authorities but nothing is really working out, the bad news is my flight will be leaving very soon. I really need a quick loan from you Please.
Thanks,
Jocelyne
Scam Email
Subject: Emergency!
Hello,
How are you doing? I hope this message finds you please get back to me as soon as you received this (It's a matter of Urgency).I'm in a terrible situation. I came down here to Manila, Philippines for a program, last night on my way back to my hotel room I was robbed at gunpoint, my wallet and other valuables were stolen off me, leaving my passport and life safe.I will appreciate whatever you can assist me with.
Let me know if you can be of help.
Thanks,
Robert Lee
Scam Email
Subject: STUCK
I've contacted my bank and the embassy, the embassy is willing to assist me but my funds are depleted to pay for a new passport fees and other miscellaneous expenses. I don't have access to my account over and My bank said it would take 5 working days to access funds from my account. Please can you lend me some funds? I'll pay back, as soon as I return home.
I await your response,
Joanie Ellen
Scam Email
From: John Owens <jmo69@yahoo.com>
Date: October 18, 2011 12:33:06 PM EDT
To: undisclosed recipients: ;
Subject: Sad News..........................John Owens
Reply-To: jmo699@yahoo.com
Hi,
I'm writing this with tears in my eyes,My family and i came down here to London,England for a short vacation and we were mugged at gun point last night at the park of the hotel where we lodged all cash,credit cards and cell phone were stolen off us.I've been to the US embassy and the Police here but they're not helping issues at all,My flight leaves in hew hrs from now and am having problems settling the hotel bills.The hotel manager won't let me leave until i settle the hotel bills now...Well I really need your financial assistance..Please, Let me know if you can help us out? Am freaked out at the Moment.
John Owens.......
The email IP is 41.155.104.36, which shows it coming from NG, Nigeria, Africa. Typical for these types of scams.
Scam Email
From scammer... love scam.. she/he/ wants me to send money
my love, thank you for your letter. As always I was very happy to see your news. I'm always interested to know what's going on with you. I'm always interested in your thoughts. Because I really love you. That's why I want to meet you soon. I want to be around you, that we could spend time together. I wish that we could talk to each other about everything. You're going to tell me something. I'll talk to you as well. We will spend days and nights. We will love each other a lot. Do you want this?
We are and will always do together. You're going to show me various interesting places in your town. I really want to be with you soon.
I believe that we communicate with you for a long time, you know I love you. And when I read your letters, I feel that you answer me in return. This is the most beautiful feeling - love. Do you agree with me?
But my love, why do not you say anything about our meeting? You know what I really want to come to you soon. But you ignore all my letters about the meeting.
Of course, I love you get from romantic letters. But now I want to meet you in person.
Letters can never replace a real meeting. Letters will not be able to show you all the power of my love for you. Only meet in real life could do it. Or do you think differently? Please answer me!
I want to see a concrete answer to my question.
Write me your thoughts. Do not ignore my questions!
You promised me that we will soon meet again. And I signed a contract with a travel agency. Now I'm not doing this deal. Because I can not get from you a specific answer. Do you still want our meeting? You're going to help me? I need the exact date when you can pay for my trip to you?
And I'll tell it to the agency. If payment is not effected in the near future, then I'll have to pay fines. Since I do not fulfill the contract. Do you understand that?
It's all very seriously.
Please answer me all of my questions. I should receive a response.
I love you. I want to be with you soon. I miss you.
Another email from a scammer... love scam.. she/he/ wants me to send money
My dear now I that you to see ready to be with me! And as is ready to help me that we with you to be together.
Now I will give to you data of the agent which your help through Western Union and by that we to pay my documents can accept. And As soon as your money to come, I can receive my documents and go to you!
Here data of the agent!
first name - Aliaksei
last name - Martsinkevich
city - Warsawa
country - Poland
Slepaya street 18b
00-928
As I ask you to send to me a transfer copy that I could show to its agency.
Now I wait for your letter.
Yours Eliza
and the last one,when i send fake copy..hahahaha
You know, I have understood now, that you play with me. It was very ridiculous, as you to mock! You to receive from it pleasure??? You do not think, that I the silly woman, and that I will ask now you a normal copy. I have understood, that you to play, and play further but not with me!!!!!!!!!!!
Scam Email
From: Katheryn Graham <kcsearchcall@aol.com>
Date: August 17, 2011 6:19:51 AM EDT
To: KCSearchCall@aol.com
Subject: NEED HELP (ASAP)
Reply-To: kcsearchcall@aol.com
I'm writing this with tears in my eyes,my family and I came down here to (Belfast)United Kingdom , for a short vacation unfortunately we were mugged at the park of the hotel where we stayed. All cash, credit cards and cell was stolen off us but luckily for us we still have our passports with us.
I have been to the embassy and the Police here but they're not helping issues at all and our flight leaves pretty soon from now but we're having problems settling the hotel bills and the hotel manager won't let us leave until we settle the bills. your contribution will go along way here. Please be so kind to reply back so i can tell you what to do and how to get some cash to us.
Rev. Katheryn Graham, D.Min.
Greater KC Regional Minister
7600 West 75th Street, Suite 6
Overland Park, KS 66204-2894
I'm writing this with tears in my eyes,my family and I came down here to (Belfast)United Kingdom , for a short vacation unfortunately we were mugged at the park of the hotel where we stayed. All cash, credit cards and cell was stolen off us but luckily for us we still have our passports with us.
I have been to the embassy and the Police here but they're not helping issues at all and our flight leaves pretty soon from now but we're having problems settling the hotel bills and the hotel manager won't let us leave until we settle the bills. your contribution will go along way here. Please be so kind to reply back so i can tell you what to do and how to get some cash to us.
Rev. Katheryn Graham, D.Min.
Greater KC Regional Minister
7600 West 75th Street, Suite 6
Overland Park, KS 66204-2894
Scam Email
From: Rachel Levin <levster124@ymail.com>
Date: January 4, 2011 1:19:40 PM EST
To: undisclosed recipients: ;
Subject: Help !!!
Reply-To: levster124@ymail.com
I'm writing this with tears in my eyes, I came down to London, United Kingdom for a short vacation. Unfortunately,I was mugged at the park of the hotel where i stayed,all cash and credit card were stolen off me but luckily for me i still have my passport with me.
I've been to the the Police here but they're not helping issues at all and my return flight leaves in few hours from now but I'm having problems settling the hotel bills and the hotel manager won't let me leave until I settle the bills. Well I really need your financial assistance..
Please let me know if you can help me out?
I'm freaked out at the moment!!
Rachel
Scam Email
From: Joe Peter <joepeter56@yahoo.com>
Date: May 7, 2010 6:27:24 PM EDT
To: ***
Subject: more about melly
Explain why you want a dog?
Tell me who in the family will be responsible for the pup's daily care, who will attend training classes, where the dog will spend most of his time?
Provide proof from your landlord or condominium board (if you rent or live in a condominium complex) that you are allowed to have companion animals?
if truly you are interesting in the puppy, you get to me with your information so that i can get the baby register for the Next Day Shipment.
Information needed for the Shipment....
NAME :
ADDRESS:
CITY:
STATE:
ZIP CODE:
PHONE NUMBER:
TIME OF CALL :
NEAREST AIRPORT:
All i will need you to do right now is get back to me with your address so as to start off with the shipping arrangement. The puppy is up to date on shots,current in vaccination,vet checked,coming with crate,kits and dolls and never had any health problem in the past. he is 10 weeks and 4 days currently now. he is well socialized,potty trained,shots up to date,dewormed,vet checked with health certificate,crate trained and in a flawless and perfect health condition.It will be my happiest day to see the pup shipped to a good Christian home because that is what i have always wanted all this while.I will be waiting to read back from you so as to know when then puppy will be shipped.Thanks and God bless you.
Thanks and God Bless
Rev.joe peter.................
Scam Email
From: "Paul George"<charles@g-photonics.com>
Date: January 1, 2000 5:28:53 PM EST
Subject: Greeting, Please acknoladge the receipt of this mail
Reply-To: <paulgeorge01@yahoo.cn>
Hello,
I am Paul George, I am ill and would die having been diagnosed with cancer disease.
I want to distribute my funds to charities in your country through you.
Please respond for more details.
Respectfully,
Paul George.
From Scammer to Seller
Sender's name: Jack
Sender's email address: car.rick@live.com
Sender's message:
am interested in buying your GSD,is it still available for sale?
2nd email from Scammer to Seller:
Is the GSD registered?
About the payment i will be paying you with check,when you get the payment[check],i want you to deduct your money for the GSD and send the rest to my shipper for the shippment of the GSD.
Send me your,
FULL NAME
ADDRESS-Dont send me a po.box,send me a contact address
PHONE NUMBER
From Scammer
From: "Mr. Tony Albert"<tony.a.albert@mail.com>
Date: January 4, 2006 9:59:07 AM EST
To: undisclosed-recipients:;
Subject: FROM TONY ALBERT...... REGARDING YOUR UNPAID FUNDS
Reply-To: <tony.albert41@gmail.com>
This is just a short true note about your unpaid fund, therefore, you need to relax and read very well to your best understanding.
I am Mr Tony Albert. a computer scientist hired from Germany to work with central bank of Nigeria because of my ability to operate computerized activities. I am 25 years old, just started working with C.B.N. I came across your file which was marked 'X' and your released disk painted RED, I took time to study it and found out that you have paid VIRTUALLY all fees but the fund was not released to you. The most annoying thing is that they won't tell you the truth that on no account will they ever release the fund to you, instead they allow you spend money unnecessarily, I do not intend to work here all the days of my life, I can make the funds be released to you if you can certify me of my security and assure me that when I make the release, you will settle me. I needed to do this because you need to know the status of your Funds and cause for the delay as well being in your shoe, Please this is like a Mafia setting in Nigeria, you may not understand it because you are not a Nigerian or you might not have been to Nigeria. The only thing needed to release this fund is the Original Anti drug/terrorist clearance certificate which will be tendered to any of your nominated bank and the INTERNAL REVENUE SERVICE (IRS) for clearance of the transferred amount in your account. I also understand that many of these Mafias might have told you to pay for such before which you might be thinking that it is the original you are paying for, but I must assure you that the only person who is in the position to give you the original is in the Federal Ministry of Finance which I will give you more information on it after you acknowledge the contents of my email. Once the Original Anti drug /terrorist clearance certificate is obtained funds will immediately reflect in your bank within 24 Hours, the certificate is all that is needed to complete this transaction. The only authorized person who will issue you your Original document from the Federal Ministry of Finance is Honourable Njoku Watson and his personal Phone number is +234 812 197 4059. Before you call him, I want you to know that you cannot get the certificate for free, as he will not even want to give you but if you indicate your file to him in good faith, he will understand because he is a God fearing person who has Human sympathy. Please Note: when contacting him, do not/ never tell him I was the one, just make sure you indicate your file letter X and tell him painted colour Red so that he would recognise your file. Note that the actual funds is valued at $15.5 MILLION USD and the president made a compensation fund release for all unpaid beneficiaries valued at $10 million USD. Therefore, you will not be able to receive your Original initial fund but the sum of $6 million will be transferred to you as soon as the original documents is cleared and every two weeks after the first six million had been paid to you, they will make deposit of two million into your account every two weeks but the important thing is to get the Certificate and the first Six Million. Listed below are the mafia's and banks behind the non release of your funds that I managed to sneak out for your kind perusal. 1) Prof. Charles soludo (had been sacked from CBN by the Federal Government)
2) Chief Joseph Sanusi
3) Dr. R. Rasheed
4) Barrister Awele Ugorji
5) Mr Roland Ngwa
6) Barrister Ucheuzo Williams
7) Mr. Ernest Chukwudi Obi
8) Dr. Patrick Aziza
Deputy Governor - Policy / Board Member
9) Mr. Tunde Lemo
Deputy Governor - Financial Sector Surveillance / Board Member
10) Mrs. W. D. A. Mshelia
Deputy Governor - Corporate Services / Board Members
11) Mrs. Okonjo Iweala
12) Mrs. Rita Ekwesili
13) Barr Jacob Onyema
14) Dr. Godwin Oboh: Director Union Bank Of Nigeria.
15) Mr John Collins: Global Diplomat Director.
16) Foreign fund diplomatic courier
17) Barr. Becky Owens
18) Rev. Steven Jones
19) Bank of Africa
20) Mrs. Debbie Hargrove
21) Mr. Michael Wagner
22) ADB Bank Ouagadougou Burkina Faso
23) FSA UK
24) NATWEST BANK
25) ECO Bank
26) Credit Bank
And many others that I do not have advantage of posting here. Do get in touch with me immediately to conclude this final transaction immediately, and also send to me your convenient address, Tel/Fax numbers for easy communications.
Regards,
Mr Tony Albert
From Scammer
Hello,
I live at 4543 Buckleridge houston tx. 77053,I really appreciate your prompt
response to my email and i must tell you I'm very much interested in buying the
Puppy,So kindly reserve the Puppy for me.I also want you to know that payment will
be by Money Order.Moreover am ready to give you an extra $100 extra for you
holding the Puppy for me,Concerning the shipping,i will handle that myself since i
have a shipper that will come pick up the Puppy at your home.So you don't have to
be worried about the shipment.So in view of the above, Here are some of the
details I will need for the final issuance of the Money Order to you.
Full Name
Mailing address, no p.o.box please
your direct telephone number both home and cell.?
Acceptance of my offer
Final asking price
Once you get back to me with all the above informations, the money
order will be issued unfailingly by next week and it will be sent to you via UPS
Courier Service,looking forward to hearing from you,Thanks and God Bless.
Regards,
Gary.
From Scammer
From: steveavans200@gmail.com
Good day and how is your day ?I just received the confirmation from my
Secretary that the payment has been issued out and was mailed by the
Courier Service. It will be delivered to your address a day from
now according to the courier, and it was my secretary who posted the
payment,but to my greatest surprise,She included the moving fee of other
things bought for my new Home with your payment instead of the actual
amount of the purchase of the Dog,she made out the money order for $2,550.
This was due to the accumulated unpaid transactions undertaken by the mover
in the past weeks and they said they can't come and pick this up if I do
not pay them all together.So once you have the Payment,i want you to cash
it and deduct the money for the purchase.The remaining funds should please
be sent to my mover via Western union the same day you do receive the payment
so that my mover can make the trip over for the pickup at once.You will also
have to deduct an additional $30 to offset the cost of your run around expenses.
I will need your immediate response via email assuring me that i cantrust you to
handle this with care and have the remaining funds returned appropriately.
I am hearing impaired and will hope that your intentions remains noble through
out the duration of this transaction**
Stay Alert-ignore these scammers. Don't lose your money to them.
Were you scammed over the Internet? Send us your story.