Rescue a Koolie
Koolie Puppies for Sale
Koolie
(Australian Koolie) (German Koolie) (German Coolie)


Photo Courtesy of Koolie Club of Australia
Description

It is common for Koolies to have one or both eyes blue in color. This breed is noted for its usual merle coloring, red and blue, as well as tricolor. Some have white bibs, collars, and face markings. Coat lengths come in smooth, short, medium; long is not common.
Coat colors include red, blue or tri merle, solid red or black, usually with merle points. Other colors are rare. Eye colors include brown, black, blue, combination usually with one blue.

Temperament

The Koolie is energetic, loyal and adaptable. Can work anything anywhere. It is very dedicated and very willing to please its owner. It is a very dedicated worker that will keep going until it drops. In fact it is not uncommon for one to chase a hare using its great speed and agility until it drops of exhaustion. This breed works at herding anything that moves including sheep, cattle, goats, horses and fowl. Koolies are known to back (jump on the back of) sheep as well as cattle. Ann Worboys, an owner of the breed, had a dog that would heel the cattle and then duck the kick! They also do very well in tracking, obedience and agility trials since their will to please is endless. A Koolie won the high-jump competition at the Sydney Agriculture Show in 1998. They are not generally dog-aggressive and are good with other pets if raised with them from puppyhood and/or properly socialized, as they are a working breed and will work anything that moves! They are usually good with children, but are recommended for children over 6 years because the children need to be taught how to be pack leaders. This breed must have mental stimulation. It will not do well in a small backyard with nothing to do. Australian Koolies have been worked on stock in Australia since early the 1800s. In order to keep up with the demands of the grassier and stockman the Koolie needed to have stamina for 14-hour days, ability to move from one type of job to another—be it driving cattle on the long mile, or backing sheep in the race, the Koolie had to do it all. Its ability allowed it to be gentle and calm around the ewes and lambs yet still know when to use its bite on mongrel bulls and steers. The Koolie needed to be agile and quick, able to jump, dodge, chase, hold and drive and do it well and the Koolie has. Not all pups are workers and these pups make terrific companions. But it needs to be understood. Take an Australian Koolie from the work it has been bred for and expect it to be happy in a suburban yard and every time you will get trouble. Non-working Koolies still retain the stamina, ability and agility. Many non-working Koolies have been late bloomers, displaying their natural instincts as late as two years old. The Koolie Club of Australia has addressed this issue by discovering markets for which the Koolie is suited. These are Search and Rescue, Pets as Therapy, Responsible Pet ownership educators, Quarantine, Special needs providers, TV stars and demonstrators, Tracking, Agility, and all Obedience and Herding disciplines. The Koolie has a brain that needs to be stimulated, and its working frame requires regular work and exercise. This is not a breed that will happily remain hours on end in a backyard. We continue to warn the well-meaning public, who continue to buy cute unknown puppy breeds from pet shops and then discover too late that they have invited an Olympic swimmer, jumper or runner into their beloved home. Here are a few average samples, supplied by a Koolie Rescue Service which gives a good clear picture of the problems which can occur. ---- A lady thought she was doing a good deed when on impulse she bought a little Koolie girl from a farmer she was visiting, the pup was runty, full of worms and looked like it needed a good feed, her mother had been put back to work and the pup was only five weeks old, she felt sure the pup would die if left. That is just what breeders for profit and puppy farmers like the general public to think, the sympathy deal, works every time. Instead of turning the farmer into the local shelter and putting a stop to his harmful practices, she bought the pup, only to hand it into a Koolie rescue six months later, because the little cute baby tore her clothes from the line, dug up every garden she ever planted, pooped and wet where ever she pleased and rounded up the children of the neighborhood after scaling their fences. The rescue placed her back on a farm where she has learned to work the stock. ---- A young man saw and bought a cute fluffy, blue-eyed, mostly white Koolie pup from a pet shop for his sweetheart on Valentine's Day; she was in love the moment he presented her with the pup. At first they never noticed the pup didn't jump at sudden noises or in thunderstorms, it didn't bark when the dog next door started up, didn't turn his head when they entered the room, around twelve weeks the couple noticed that he never came when they called but always came when he saw them, then finally while doing the dishes one night some were dropped and smashed, the dog continued to eat his bone with his back to the kitchen, and they realized their special bundle of joy was deaf. Through getting in touch with a Koolie Rescue they were able to support them and help them train their deaf Koolie and they have never regretted getting him, now five years old. These are just two incidents that are common for the Koolie breed, the majority of Koolie Rescues are around ten weeks to six months old, pups from disreputable breeders who can't find homes for their unwanted pups or impulse purchases who have discovered the error of their choice. Be wise and only choose this breed if you can give it the kind of home it needs to truly be happy. The Koolie Club of Australia will be more than happy to assist you. Always be your dog's firm, but calm, consistent pack leader. Proper canine to human communication is essential.

Height, Weight

Height: 15 - 22 inches (38 - 56 cm)
Weight: 21 - 44 pounds (12 - 20 kg)

Health Problems

Merle gene may produce blind or deaf pups; recommend only breed strong colors or merle to solid to avoid this problem. They can occasionally suffer joint problems due to their extreme athleticism. If they do a lot of jumping on and off things or after Frisbees and balls they can damage cartilage and ligaments, particularly as they get older. These dogs are active and fun-loving for many years.

Living Conditions

This breed is not recommended for apartment life. It is moderately active indoors and will do best with at least a large yard.

Exercise

This energetic working dog needs plenty of vigorous exercise to stay in shape, or better yet, some real work to do. It needs to be taken on a daily, long walk or jog. While out on the walk the dog must be made to heel beside or behind the person holding the lead, as in a dog's mind the leader leads the way, and that leader needs to be the human. It will not be happy lying around the house all day long. This is a breed for which you will have to schedule in some good exercise sessions daily, or have a job for it to do.

Life Expectancy

Average age is 18 years, some have reached 26 years.

Grooming

The coat is easy to groom and needs little attention. Brush occasionally with a firm bristle brush and bathe only when necessary. This breed is an average shedder.

Origin

All breeds began from many; the Australian Koolie is no different. History books show that serious importations of working breeds began around the 1800s; many books on the Kelpie, Australian Cattle Dog and Stumpy refer to the influence of the Merle breed in their own breed's foundations. One such book, by author Angela Sanderson called "Australian Dogs," out by the Currawong Press refers to the Australian Koolie, then called the German Collie. What is of most importance in her book is her own reference to a much earlier German writer Von Stephanitz and his book "The German Shepherd In Word and Picture" released 1925, in which he writes, "The Australian grazier were sufficiently impressed with German sheep dogs to import them." He then names one of the breeds which were imported as the German Tiger (pronounced with a long "e" not a short "i") and describes them as "long or short coated, prick eared type of Merle coloring similar to the type already found in Australia called the German Collie." (This proves that German Tigers were imported, but it proves more importantly that the Koolie was established and recognized by its own name before actually recorded imported Tigers arrived). There is evidence that Elizabeth Macarthur, wife of John Macarthur who began the Merino industry in Australia transported a German by the name of Joseph Pabts to her property in Camden, New South Wales in 1825 to care for her flocks; Joseph arrived with his family and a number of his German working dogs, believed to be Tigers. This report indicates that Tigers could have been in Australia 100 years earlier. The earlier Tigers would have merged with other working bloodlines, most commonly the smooth-coated Collies which were found readily in the southern and central regions and possessed the shorter coat desire in this hotter climate. More on the Koolie

Group

Working, Herding

Recognition

KCA, APRI, DRA
KCA = Koolie Club of Australia
APRI = American Pet Registry, Inc.
DRA = Dog Registry of America, Inc.
.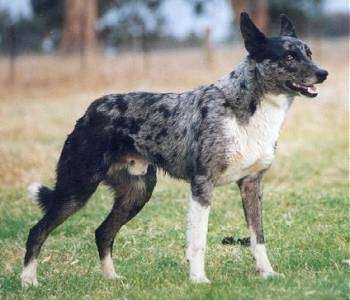 Photo courtesy of Toolalla Koolies
Photo courtesy of Koolie Club of Australia
.
Where There Is Wool, There Is a Way…The Koolie Way!
Thanks to Cory Leed for providing Dog Breed Info with this information.

Also thanks to Ann Worboys for helping with the information provided on this page.