This is where the content before the ad goes.
Rescue a Mioritic Sheepdog
Mioritic Sheepdog Puppies for Sale
Mioritic Sheepdog Pictures
(Mioritic Shepherd Dog)
Page 3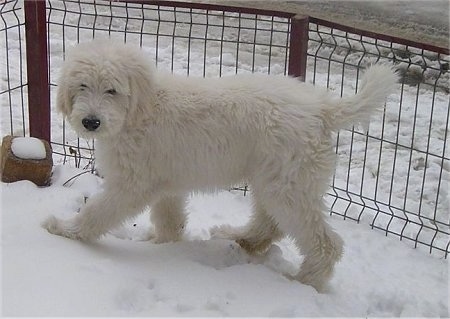 Buffy the pedigree Ciobanesc Mioritic ("cioban" is the Romanian word for "shepherd") at 3 ½ months old.—he is pure white, and hails from the town of Turnu Severin, on the Romanian/Serbian border on the other side of the Carpathian mountains. His pedigree lists him as "Ghiocel," (or Snowbell in English). Buffy's owner says, "These dogs are immense and very strong and have a deep throated bark that can be quite intimidating. They love snow. I cannot begin to describe the joy he experiences when he is in it. They have an enormous amount of energy and you really must be prepared to exercise your dog a lot in open spaces if you don't want your flat torn apart by a running dog :) He has no idea of his own strength; he is the size of an adult dog, even though he is still very young, consequently his concept of play can be quite…strong. But he isn't vicious and doesn't bite. Buffy loves children; he won't bark at them and is seemingly instinctively gentle with them."

Buffy the pedigree Ciobanesc Mioritic at 3 ½ months old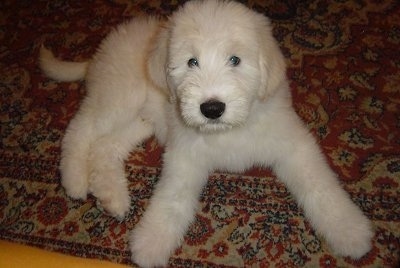 Buffy the pedigree Ciobanesc Mioritic at 1 month old