Olde Victorian Bulldogge Pictures
Page 1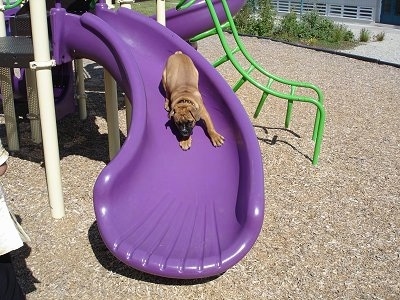 "Kaos the Olde Victorian Bulldogge is pictured at 2 months old. At 5 months old, he is trained, is very loving, smart, sociable toward people and children (he especially adores children). He loves other dogs and plays well with them. Kaos and my daughter Tiana just love each other greatly. Tiana takes part in his training and learns to command and respect him as Kaos does her. They play slides and tunnel at the park and on occasion tag with each other. Kaos for some reason just loves the slides. When my daughter returned back to school, he was so bummed out and pined for her return; he would just sit by the door and mope, and he would not take his eyes away from the door. When she returned Tiana would greet him with glee and he would wag his stubby like nuts!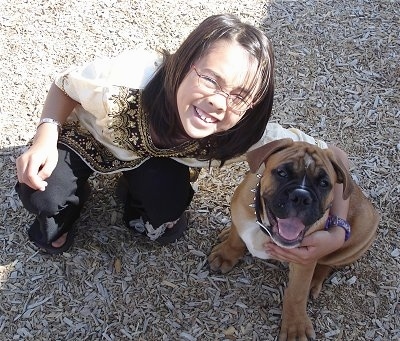 "At first Kaos was stubborn and defiant and a bit aggressive but with a lot of time, patience and perseverance in his training, he is calm and active and playful and listens to his commands. I do have to keep on top of him when it comes to his commands but he is fantastic for them! Kaos really doesn't have any bad habits that we haven't curbed from his behaviour. He has an interesting quirk that if we walk him off-leash and a family member is not within his sight he automatically stops and turns his head to wait for that member. He refuses to go anywhere until that member is there (unless I command him to go). Same goes for the door when he needs to go outside, he waits for the dominant member, because they always go first and him last. Even on the stairs when he returns inside, he waits for you to go first then him. He will not move until we tell him so if a member is still waiting to come down. He understands when he is being bad by my tone and one look at him in the eyes. I do not have to yell at him, I am calm and I never back down to Kaos. He is sort of like my kid; when she is bad she is sent to her room with one command. Kaos is the same way; he gets a reprimand and a command to go to his room and he goes to his crate for a time-out and lies down without me having to do anything else. After the crate time-out he is well behaved and listens quite well. Kaos knows the difference in his crate when he is bad and when he is good, I made sure of it and he will walk into his crate anytime he wants to and he does. At bedtime he just automatically goes there with no problems. (I keep the door open for him all day long)! He has been a joy to own and we all love him very much. I cannot wait until he fully matures to see him in the full aspect of this wonderful breed."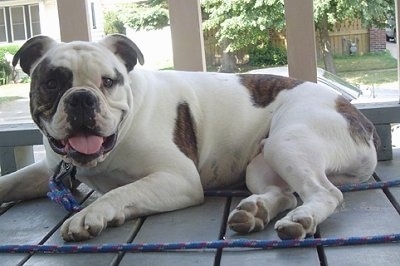 Tucker the Olde Victorian Bulldogge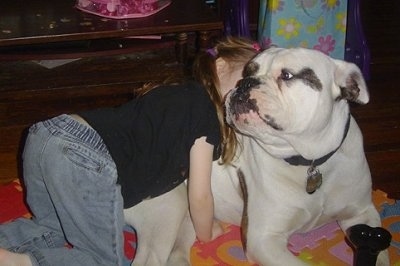 Tucker the Olde Victorian Bulldogge getting a big hug!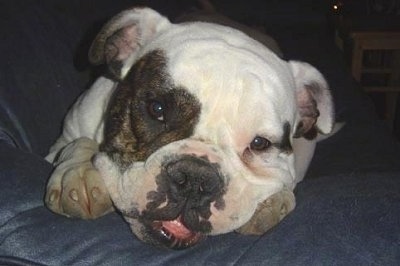 Tucker the Olde Victorian Bulldogge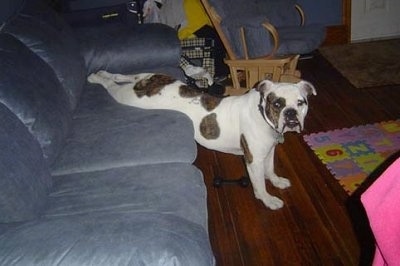 Tucker the Olde Victorian Bulldogge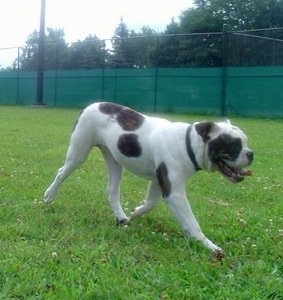 Tucker the Olde Victorian Bulldogge