SABT = South African Boerboel Association
APRI = American Pet Registry, Inc.
HBSA = The Historical Boerboel Club of Southern Africa
EBBASA = Elite Boerboel Breeders Association of South Africa Boerboelclub (Nederland)
RIBC = Russian International Boerboel Club Samba Global
SAMBA Global = International organization, whose primary goal is to aid the protection & development of the South African Boerboel
USBA = United States Boerboel Association
DRA = Dog Registry of America, Inc.
NAPR = North American Purebred Registry, Inc.
AKC/FSS = American Kennel Club Foundation Stock Service® Program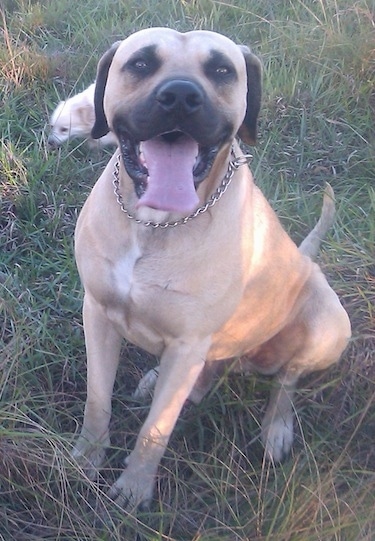 Duke the Boerboel at 1 year old
Duke the Boerboel at 1 year old
___________________________________________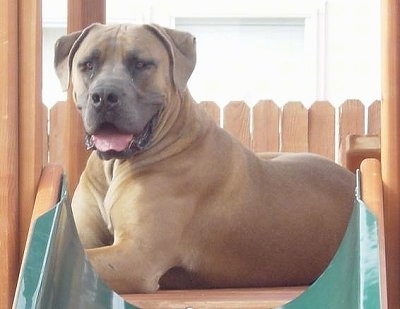 Otis, an African Boerboel at 2 years old, weighing 150 lbs., "loves to lounge on the kids' swing set."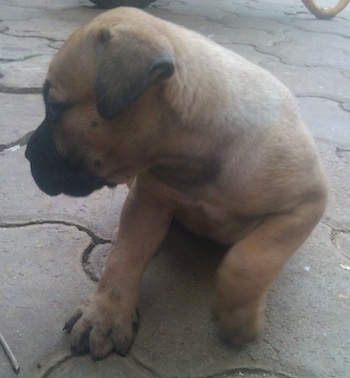 Bolt the Boerboel puppy at 5 weeks old—"Bolt is a purebred Boerboel who is warm and lovely."
___________________________________________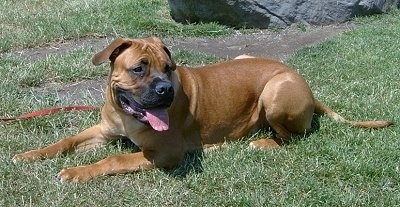 "Our purebred Boerboel dog called Nahu—Nahu is a Maori name meaning protector (from New Zealand). Nahu was imported from South Africa at 8 weeks of age. He was 7 months old at the time of this picture and 120 pounds. He will grow to about 180-200 pounds based on the other males from the breeder who we bought him from. He is extremely affectionate and very protective of me and my husband. He's wary of strangers but as soon as he knows that we're comfortable with new people he's OK with them, too…. He has a 6th sense and can tell if people are good or not. The breed seems to be very instinctive, picking up on owner's feelings, if we're nervous or wary of someone they are, too. We live in an apartment and he gets along really well with our two Burmese cats. We crate-trained him when he was young so he sleeps and eats in his crate, but the rest of the time he's free in the home. He's responding very well to dog training; he's the best in his class. All he wants to do is be wherever we are, so he always sticks by our side when out walking. We feed him a totally raw food diet (i.e. raw turkey necks, whole raw chickens, raw steak, raw trout fish, pulped fruit and vegetables, almonds, walnuts, sunflower seeds, supplements like calcium, vitamin C, kelp, cod liver oil, flax seed oil, etc.) I've never seen a healthier dog and his recent blood tests came back better than perfect."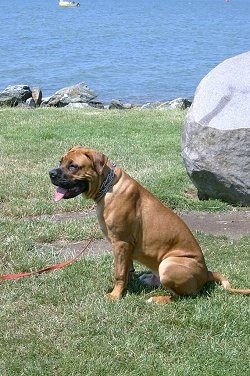 Nahu the Boerboel at 7 months old
___________________________________________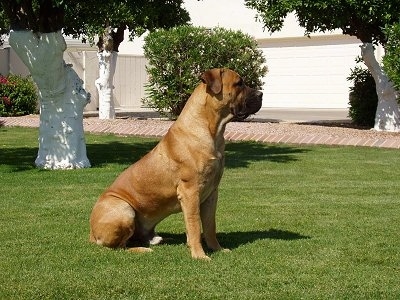 Photo courtesy of Desert Sky Boerboels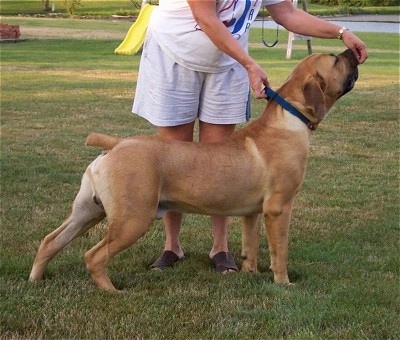 African Boerboel Bakari at 10 months and 130 pounds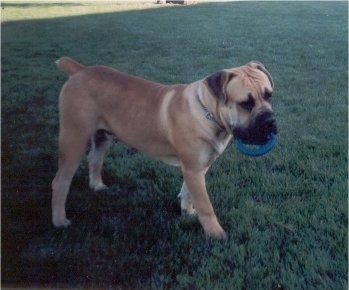 Jabari is 10 months old and 120 pounds in this photo.
___________________________________________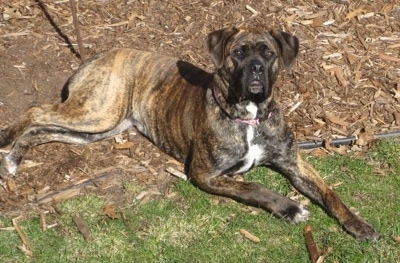 "Mia the South African Boerboel as a 10-month-old-puppy; at 13.5 months old she weighed 102 lbs. She is the sweetest, most loving dog. Very loyal—follows us around constantly. Protective at nighttime and will bark at strange sounds outside. Loves kids and other dogs. Looks forward to going to doggy daycare. Loves playing with tennis balls and chewing on Nylabones. Also loves rolling around and getting her tummy rubbed. Likes going on walks but is not good with the heat. Will lie down during the walk if too hot out. She drinks tons of water all day—and slobbers a lot! Feed her Blue Buffalo large breed chicken and brown rice, 3 cups in morning and 3 at night. Doesn't chew on anything inside that's not hers. When she was a puppy she liked to chew on the rubber part of our door stops!? Outside she'll chew on and eat ANYTHING! Dirt, branches, leaves, sticks, mulch, etc. Will drink out of the toilet if we forget to put the lid down! Doesn't mind her baths but hates getting her nails clipped. Monthly baths are adequate—unless it's been raining out and she's been digging in the mud! Clip her nails and clean out her ears twice a month. Sheds more during the spring/summer. Love their type of fur because isn't oily/greasy like some dogs. She is crate trained and stays in her kennel during the day when no one is home. At night she sleeps on her bed in our room. Not allowed in our bed! We will definitely be getting another Boerboel in the near future. We just love her personality, temperament and build. Everywhere I take her people ask what breed she is and everyone at the vet tells me they'll take her if I ever wanna give her up!"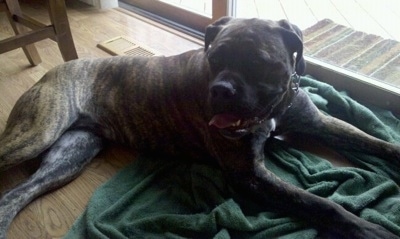 Mia the South African Boerboel as a 7.5-month-old puppy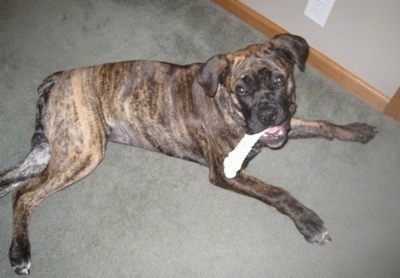 Mia the South African Boerboel as a 6-month-old puppy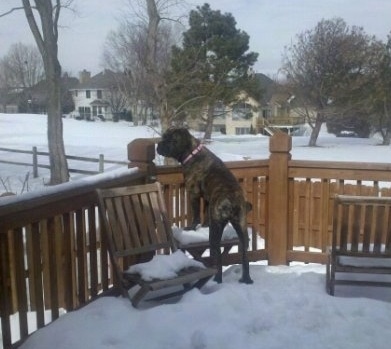 Mia the South African Boerboel as a 6.5-month-old puppy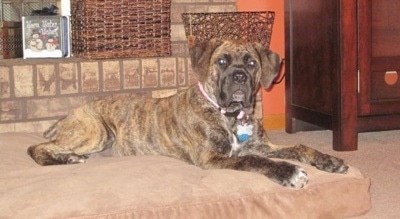 Mia the South African Boerboel as a 16-week-old puppy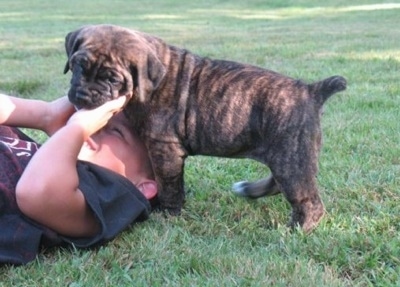 Mia the South African Boerboel as a puppy at about 6 weeks old
___________________________________________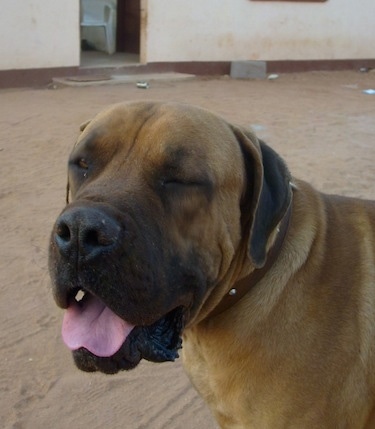 Bob the Boerboel—Photo courtesy of Estrones' Boerboels in Botswana, Africa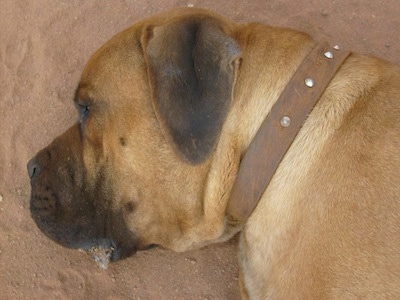 Bob the Boerboel—Photo courtesy of Estrones' Boerboels in Botswana, Africa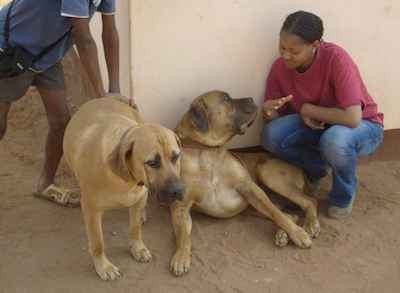 Phatsimo with Boerboels Destiny and Bob; Bob and Destiny were imported from South Africa to Sefhophe, Botswana—Photo courtesy of Thokwengs' Boerboels in Botswana, Africa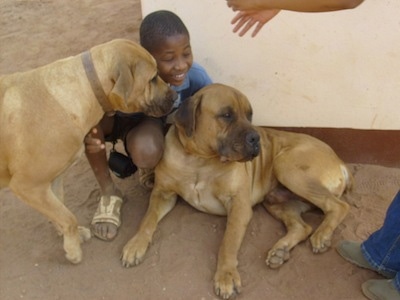 Mboys with Bob and Destiny—the three family friends. Notice the relative sizes of their heads? Photo courtesy of Thokwengs' Boerboels in Botswana, Africa