Bohemian Shepherd
Information and Pictures
Nicka, Bohemian Shepherd (Chodsky Pes) at 10 months old
Other Names
Chodsky Pes
Czech Sheepdog
Chodenhund
Bohemian Herder
Pronunciation
Chodsky Pes = Hod-skee Pess
Description
The Bohemian Shepherd is a medium-sized shepherd, with a length marginally exceeding its height. The dog has long, thick fur and a rich undercoat, allowing him to withstand harsh weather. He has an exceptionally harmonious build. Body is compact and well-proportioned. Typical characteristics for the breed include erect ears, small, pointed and high set. An elegant, long neckline, also marked by long, rich fur. The gait is fluid, light and unhurried. All Bohemian Shepherd puppies look almost identical and don't really start to show their adult coloring until they are about 6 or 7 months. Some have medium length coats, but most of them have very furry and fluffy coats. It is a medium sized dog—maximum 25 kg in the breeding standard, minimum 16 kg. The only allowed coloring of its long coat is black and tan.
Temperament
This is an excellent dog for active people. Brilliant temperament, brilliant learner. The Bohemian Shepherd has lots of energy. This dog is not aggressive and can be easily trained. It requires training with a handler so it can do things like accompany its handler during long walks or rides on a bike. Good with children, other dogs and pets. This breed is great at agility, rescuing and service-training. It can also be used for sledding. It has an excellent nose and it exhibits aptitude for working alongside of handicapped people. The Bohemian Shepherd makes an excellent watchdog. This breed possesses an outstanding temperament, free of unstable or nervous behavior. The dog is friendly to both his owner and his family, particularly to children. Socialize well. Can be aloof with strangers unless his family is threatened, when the dog will be both agile and courageous. An excellent watchdog and escort, capable of extensive training. With his ideal medium size and excellent obedience, he can also excel in guide work. His naturally keen sense of smell ensures his success as a rescue dog, helping to locate victims of an avalanche. The dog also has a talent for herding and sled work as well. Owners need to be firm, consistent and confident with this dog at all times, setting rules for the dog and sticking to them. The more intelligent the dog the more alpha it tends to be. All dogs crave leadership and the Bohemian Shepherd is no exception. Owners will run into issues with lack of leadership and or exercise.
Height, Weight
Height: 19 - 22 inches (48 - 56 cm)
Weight: 35 - 55 pounds (16 - 25 kg)
Health Problems
--
Living Conditions
The Bohemian Shepherd can live both inside and outside, however it needs contact with people to be happy. It is very people-oriented and will not be happy isolated from human contact.
Exercise
The Bohemian Shepherd love strenuous activity, preferably combined with training of some kind, for these dogs are very intelligent and crave a good challenge. They need to be taken on a long daily walk.
Life Expectancy
About 9 to 13 years
Litter Size
About 4 to 6 puppies
Grooming
Low maintenance, despite the long hair. Normal shedding in the summer, of course, as would be expected with any other shepherd type.
Origin
This dog is possibly one of the predecessors to the German Shepherd, having been known to exist in the Czech Republic as far back as the 1300s, and having been professionally bred as early as the 1500s. (Centuries before the Germans decided to try and make their own national breed). In 1984 a modern breeding program began for this dog in the CZ and there are now numerous breeders. If you have a Chodsky Pes, you have a pedigreed animal. This is not a Czechslovakian dog—it is only Czech, because the Czech and Slovak Republics didn't merge until the early 20th century, and are, of course, separate once again. In the past, the Chodsky Pes guarded frontiers, later it was used as a watchdog and as a herder.
Group
--
Recognition
DRA = Dog Registry of America, Inc.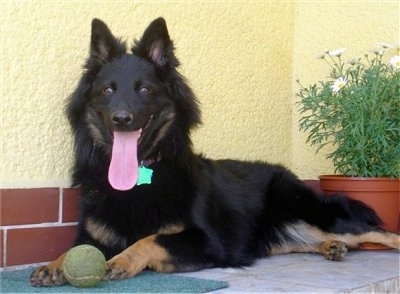 Nicka the Bohemian Shepherd (Chodsky Pes) at 1 year old—her tongue looks soooo long because she was panting and tired from chasing the ball all day!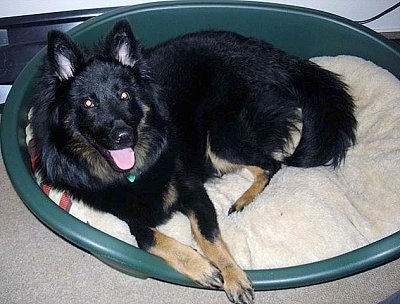 Nicka Bohemian Shepherd (Chodsky Pes) at 9 ½ months old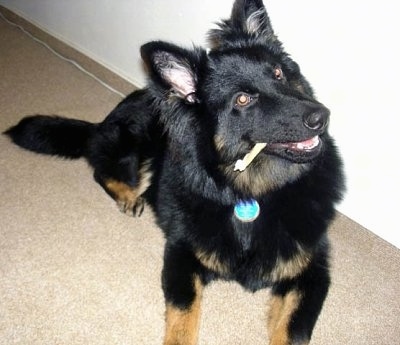 Nicka the Bohemian Shepherd at 6 months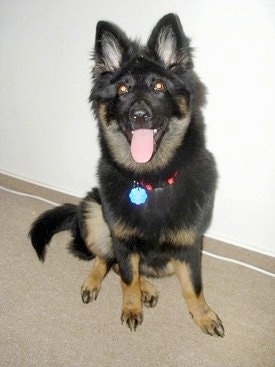 Nicka the Bohemian Shepherd at 5 months
Nicka the Bohemian Shepherd puppy (Chodsky Pes) at 4 months, after his bath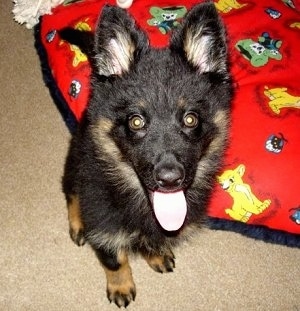 Nicka the Bohemian Shepherd puppy (Chodsky Pes) at 3 months
Nicka the Bohemian Shepherd puppy (Chodsky Pes) at 3 months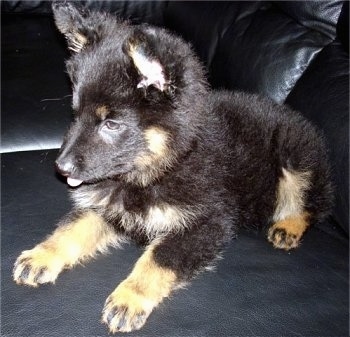 Nicka the Bohemian Shepherd puppy (Chodsky Pes) at 2 months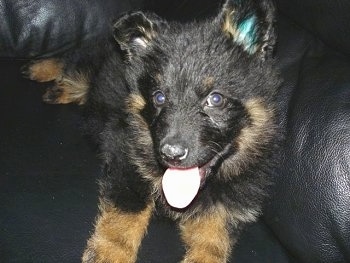 Nicka the Bohemian Shepherd puppy (Chodsky Pes) at 2 months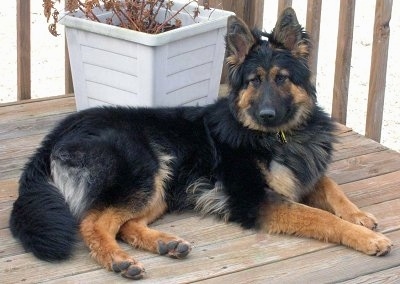 Rikka the Bohemian Shepherd (Chodsky Pes) at 15 months old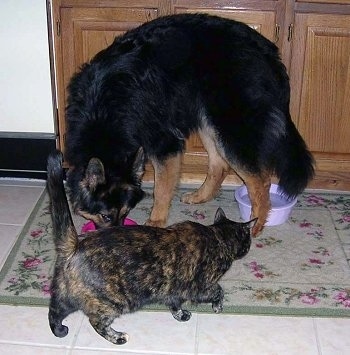 Rikka the Bohemian Shepherd (Chodsky Pes) at 15 months old with Zoe the cat