Chipin Pictures
Chihuahua / Miniature Pinscher Hybrid Dog
Page 1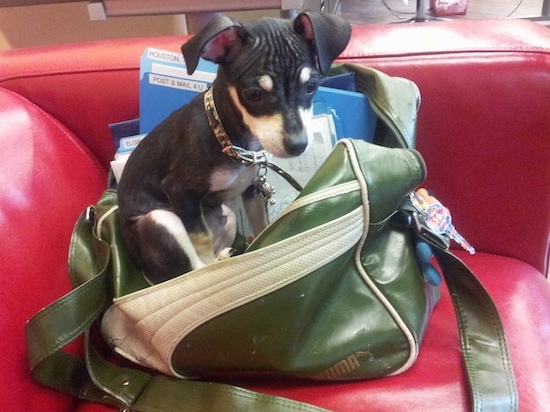 Rocco the Chipin (Chihuahua / Min Pin mix breed dog) at 18 months old—"Rocco was born on January 31,2016. At three months, he suffered a fractured femur. He was brought to the University of Pennsylvania Veterinary Hospital, the best in the country, and my friend was on the rescue and repair team who then turned him over to the PSPCA. I rescued/adopted him from the PSPCA three months later. He has changed my entire life! He is loving, affectionate and undeniably loyal. He goes everywhere I go and has not left my side since I got him. I love him so much and could not imagine my life without him."
Other Names
Chi-Pin
Minchi
Pinhuahua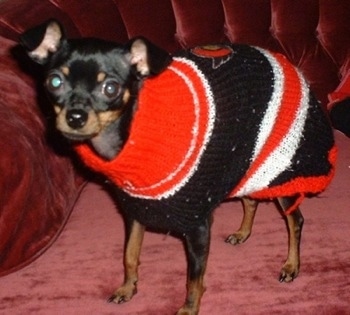 "Pinscy the Chipin at 2 years old is an Ottawa Senators fan."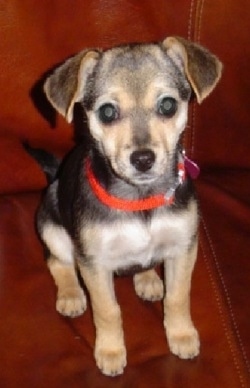 "This is our Zoee, our Chipin (Chihuahua / Miniature Pinscher mixed breed). She weighs 3 lbs. and is estimated to weigh 7-8 lbs. when full grown. This hybrid seems to love being a lap dog, very lovable, fast, energetic, a great little alarm system, very smart and loves to steal the inserts to your tennis shoes."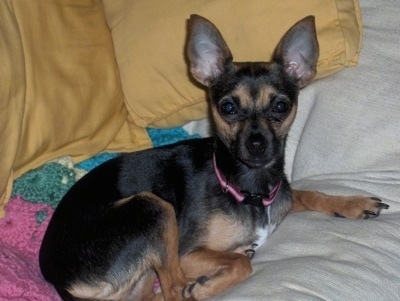 "This is Ritzy, who is half Chihuahua and half Min Pin (Chipin). She is 3 years old in this picture, loves people and loves attention."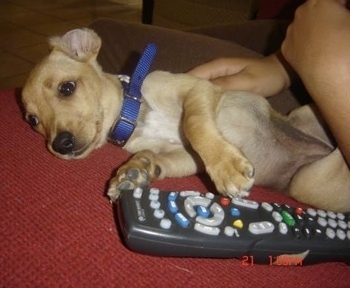 "Daisy was the best Chipin ever! Even though she was only in our lives for 11 days we will miss her dearly. She died of Parvo and internal bleeding on 6/25/06 at 10 o' clock in the evening. Since it was a Sunday the vets weren't open so we didn't get to euthanize her. We hope that she is happier now that she's not in pain. We'll miss you Daisy!! R.I.P!!!"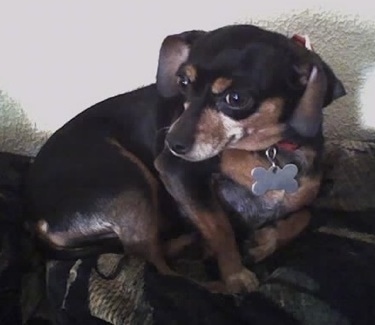 "This is Baby Girl, my Min-Pin / Chihuahua mix. She is 4 years old in this picture and the sweetest little dog ever. She loves to play with her toys and our other mixed-breed dog."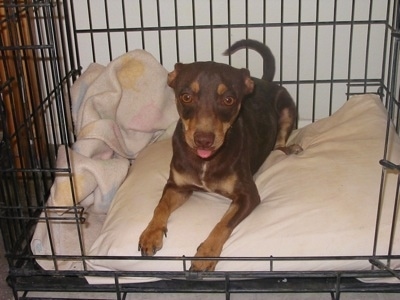 "This is Archie at 1 year old. He is very shy at first with other dogs but loves people. Loves to be held."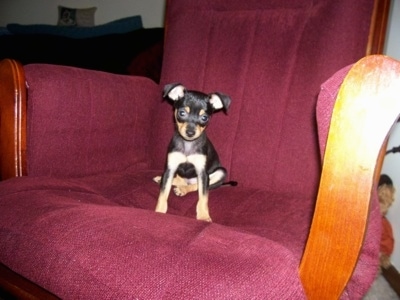 "She is a sweetheart. Her name is Princess. If I could be sure to have 10 more just like her I would. =) She is 13 months old. She was about 2 months in the photo. Princess weighs 5 lbs."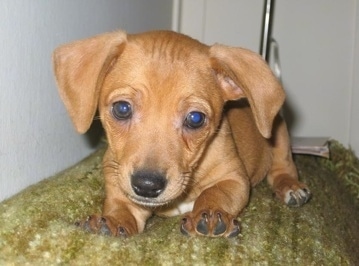 "This is Gulley the Chipin puppy at 8 weeks old! He was born on Christmas Day in 2006. He lives in Massachusetts, but came from Fargo, ND. He is an awesome little guy, so full of life and energy. He loves to lick people's toes, and lives in a big dormitory filled with teenage girls who wear flip-flops, so he is always happy! Gulley's favorite thing to do is reach out and touch people's faces with his paws, like a little person. If he's not doing that, he's sitting on the windowsill like a cat, watching the world go by! He is currently 6 months old and weighs 9 lbs., and he has the softest, shiniest fur! Gulley loves having his belly rubbed, and if you give him a squeaky toy, he will be your best friend for life :)"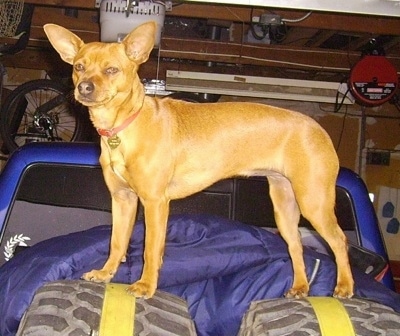 "This is Koda at 1 1/2 years old. She is a Min Pin / Chi mix. We adopted her from Petco when she was 6 months old. Jumping, running and swimming are daily activities for this energetic pup. Most of all, this girl loves to eat, so much that she learned how to jump onto countertops and eat everything in sight! Despite her small size however, she loves being around big off-road trucks, including her daddy's lifted truck which she has no problem jumping into whatsoever. Also, driving her daddy's truck. She also loves to dress up for Halloween. When it comes to sleeping (after her long day of playing), she has to be under the covers right next to you (she is a major bed hog!)"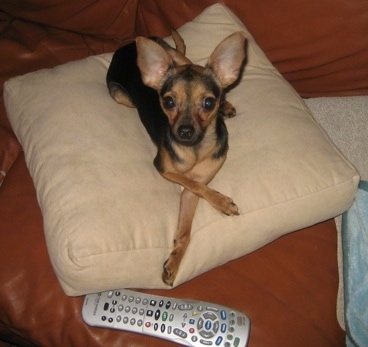 "This is Shyla. She is the 2-year-old love of my life! Seriously, she's the cutest ever. Weighing in at 5.5 lbs., this dog sounds more like a monkey than a dog. People who hear her down the hall from me have thought she was a young child, a bird, a cat, etc. by the way she talks and yells at me. She is very friendly but also very shy, hence her name, Shyla. She thinks she is a cat, and loves both cats and dogs alike. It's humans she's most shy around!"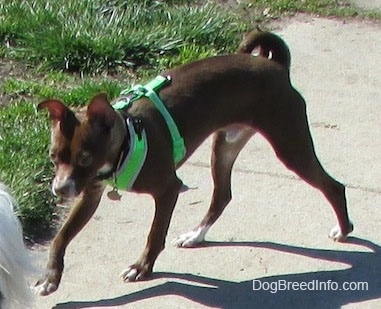 Hershey the Chipin (half Min Pin half Chihuahua) at 1 year old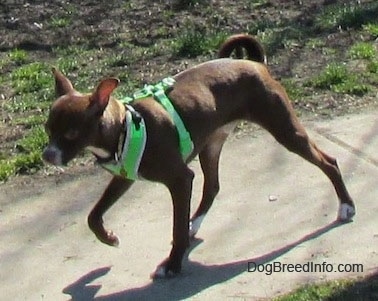 Hershey the Chipin (half Min Pin half Chihuahua) at 1 year old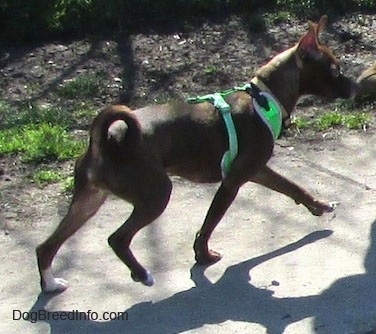 Hershey the Chipin (half Min Pin half Chihuahua) at 1 year old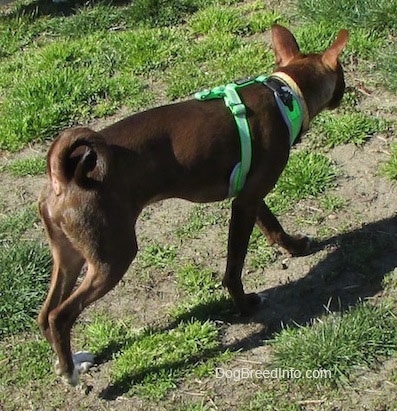 Hershey the Chipin (half Min Pin half Chihuahua) at 1 year old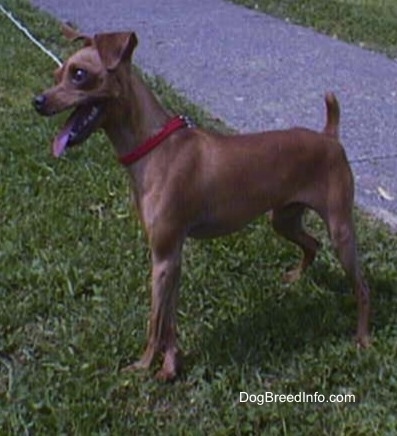 Adult Chipin (Chihuahua / Min Pin mix breed dog)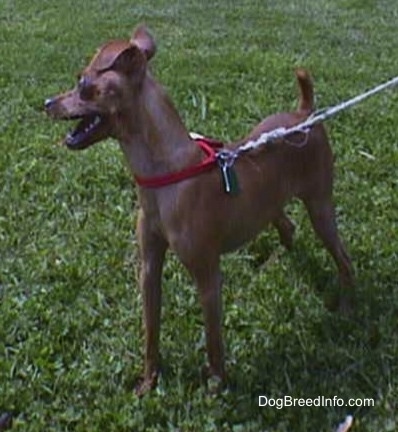 Adult Chipin (Chihuahua / Min Pin mix breed dog)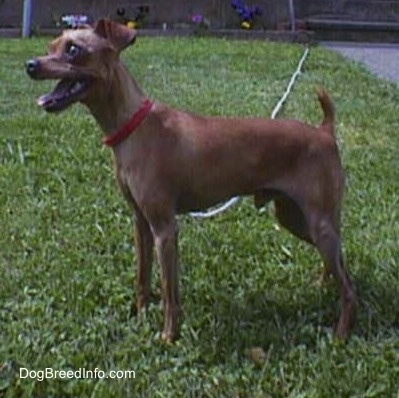 Adult Chipin (Chihuahua / Min Pin mix breed dog)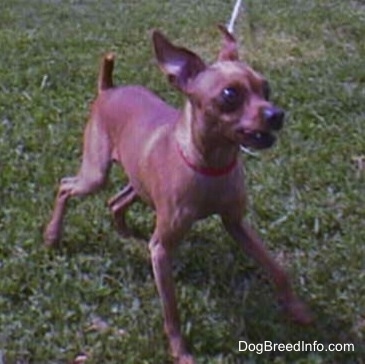 Adult Chipin (Chihuahua / Min Pin mix breed dog)