Rescue a Florida Cracker Cur Feist
Florida / Cracker Cur Puppies for Sale
Florida/Cracker Cur
(Florida Cow Dog)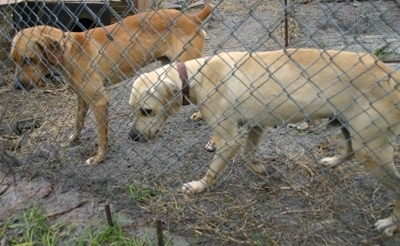 "A Florida Cracker Cur is one tough dog. In Florida, this dog is a cattle and hog dog used in herding cattle in the blazing heat of the tropics working dusk to dawn with its cowboy. They have an excellent temper, very loyal to the farm and their work. Cracker curs have become very rare—with the loss of land and cattle industry, the need for a cow dog has declined. I have one myself from a 70-year-old cowboy. His female, the mom, is one of his best dogs in all his years, so I am submitting this pic of them; they are red and a yeller dog. Yellow to me, but that's what they say, a yeller dog.... The dogs range from 30 females to 40 males."
Description

-

Temperament

-

Height, Weight

-

Health Problems

-

Living Conditions

-

Exercise

When it is not out on a job, this breed needs to be taken on a daily long walk or jog.

Life Expectancy

-

Grooming

-

Origin

Florida. A true working dog, the Florida/Cracker Cur dog is not bred for looks, but its working ability. It works side-by-side with its cowboys. Many cowboys state, "A well trained cowdog is worth the work of several cowmen." The first stock dogs were brought to Florida by Hernando de Soto in 1539. These dogs were used to round up cattle. When a cow escaped, it was the dog's job to round the cattle back up and move it back with the rest of the herd. Some dogs would hold a cow by the nose, ear or leg until the cow was roped and branded; these were called "Catch Dogs." When the dogs were not out working with their cowboys, they were used as watch and guard dogs for the family at home. They played a big part in the lives of ranchers.

Group

Cattle Dog

Recognition

DRA
DRA = Dog Registry of America, Inc.