Havanese Pictures
(Bichon Havanais) (Havana Silk Dog) (Bichon Havanese)
Page 1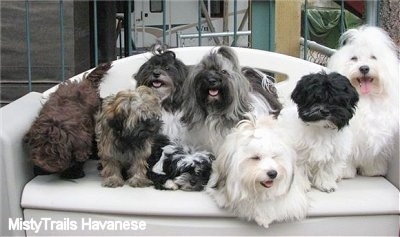 The crew at MistyTrails Havanese
Havanese puppies bred by Misty Trails Havanese, being taught there is a place to sleep, a place to eat and a place to go to the bathroom—this is called the Misty Method. Puppies that are raised with this method (while still with the breeder) are easier to housetrain.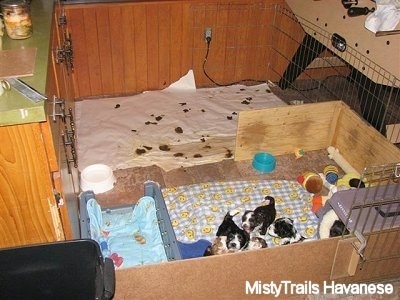 These 8 puppies are only 5 weeks old. There were 16 poops and pees in the night, and every one of them is on the paper.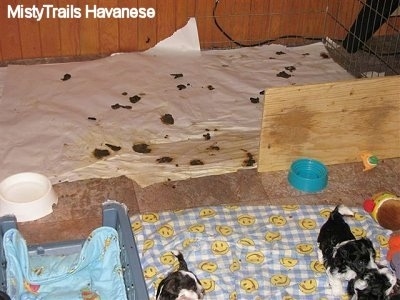 "The stools are a little soft, as I just wormed them; it is important to worm your puppies every 2 weeks. I use a mild wormer at 2 and 3.5 weeks, and a little stronger one at 5 and 7 weeks."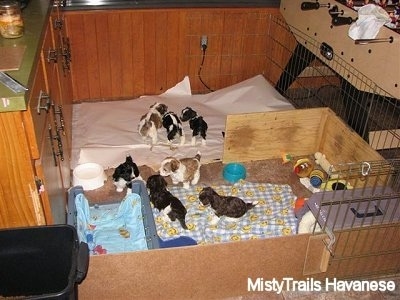 "In the morning when I wake up to this poop, I quickly just cover it with another piece of paper, as shown above. Then after they all say hi and have breakfast, I change all the paper while they are eating. Remember before 5 weeks you leave the smelly poop there to attract them and just cover it. But, once they catch on and always use the paper you can keep it clean and change it more often. Do not leave the exposed poop for the puppies to run through and track all over. You do NOT want the puppies' feet to be covered in poop (or bodies when they start to play and roll). A sign that a puppy has not been raised in a clean environment would be yellow/brown stained legs. Remember, this early training from a breeder makes it much easier for the new owner to train the puppy."
Courtesy of MistyTrails Havanese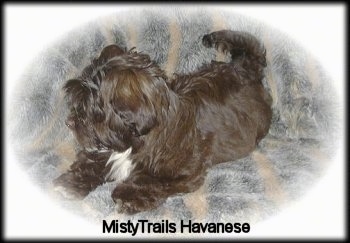 Java, a chocolate with white puppy, photos courtesy of MistyTrails Havanese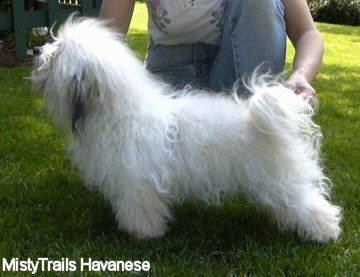 Quito (whose dam was imported directly from Cuba) at 1 year is just working on his adult coat coming in. He now has a Canadian Championship title! Some dogs have thinner coats, like Quito pictured here. The Cuban bloodlines seem to have thinner coats and the Dutch/Spain/Sweden lines seem to have much thicker coats. Photo courtesy of MistyTrails Havanese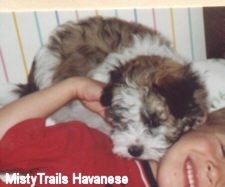 Havanese are known to lighten in color as they get older. Pictured is Quito as a young pup. Photos courtesy of MistyTrails Havanese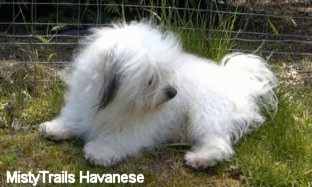 Quito at one year, photos courtesy of MistyTrails Havanese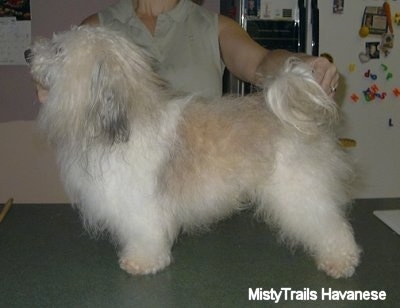 Here is Quito (Cuban bloodline) again. He did yet another molt, lost his hair and I clipped him down (took 2" off him) as he finished his championship, because I wanted to start over with his coat. His hair is coming back in dark. He started sable, at one point he was pure white, now he is going back to his puppy color. Photos courtesy of MistyTrails Havanese
The Cuban bloodlines have offered great temperaments to our breeding program. We have had the chance to work with 5 dams imported from Cuba into Canada.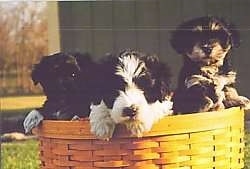 Adorable Havanese puppies, photo courtesy of Gota Hav'a Havanese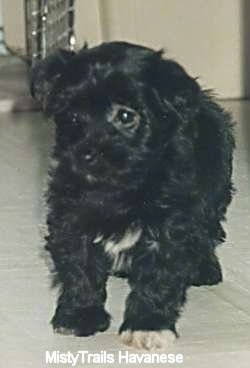 Misty at 3 months, photo courtesy of MistyTrails Havanese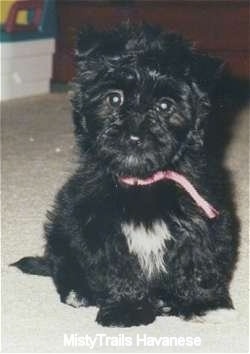 Misty at 3 months, photo courtesy of MistyTrails Havanese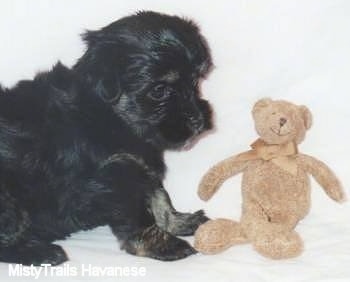 Puppy at 5 weeks, photo courtesy of MistyTrails Havanese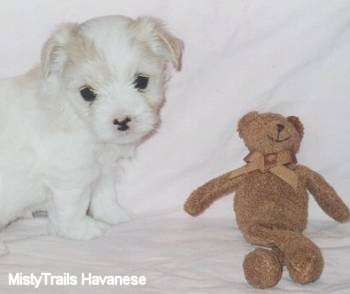 Puppy at 5 weeks, photo courtesy of MistyTrails Havanese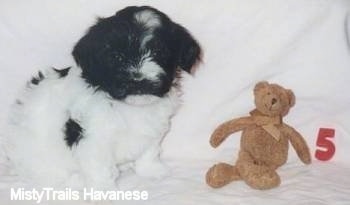 Puppy at 5 weeks, photo courtesy of MistyTrails Havanese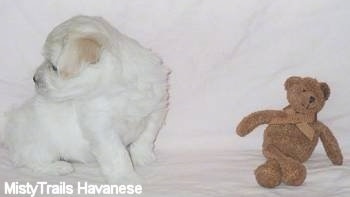 Puppy at 5 weeks, photo courtesy of MistyTrails Havanese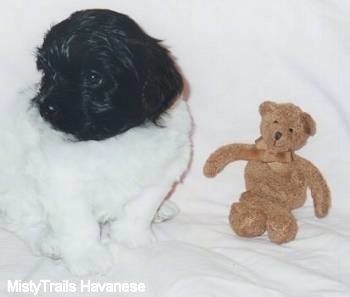 Puppy at 5 weeks, photo courtesy of MistyTrails Havanese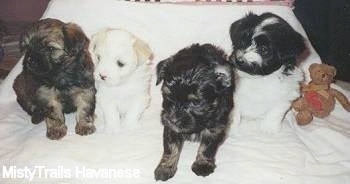 Puppies at 5 weeks, photo courtesy of MistyTrails Havanese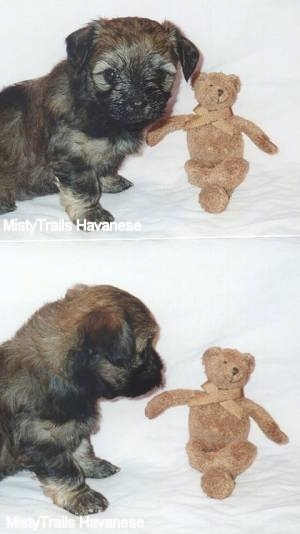 Puppy at 5 weeks, photo courtesy of MistyTrails Havanese