Komondor
Information and Pictures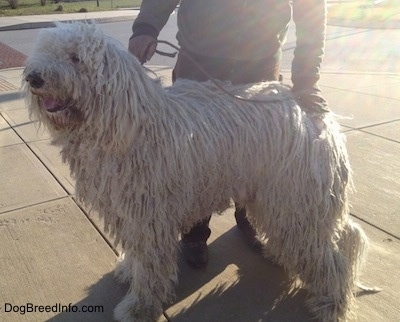 Adult Komondor in a full-corded coat
Other Names
Komondorok (plural)
Hungarian Sheepdog
Hungarian Komondor
Mop Dog
Pronunciation
KOM-on-door

Description
The Komondor is a muscular flock guardian with massive bone structure. The head is large and the muzzle is relatively short and dark. The almond-shaped eyes are dark brown and medium in size. Ears are an elongated triangle in shape with a slightly rounded tip, blending with the rest of the coat. The hanging tail is long enough to reach the hocks. The teeth meet in a scissors or level bite. Its body is totally covered with an extraordinary felted and corded coat, which is 8 to 11 inches (20-27cm) long, and always white. This thick, corded, white coat helps the dog blend in well with sheep and also helps protect it from any prey that it might be called upon to fight in his role as a flock guardian. The outer coat fuses with the undercoat to form long cords that hang alongside the dog. The coat of a puppy is relatively soft, but shows signs of corded-like curls. It can take up to two years for the cords to form completely and 5 years to reach the desired length.
Temperament
Komondors can be good family dogs if they have owners who know how to display a natural, firm authority over the dog, are socialized, trained thoroughly, and are raised with children from the start, but they are not recommended for most families. Komondors are serious working flock guardians bred to be fiercely protective and confident, as they watch over their charges. Relentless against wolves and bears that would attack the flock with which it is entrusted. In a few minutes the Komondor can get the better of even the strongest enemy. Because this breed is bred to work independently as a flock guardian it has a high dominancy level. When they are raised to work as the flock guardian they were bred to be, they will be very reserved with strangers and territorial. This breed must be thoroughly socialized with people and other dogs preferably at an early age. They need complete and firm leadership with clear rules they must follow and obedience training by an experienced owner, as they can be very willful if they are stronger minded than the humans around them. Smart, but easily bored, loyal to and respectful of their master, but fierce against threats to their charges. The objective in training this dog is to achieve pack leader status. It is a natural instinct for a dog to have an order in its pack. When we humans live with dogs, we become their pack. The entire pack cooperates under a single leader. Lines are clearly defined and rules are set. Because a dog communicates his displeasure with growling and eventually biting, all other humans MUST be higher up in the order than the dog. The humans must be the ones making the decisions, not the dogs. That is the only way your relationship with your dog can be a complete success. If this relationship is not established the Komondor can be aggressive with both dogs and people if they enter the property as it takes over the home, treating all strangers as the predators coming after their flock. Humans need to be the leader in the home, not the dog. Puppies should be handled a lot by strangers. Owners should never let puppies jump on or chew on humans. They should be taught to heel on a lead right from the start and learn to enter and exit all door and gateways after the humans.
Height, Weight
Height: 25.5 inches (65 cm) and upward.
Weight: Males up to 125 pounds (59 kg) Females 10% less.
Health Problems
They are prone to hip dysplasia, bloat and skin problems.
Living Conditions
This dog does best in a clean country environment where he can receive extensive daily exercise, but it will do okay in an apartment if sufficiently exercised. It does well in most climates, for the Komondor lives for many months outdoors in all kinds of weather.
Exercise
It is possible to keep this breed in an urban environment although the country is more to its liking. If they are not actively working as a flock guardian, they need to be taken on a daily, long brisk walk. This dog can be extremely lazy and will sleep and rest for hours upon hours.
Life Expectancy
About 10-12 years.
Litter Size
About 6 to 12 puppies
Grooming
Their hair must never be brushed or combed. It is divided into cords and trimmed. Needs frequent bathing and takes a long time to dry. It sheds very little, if any.
Origin
The Komondor is descended from Tibetan dogs. Some think the Komondor was brought to Hungary a thousand years ago by nomadic Magyars to guard large herds of cattle and sheep. However, newer studies show it came from the Cumans. The name "Komondor" came from the name Koman-dor, meaning "dog of the Cumans." Komondor remains have been found in Cuman gravesites. The earliest written reference is from the 16th century. The breed spread throughout the rest of the world beginning in 1920 when it began to compete in dog shows. The Komondor, still to this day, lives for many months outdoors in all kinds of weather, as they protect their master's flocks. They do not herd the flock, but rather protect them, primarily without any human assistance. The breed was recognized by the AKC in 1937.
Group
Flock Guard, AKC Working
Recognition
ACA = American Canine Association Inc.
ACR = American Canine Registry
AKC = American Kennel Club
ANKC = Australian National Kennel Club
APRI = American Pet Registry, Inc.
CKC = Canadian Kennel Club
CKC = Continental Kennel Club
DRA = Dog Registry of America, Inc.
FCI = Fédération Cynologique Internationale
KCGB = Kennel Club of Great Britain
NAPR = North American Purebred Registry, Inc.
MASKC = Middle Atlantic States Komondor Club
NKC = National Kennel Club
NZKC = New Zealand Kennel Club
UKC = United Kennel Club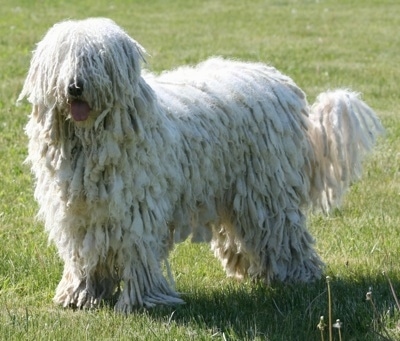 "This is Ibis Encore CGC TDI TT (Niea). She is a four-year-old Komondor. She is owned by Andrea and Steven Barber and lives on a farm in western New York (Sand Meadow Farm). However, she is not a "farm dog," but rather the official farm guard and a treasured member of the family. She is also a certified therapy dog, which is quite unusual for the breed, and regularly visits area nursing homes."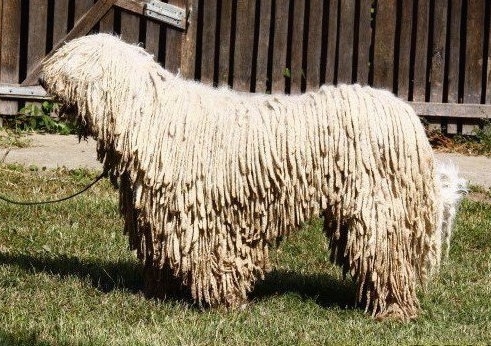 "This is Betyár from Somogyi Betyár Kennel in Hungary. He is famous for his Championships: IntCH, HGrCH, HSCH, HCH, RoCH. He is a father of 8 litters from Somogyi Betyár Kennel. He has HD-A. He has a very well-balanced temperament with good watchdog instinct."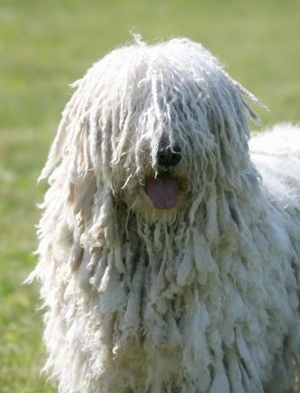 Ibis Encore CGC TDI TT (Niea), a Komondor at 4 years old. Niea is a certified therapy dog owned by Andrea and Steven Barber of Sand Meadow Farm. Photo courtesy of Andrea Barber Photography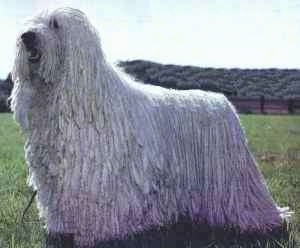 Ch Lajosmegyi Dahu Digal - Anna Quigley and Patricia Turner - Lajosmegyi Komondor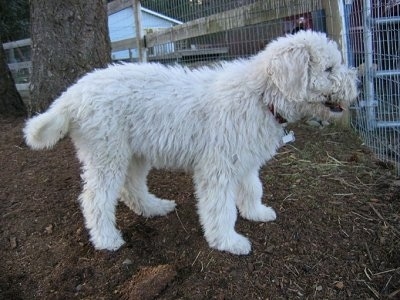 Karma at 12 weeks will eventually be a working livestock guard dog. She lives outside with alpacas on Vancouver Island, BC, Canada.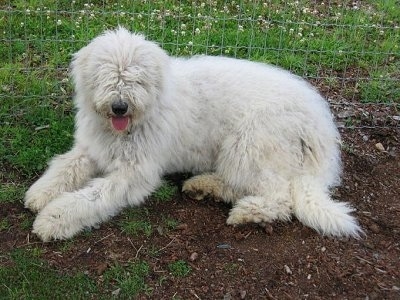 At 8 months old, Karma the Komondor is now safely guarding her owners' alpaca herd. Karma is a livestock guard dog, guarding alpacas at IslandLife Farms on Vancouver Island, BC. She's grown to be quite a big girl...still has her puppy moments, but she keeps everything safe. Her owners are now comfortable having her share a field with their crias (baby alpacas), even ones at 2 weeks of age.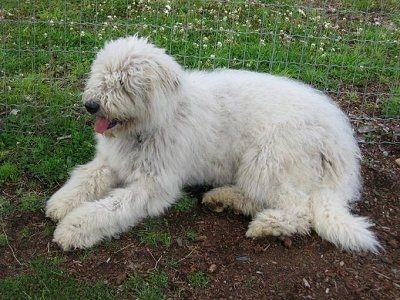 Karma the Komondor at 8 months old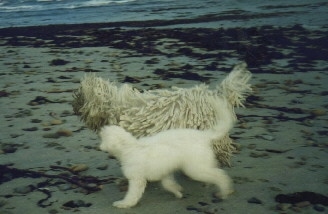 This is Soloman, 3 years old and Chaos, 4 months old, both are Komondors. This photo was taken at the beach on the Orkney Islands (north of Scotland).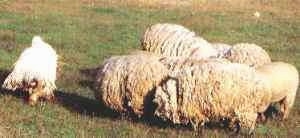 Komondor with its flock of sheep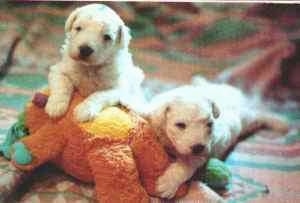 Komondor puppies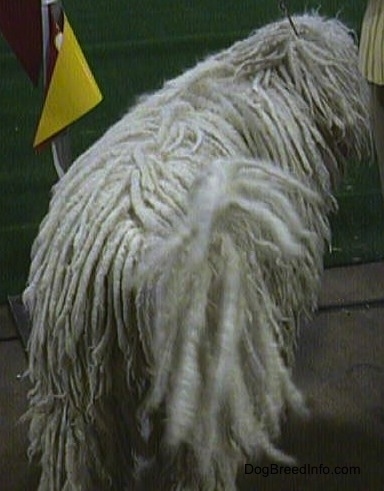 Back side of an adult Komondor in a full-corded coat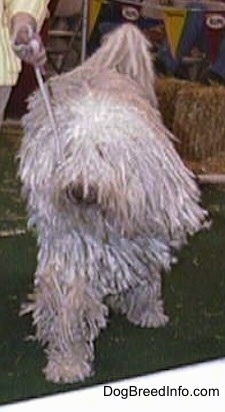 Adult Komondor in a full-corded coat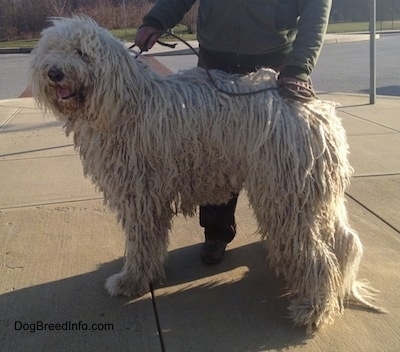 Adult Komondor in a full-corded coat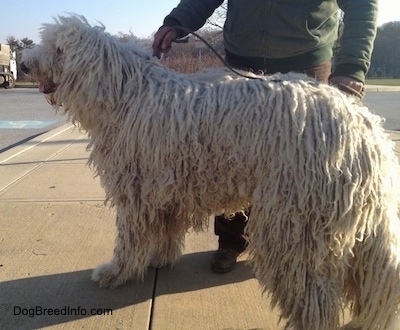 Adult Komondor in a full-corded coat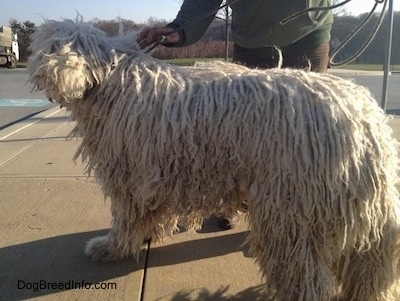 Adult Komondor in a full-corded coat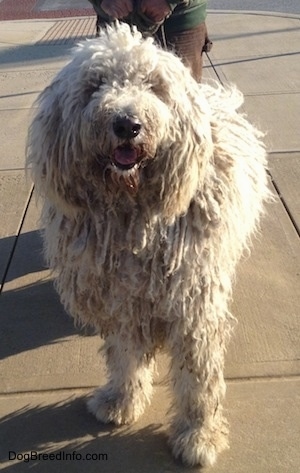 Adult Komondor in a full-corded coat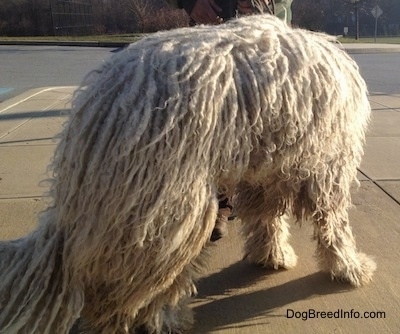 Adult Komondor in a full-corded coat