Lhasa Apso Pictures
Page 1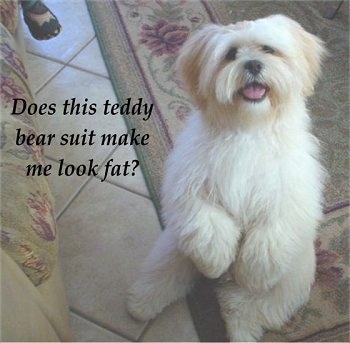 "This is Sam (nickname: Samberghini), a Lhasa Alpso. In this picture he is 10 months old, believe it or not. He loves to sit in this position and will do it whenever he wants to play, go potty, get attention, or just about anything that suits his fancy. He usually will push his paws together like a seal and make a rather unusual grunting noise. We didn't teach him this; he just seems to know we love it. I guess he came pre-programmed with tricks. When we got him, he was very sad and scared. He didn't play like the other puppies. But with a lot of love and attention he has turned out to be the best, happiest dog ever. He is truly a ham. We love our Samberghini. I named him Sam after my good friend. He was a wonderful little Japanese man and I missed him and saying his name when he passed away a couple of years back, so for this little guy, Sam it was."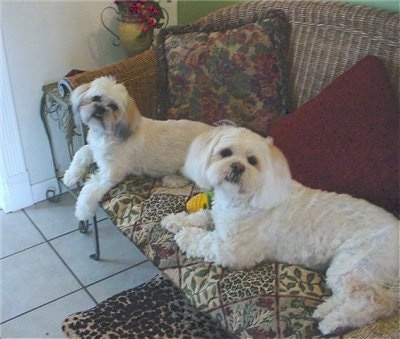 Lhasa Apsos—"Sam at one and a half years old (right) and Missy (left) (nickname; Miso soup) at ten months old. Missy is in love with Sam, he is her mommy. She loves to play tag. In the morning she runs up to Sam and snuggles all over him. He loves her and gently gives her a bath of kisses, and then they wrestle like maniacs. Match made in heaven for all of us. Truly. We always made fun of people and their dogs. You know, those "dog people." Well, guess what, I'm a "dog person" now. Never say never."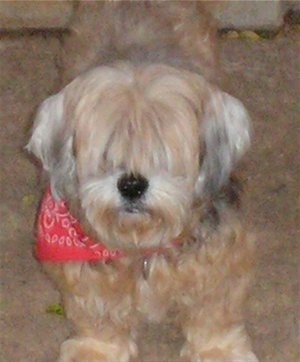 Einstein the Lhasa Apso at 10½ years old—"He is from Australia, lived in Hawaii, drove cross-country from California to North Carolina, and last but not least home to Texas! He has been the best pet and member of our family, he loves everyone and does therapy work with the elderly and special-needs children. His best friend is a miniature pig named Sophie."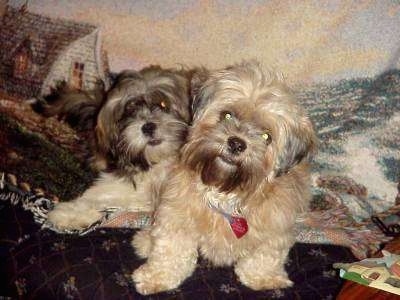 This is 3-year-old Sadie and her daughter 5-month-old Nikki.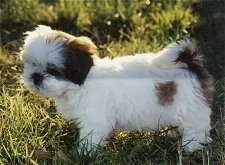 This is Tai-Lei. She is 3 months old in this picture.