Raising a Puppy: A day in the life with Mia the Blue-Nose American Bully (Bully Pit)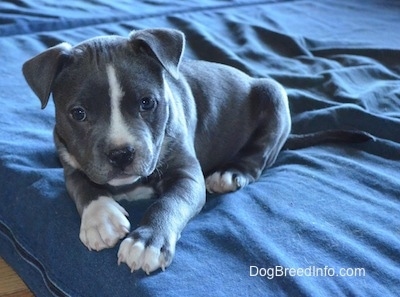 This section documents Mia's life as she grows up.
We adopted Mia the American Bully at 7 weeks old from Dazzling Bullies Kennels out of Atlantic City, NJ. Mia is registered as an UKC American Pit Bull Terrier, but she is actually an American Bully, also called an American Bully Pit. Mia was born November 17, 2013. Lou, Mia's breeder, matches each puppy's temperament with the right owners. He does not place dogs in homes where he does not think they are a good fit with the family. He's been known to turn people down if he does not think they are a match. Unlike some of the other American Bully breeders, Lou never gives the dogs steroids. What you see is the natural look of the dog. That integrity in a kennel is something everyone should look for before choosing a breeder.
Mia was the last one in her litter. Her breeder had planned on keeping her but changed his mind when I showed some interest in buying her. He explained that out of her entire litter she was not only the smallest, but the most energetic puppy and she did not put up with anything from the older dogs. She had spunk, determination, and she was not afraid of anything. In other words, she was the alpha puppy of the litter. Within every litter there is always an alpha, along with some middle-of-the-road dogs and some total followers. I contemplated this for a while, deciding to adopt a puppy who was the most headstrong puppy of the litter. Hmmmm, was this a good idea? Ideally, a person wants to choose the most submissive or a nice, middle-of-the-road puppy. No one should be intentionally looking to adopt the alpha, but the simple fact is every litter has an alpha. Therefore, there are a lot of dogs out there that need owners who can understand them and raise them properly, satisfying their instincts and giving them the leadership they need to happily live among the human race.
The Raising a Puppy sections on this website are here to teach people how to understand their puppies and raise them to be well-balanced adult dogs. To only give examples of submissive types of dogs would mean lacking in certain areas for those who own the alphas. Someone has to own the alpha pups. They, too, make excellent pets with the right amount of leadership from the humans. This section is all about Mia, the alpha female of her litter. The 7-week-old puppy that Spencer the Pit Bull gave up his dog bed for after only knowing her for half an hour. The puppy who barked at Bruno to play with her after only knowing him for a few minutes. The one who had no problem biting on dogs she just met with heads that were bigger than her entire body. The puppy that licked my face the minute I held her. The one who was smart enough to cry when she had to pee instead of immediately peeing inside. For owners of all the other alpha dogs like Mia out there, this section is for you.