Shepadoodle Pictures
German Shepherd / Poodle Hybrid Dogs
Page 1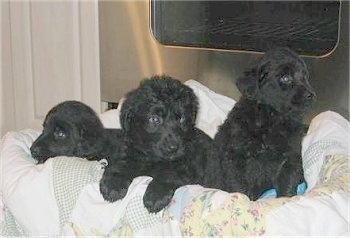 "These are 3 out of 4 pups that were totally black and very "Poodle" in a litter of 10."
Other Names
German Doodle
Shep-A-Poo
Shepapoo
Shepherdoodle
Shepherdpoo
Shepdoodle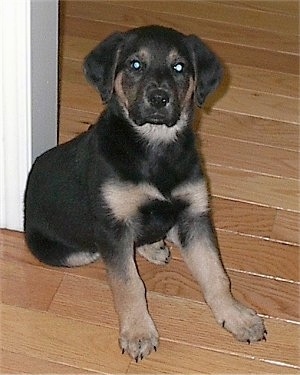 Koda the Shepadoodle puppy—her mom was a German Shepherd and her dad was a Standard Poodle. "Koda is a beautiful, happy, vocal puppy, who loves to play with my daughters and their friends. Most of all, Koda and my 6-year-old Jack Russell Terrier are best of friends."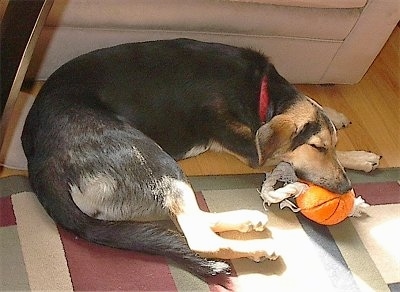 Koda the Shepadoodle all grown up at 1 year old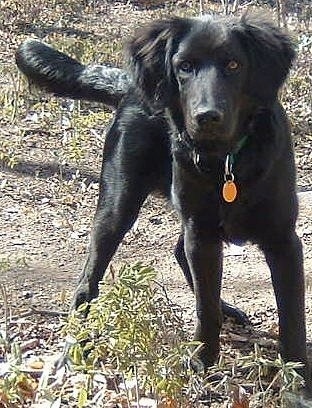 Basil the Shepadoodle (German Shepherd / Standard Poodle hybrid)—"This is "Basil" Wrathbone. He's a Shepadoodle, too, and he is the natural brother of Koda (pictured above). Basil and Koda (as well as their other littermates) have very similar personalities. They are very active, vocal, friendly, mischievous and loving dogs. They even have the same habits of stealing, whining and a serious fear of the water. Koda's owner and I keep contact with 2 other littermate owners and all 4 dogs have the same behaviors. Unlike his sibling Marley (who looks a lot like Ellie), Basil has straight black fur with a high gloss. He has very large feet and the only kinky fur on him is the fuzz between his toes and the fur at the top of the ears. Some of Basil's siblings are black while others have the German Shepherd colors, some have curly hair that does not shed while some, like Basil, have the straight fur that sheds like mad."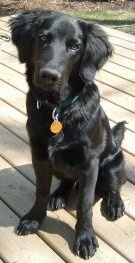 Basil the Shepadoodle (German Shepherd / Standard Poodle mix breed dog)
"Meet Marley aka Harley—Marley is the natural brother of both Koda and Basil (shown above). He, like his siblings, is a very active, vocal and loving dog. But thank goodness he's not the chewer or digger that seems to be the trait of some of the other pups…not that he hasn't considered it! It appears Marley is the only pup out of 10 to retain most of the Poodle traits, although his beard is browning as he gets older. This picture was taken on his birthday. He enjoyed a carrot muffin with a candle and all!"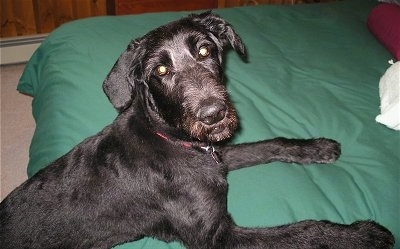 Marley the Shepadoodle puppy, just after his first haircut at 5 months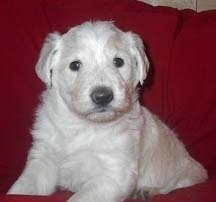 Cream with white blaze Shepadoodle puppy at 6 weeks old, photo courtesy of High Lonesome Ranch Kennel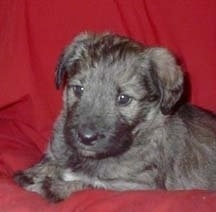 Brindle Shepadoodle puppy at 6 weeks old, photo courtesy of High Lonesome Ranch Kennel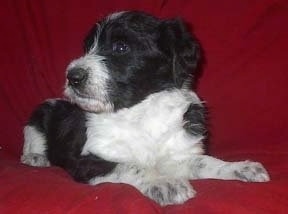 Black and white Shepadoodle puppy at 6 weeks old, photo courtesy of High Lonesome Ranch Kennel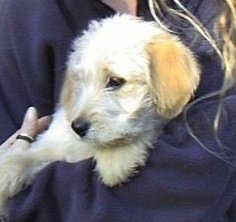 Blond Shepadoodle pup, photo courtesy of ShadyMaple Doodles