Westiepoo Pictures
West Highland White Terrier / Poodle Hybrid Dogs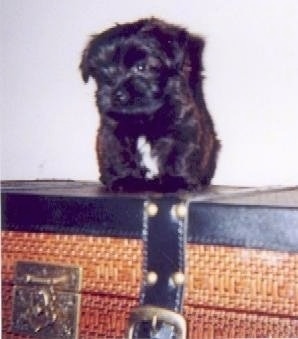 "This is Pickles the Westiepoo (half Westie, half Poodle) puppy at 9 weeks old. All his black colorings come from the Poodle side of the family."
Other Names
Wee Po
Wee-Poo
Westi-poo
Westipoo
Westie-Poo
Westiedoodle
Westidoodle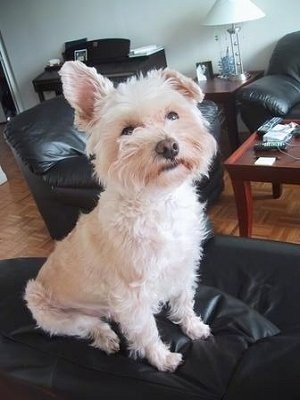 Aki the Westiepoo (West Highland / Poodle mix)—"Extremely smart, affectionate, attentive and very eager to learn. Hair grows very slowly and doesn't shed. Knows all family members' and toys' names. Has vocabulary of approx. 80 words and constantly learning new ones. Moved from Lawtons, NY (7 weeks old) to Buffalo, NY (2 years old) to New York City (7 years old) to Northern California (currently 7.5 years old). Very healthy but had torn ligament on the right rear knee 1 year ago (unknown cause). Amazing hybrid."
"This is Rascal, a Westipoo at 1 year old! He is the sweetest little dog ever and he is full of energy!"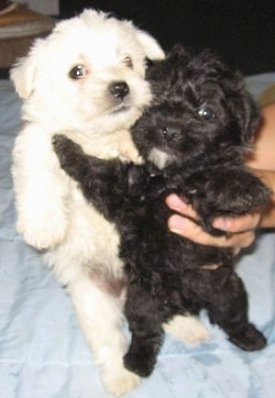 Westiepoo puppies, Shadow and his sibling at about a month old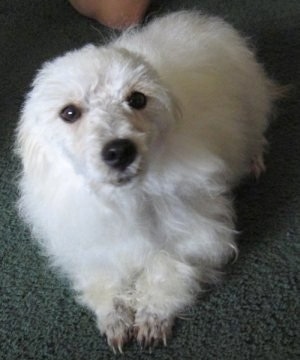 Baby the adult Westiepoo at 1 year old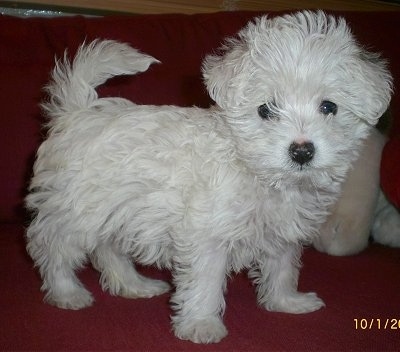 "Chou-fleur is 8 weeks old in this photo. Her mother was a West Highland Terrier and her father was an apricot Toy Poodle. She loves playing games and also loves to sit on our laps and have a cuddle. We called her Chou-fleur because when she curls up to sleep she looks like a cauliflower!"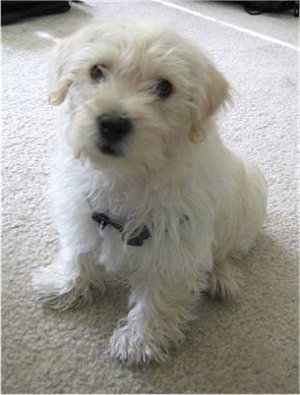 "DaVinci the Westiepoo puppy at 11 weeks old—he is so cute. He gets along great with my brother's older dog, Einstein. They even share toys when they play together."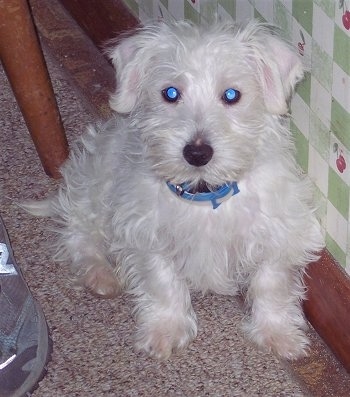 "Our puppy's name is Charlie and he is 3 months old in this picture. He is a lap dog that follows me around waiting for his chance to be in my arms. He surely does love his mom. He is VERY smart. And always wants to please me. He is great with my 4-year-old as well as my fiancé that is in a wheelchair. He is 50% West Highland Terrier and 50% Miniature Poodle."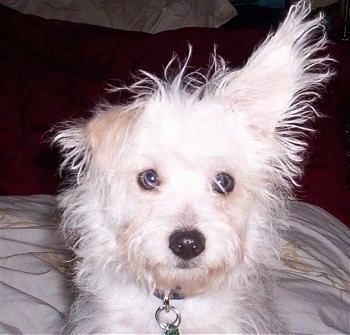 "My West Highland White Terrier / Toy apricot Poodle at 5 months old—Hugo is extremely friendly and loves to play. He gets along very well with our seven-year-old tabby cat Tengo."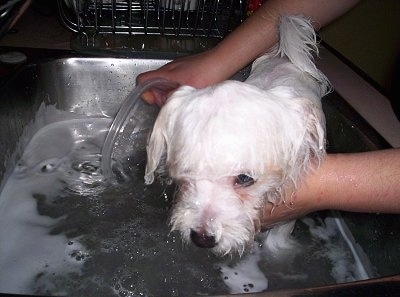 Hugo the white Westiepoo at 5 months old gets a bath in the kitchen sink!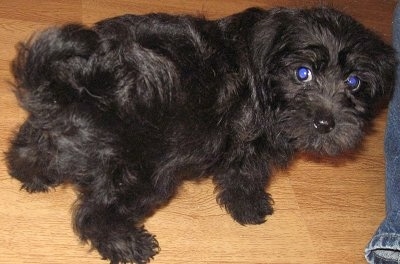 "Westiepoos are a favorite at IntegrityPets. This little black girl is 9 weeks old and already trying to be potty trained! She is having a little trouble teaching me when to put her out! Her mom is a West Highland White Terrier and dad is a Toy Poodle."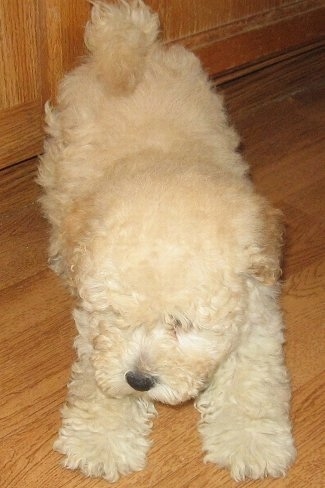 "This apricot Westiepoo is very animated, gentle and fun-loving. The puppies are wonderful and her and her sisters are very quiet and patient. We began breeding Westiepoos in early 2005 because I loved both breeds, and I love the hybrid! We have a lot of great feedback from new owners. IntegrityPets"