American Bulldog Pictures
Page 1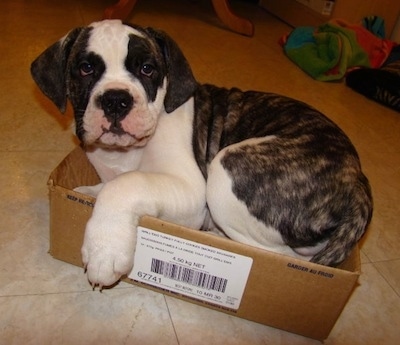 "This is my American Bulldog Monte Carlo at 6 weeks, the day I got him. Now he is 9 months and is weighing in at about 80 lbs.! Monte's hobbies include getting into everything, cardboard boxes, sleeping, and of course eating! He is my shadow; wherever I go, he must follow. Truly a loyal, loving dog."
Other Names
AmBulldog
AM Bulldog
American Bulldogge
American Bulldoggee
Old Country Bulldog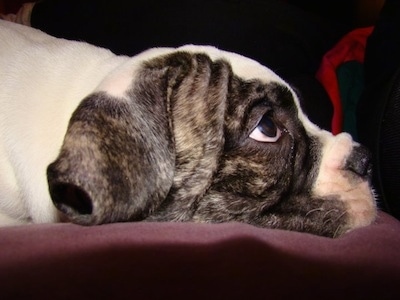 Monte Carlo the American Bulldog puppy at 6 weeks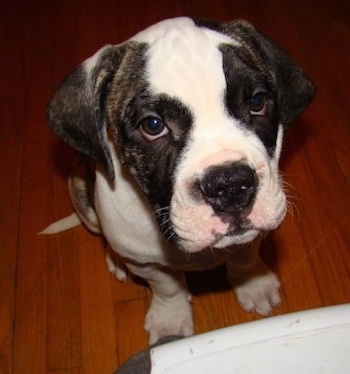 Monte Carlo the American Bulldog puppy at 6 weeks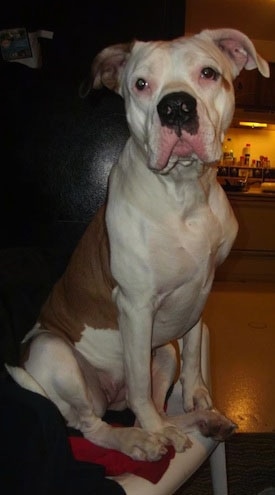 "Marilyn is a beautiful three-year-old, 90-pound American Bulldog with a heart of gold. She is from Johnson/hybrid lines. Named after the "greatest female star of all time" Marilyn Monroe, she has a larger than life personality that fits her wonderfully. Marilyn is everything you could ever want out of an American Bulldog—well socialized, protective, obedient, great with children and all animals!!!"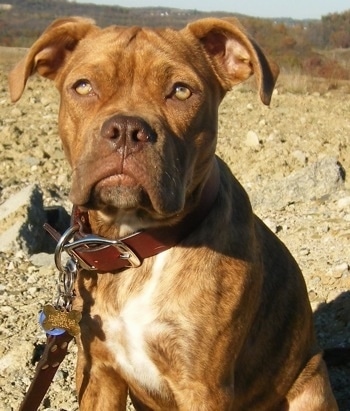 "This is Roxy. She is a 7-month-old female American Bulldog who is about 45 lbs. From what I can see she appears to be from the "Scott" or performance line of American Bulls. She is very gentle and learns extremely quickly. I am a firm believer in the Cesar Millan/pack leader philosophy and Roxy responds to it very well. I have never raised my voice at her to get her to obey or learn anything; she is very food and praise motivated. Roxy loves to play and run outside but she is relatively inactive and cuddly once indoors. Roxy is a wonderful dog and I am lucky to have her. I would recommend this breed to anyone who can give it the exercise and structured environment it needs to be the best it can."
Buckshot the American Bulldog at 1 year old, weighing 130 pounds, sleeping with his cat friend—photo courtesy of Three Guns Kennel.
Boris the American Bulldog
Boris the American Bulldog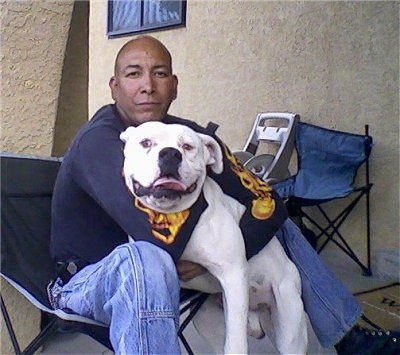 "Bobby Bryant and Ajax the 11-month-old American Bulldog. He likes staying very close by me. Very well socialized around people and other dogs. It was very easy to train him on several commands."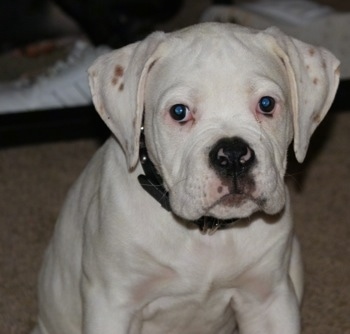 "This is my first American Bulldog, Diesel and I absolutely love him! He was 9 weeks old in this picture and already weighed 25 lbs.!! He has a very outgoing temperament. He already takes on the full-grown Dobermans at the dog park in tug-of-war! He is inactive in the house, but is so playful outside and around other dogs. He hates the vacuum, lol. He actually gets about 2 hours of exercise a day (at 10 weeks old) but he sleeps for the rest of the night following that. He loves his three brothers, a Great Dane, Chihuahua, and Poodle; in fact the only thing he loves more is children!!"

"I think Diesel is a very balanced canine. He is able to have fun and run around when we go out, but when we are at home he is able to lay back and relax and chew on toys. At this young age he is already learning commands. I LOVE Cesar Millan, and I actually have the DVDs. I purchased the leashes, etc. that Petco carries made by him. The leash truly helps in keep the dogs walking correctly. I tried out his food, and I take the bottled water by Cesar Millan to the dog park so they don't drink the communal water. I always use his techniques, and I train myself before the dog!!"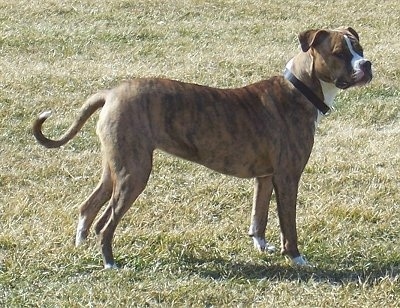 "Kyra the American Bulldog at 9 months—I may have been a little nervous about getting an American Bulldog; they scared me a little, but from the day I held Kyra in my arms she's been my best friend. Her tail can clear a coffee table in two seconds flat and she snores like the proverbial freight train, but the look of love is so clear in her eyes that all you can do is laugh. I've always had small to medium dogs, but I truly don't think there will ever be another breed for me!"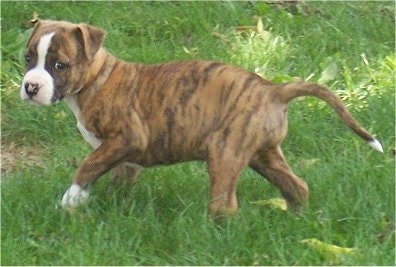 Kyra the American Bulldog puppy at 9 weeks old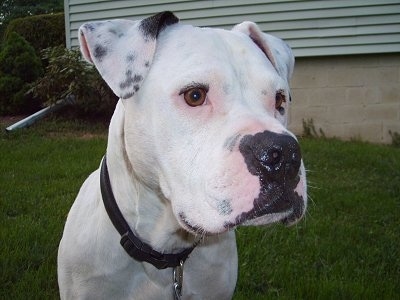 "Artie the American Bulldog at 3 years old—he loves people, long walks, sleep, your lap, drooling and chicken-flavored bones. His biggest dislikes are the rain and very small dogs. His two best friends are yellow Labs named Bruschi and Molly. How can you not love that face????"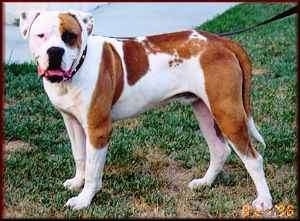 Boyd's / Gercken's Tank, Pennhip 0.44—photo courtesy of Boyd's American Bulldogs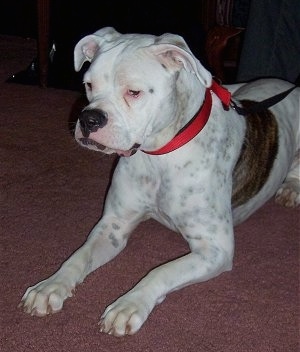 Sophie the 15-month-old (Old Southern White/Scott) American Bulldog; she is NKC registered.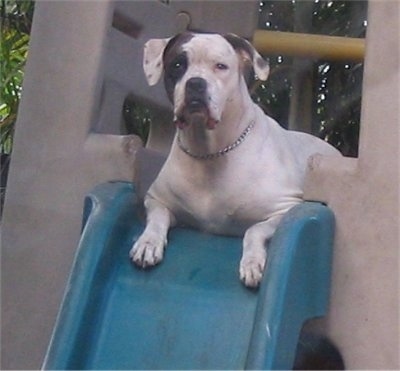 Milly the American Bulldog, photo courtesy of D'la Perla Kennel, Miami, FL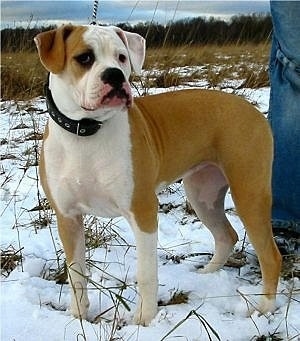 Dion's AB Dido, about 7 months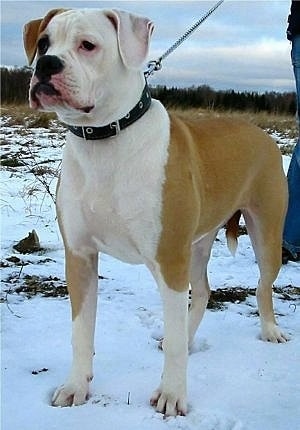 Dion's AB Dido, about 7 months
Dion's AB Dido, about 7 months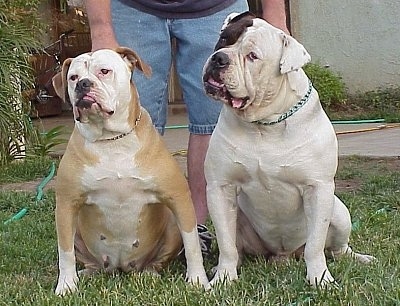 P.S.I.'s Ziggy and P.S.I.'s Johan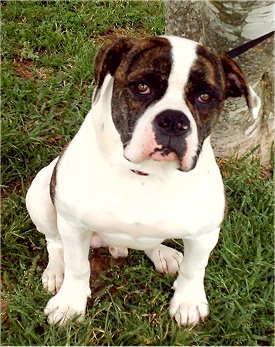 Hashko the American Bulldog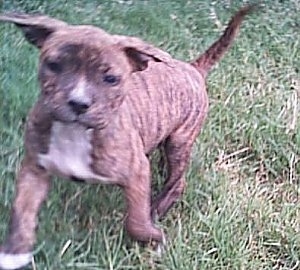 Hailey the American Bulldog as a puppy at 8 weeks old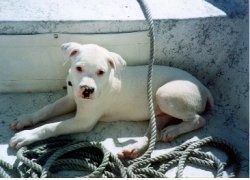 This is Bud, a three-month-old puppy.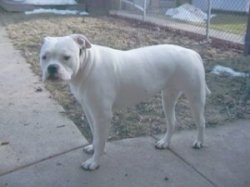 This beautiful American Bulldog is named Roxy.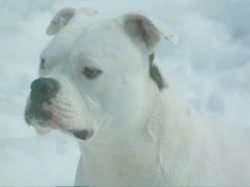 This beautiful American Bulldog is named Roxy.