Rescue an American Staffordshire Terrier
American Staffordshire Terrier Puppies for Sale

American Staffordshire Terrier
(Staffie) (Stafford) (Staffy) (Staff) (Am Staff) (Amstaff) (American Staffy)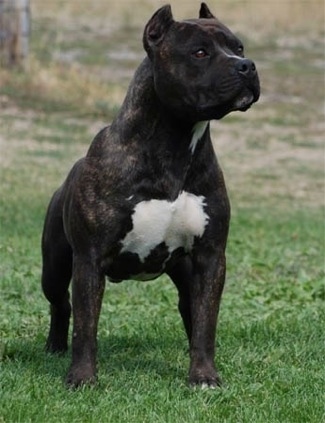 Gaff's Thief of Gold, a black brindle American Staffordshire Terrier owned by Mount Brier Farms
Pronunciation

-

Description

The American Staffordshire Terrier (Am Staff) is extremely strong for its size. Agile, very muscular and stocky with a broad, powerful head. The muzzle is medium in length and rounded on the upper side to fall away abruptly below the eyes. The eyes are dark and round, low down in the skull and set far apart. Pink eyelids are considered a fault according to the AKC standard. The jaw is very strong. The lips are to be close and even, no looseness or dewlap. The ears are set high on the head and can be cropped or uncropped. Uncropped is preferred and should be short and held rose or half prick. The teeth should form a scissors bite. Its coat is made up of thick, stiff, glossy hair. All colors, solid, parti, or patched are permissible, but according to AKC standard it is not encouraged for dogs to be more than 80% white. The un-docked tail is short compared to the dog's size and tapers to a point. Classed by AKC as "American Staffordshire Terrier" and by UKC as "American Pit Bull Terrier," the American Staffordshire Terrier is generally of larger bone structure, head size and weight then its cousin the American Pit Bull Terrier.

Temperament

The American Staffordshire Terrier is an intelligent, happy, outgoing, stable, and confident dog. Gentle and loving toward people, it is a good-natured, amusing, extremely loyal and affectionate family pet. It is good with children and adults. Almost always obedient, this dog wants nothing more than to please its master. It is an extremely courageous and intelligent guard dog that is very full of life. Over the past 50 years, careful breeding has produced this friendly, trustworthy, dog that is an especially good dog for children. Courageous and a persistent fighter if provoked. Highly protective of his owners and the owner's property, it will fight an enemy to the death if the enemy traps the dog in a corner and threatens its loved ones. This breed has a very high tolerance for pain. Some un-socialized Staffs may be dog aggressive. Socialize very thoroughly when young to curb any dog aggressive tendencies. This breed can be difficult to housebreak. It has given outstanding results as a guardian of property, but is at the same time esteemed as a companion dog. When properly trained and socialized, the Staff makes a great family companion. This breed is not for the passive owner who does not understand that all dogs have an instinct to have a pack order. They need a firm, confident, consistent owner who understands how to display proper leadership. The objective in training this dog is to achieve pack leader status. It is a natural instinct for a dog to have an order in its pack. When we humans live with dogs,

we become their pack. The entire pack cooperates under a single leader; lines are clearly defined. You and all other humans MUST be higher up in the order than the dog. That is the only way your relationship can be a success.

Height, Weight

Height: Males 17 - 19 inches (43 – 48 cm) Females 16 - 18 inches (41 – 46 cm)
Weight: 57 - 67 pounds (25 - 30 kg)

Health Problems

Some are prone to heart murmurs, thyroid problems, skin allergies, tumors, hip dysplasia, hereditary cataracts and congenital heart disease.

Living Conditions

Staffordshire Terriers will do okay in an apartment if they are sufficiently exercised. They are very active indoors and will do alright without a yard. This breed prefers warm climates.

Exercise

Daily exercise is paramount. Without it the American Staffordshire Terrier will become hard to handle. They need to be taken on long daily walks/jogs or runs. While out on the walk the dog must be made to heel beside or behind the person holding the lead, as instinct tells a dog the leader leads the way, and that leader needs to be the human. Teach them to enter and exit door and gateways after the humans.

Life Expectancy

About 9-15 years

Litter Size

Average of 5 - 10 puppies

Grooming

The smooth, shorthaired coat is easy to groom. Brush on a regular basis with a firm bristle brush, and bathe or dry shampoo as necessary. A rub with a piece of toweling or chamois will make the coat gleam. This breed is an average shedder.

Origin

In the nineteenth century in the English region of Staffordshire, crossing among the Bulldog and various terriers developed the muscular, active, combative Staffordshire Bullterrier. Brought to the United States, the breed was preferred by American breeders who increased its weight and gave it a more powerful head. Now recognized as a separate breed, the American Staffordshire is larger and heavier than his British cousin, the Staffordshire Bull Terrier. After dog fighting was banned in the United States in 1900, two strains of these dogs were developed, a show strain and a non-show strain. The show strain was labeled the American Staffordshire, while the non-show dog strain was labeled the American Pit Bull Terrier. The two are now being recognized as separate breeds. Today the American Pit Bull Terrier is being bred with the same gentle qualities as the American Staffordshire Terrier. They both make great pets with the right kind of owner. The American Staffordshire Terrier was recognized by the AKC in 1936. Some of the American Staffordshire Terrier's talents are watchdog, guarding, police work, weight pulling and agility.

Group

Terrier

Recognition

FCI, AKC, CKC, NKC, NZKC, CKC, APBR, ANKC, APRI, ACR, DRA, NAPR, ACA
FCI = Federation Cynologique Internationale
AKC = American Kennel Club
CKC = Canadian Kennel Club
NKC = National Kennel Club
NZKC = New Zealand Kennel Club
CKC = Continental Kennel Club
APBR = The American Pit Bull Registry
ANKC = Australian National Kennel Club
APRI = American Pet Registry, Inc.
ACR = American Canine Registry
DRA = Dog Registry of America, Inc.
NAPR = North American Purebred Registry, Inc.
ACA = American Canine Association Inc.

"Cash is a 1-year-old American Staffordshire Terrier. He comes to work with me every day and loves to go around and greet everyone when he arrives. His favorite playmate is a little 7-lb. Shih-Tzu. Since AmStaffs are such a strong breed I follow the Dog Whisperer's methods and work hard every day to make sure I am a good pack leader."
____________________________________

Serenity the American Staffordshire Terrier puppy at 10 months old

Serenity the American Staffordshire Terrier puppy at 10 months old

Serenity the American Staffordshire Terrier puppy at 10 months old

Serenity the American Staffordshire Terrier puppy at 10 months old

Serenity the American Staffordshire Terrier puppy at 10 months old

____________________________________
"Rodeo changed my life. He was the best ambassador for the breed I'd ever met, living with rescue dogs and staying in a pack of all breeds from Chihuahuas and Yorkies to Great Danes and Pit Bulls. If it wasn't for Cesar Millan's techniques I know he easily could have been a disaster. My family couldn't believe my mom would let me own this breed, until they all met him on Thanksgiving and while all the other Labradors ran around begging and causing havoc my Rodeo was in a down/stay the whole time. He loved cats and people, but mostly kids. It amazed me the first time a child took his leash; he was calm, gentle and so attentive to what she wanted. The little girl even dragged him up a ladder at a playground and pushed him down the slide. He loved to ham it up and dress up since he went truly everywhere with me. Everyone loved Rodeo and he will always be missed and never replaced, but I will only own bully breeds now. They are truly the family dog if you are the pack leader."
____________________________________
AKC CH Mount Brier's Aren't U Envious, DNA (UKC Major Pointed), photo courtesy of Mount Brier Farms
____________________________________
"This is my American Staffordshire Terrier named Fedor. He was the runt of the litter, but is now 1 year old and very healthy. He is white with brown spots (not breed standard but still very handsome) and is the sweetest dog I have ever owned. All he wants to do is play (with anything or anyone). We actually have a hamster as well and we sometimes leave the cage door open (supervised) and they just stay there sniffing and licking each other; I am convinced that Fedor doesn't have an aggressive bone in his body. You can dress him up in the craziest outfits and he doesn't mind... as long as he is with me or in the presence of other people he is happy and content (such a social butterfly)."
"Fedor also loves walks. We take him on at least one sometimes two walks a day for about 20-50 min...weather permitting. This is the most important thing for this breed...or any "power breed...." We find that it really mellows him out and it makes both me and Fedor happy to get outside and gives us some bonding time together. He was a bit of a puller at first and we tried some of the techniques we learned from obedience to no avail. I have always watched Cesar Millan on National Geographic and with Fedor's pulling getting stronger I decided to go out and buy the first season on DVD, so I can try and brush up on my handling skills. One of the episodes had a "puller" on it and Cesar suggested moving the collar up toward the jaw so you have more control over the head and what do you know...IT WORKED...for the owner on the show, as well as for me when I took him for a walk that day (too eager to try it out). Along with being a calm assertive leader I/we can now enjoy our walks together much more without me being worried of him dragging me behind him."
"So far Fedor has graduated at the top of two puppy socialization classes and obedience classes and we occasionally take him to a rehab center for injured patients and he does marvelously with them, the older patients LOVE him and his smile and it often makes there day and takes their minds off of why they are really there. It is so important that people understand this breed with all of the BSL laws going on in certain areas. I have had other breeds of dogs (Chihuahua, Lab / Spaniel mix) and Fedor is by far the most affectionate, loving, and loyal dog I have ever had the pleasure of knowing and it's like with any dog, you treat and train them right and they can become a GREAT addition to a family."
____________________________________
"This is Mis as in Mischief. She is a 3-year-old brindle Staffy and was dropped into my lap at 10 weeks old by the neighbour [young surfer] who couldn't handle her. Lucky for me and Mis, Cesar Milan had a TV program. He is my hero... Mis loves her everyday walks and runs on the beach and is loving and friendly to all. When some dogs snap and growl at her, she trots up to them and gives them a big kiss. Another trait that cracks everyone up is her snorting and very, very loud snoring."
____________________________________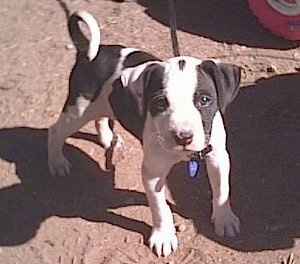 Calli at 10 weeks
____________________________________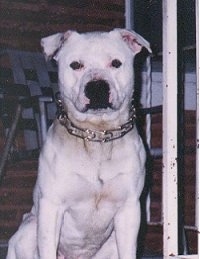 This is 3-year-old Mack.
American Staffordshire Terrier Pictures 1
American Staffordshire Terrier Pictures 2