American Staffordshire Terrier Pictures
(Staffie) (Stafford) (Staffy) (Staff) (Am Staff) (Amstaff) (American Staffy)
Page 2
"This is Bobbik, my 10-month-old Staffy—the largest of the litter and a great example of the breed, from my very biased viewpoint. Alert, friendly, confident and affectionate. He craves human company but the real surprise for me was how friendly he is to other dogs. We often take him for walks in the nearby field to meet other dogs and he always enjoys himself. Every time we arrive he'll sniff around to see if the other dogs have arrived yet. He tries to get along with any dog and has never once gotten into any trouble with any of them. I've had dogs spring out from under restaurant tables and hidden corners in the street having a go at him and he's so confident he'll show minimal fuss, hardly reacting at all."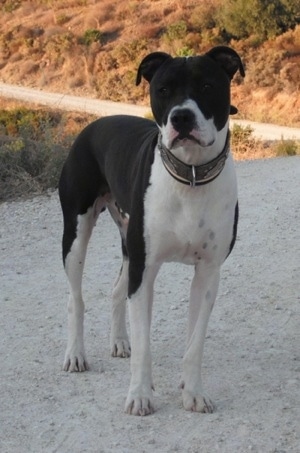 "We try to take him for a walk at least two times a day for an hour each time at least. If he doesn't release all that energy he has inside then he can become a handful at home. A couple of things I have to work on are his fixations with horses and cats. He's obsessed with horses. It's almost as if he thinks they're massive dogs. Where we live in southern Spain there are a lot of horses and horse-drawn carriages for tourists in the streets so I have to be careful."
"The defining characteristic of this breed for me apart from their physicality is their obedience. They are excitable and energetic but positive reinforcement is extremely straightforward with this breed. As long as you catch the behaviour you're looking for and reinforce it with a treat or encouragement then it's a breeze. They are always looking to please and as such are a pleasure to train in obedience. You definitely have to be firm with this breed and make it clear if you disapprove but never physically. A strong disapproving look is all that's required. Bobbik learned to sit, lie down and stay by the time he was four months. Walking on the leash was only a matter of practice and keeping calm."
"I honestly can't say anything negative about the breed based on my experience. For me, the bad rep is completely bogus. You get everything that is promised about the breed and then some. On top of everything else, they are a very attractive breed in the flesh and I get compliments every time I take him out."
"This is Jules, our American Staffordshire Terrier at 8 months old. My husband and I rescued her from a shelter when she was 9 weeks old, and she's been smiling ever since! She is very happy with life and it shows in her personality. She is extremely sociable and loves everything from adults to babies to dogs, cats and cows. Quite the obedience star already, she knows 20 commands so far. Jules is especially good at "waiting." Her favorite playtime is agility, outside when we throw the Frisbee, jump through hoops, or climb rocks and trees. I'll have to say, she doesn't have much for dislikes besides not being able to spend all of her time socializing. Jules needs lots of exercise throughout the day. We walk miles everyday, spend lots of playtime outside, and exercise her mind with obedience everyday also. My little girl is a balanced dog. She is healthy, sociable, well exercised and takes life day to day with a smile. She is eager to please and will learn anything, by anyone, anyhow. I take Cesar Millan's pack advice and have become quite the pack leader to make sure Jules is in a healthy environment. I am glad she has become such a large part of my life, and it shows that she feels the same way too!"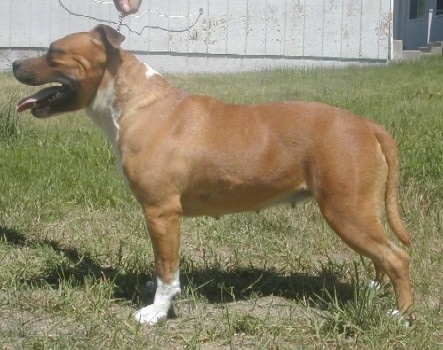 Absolute Ambition Of Mt. Brier, female, photo courtesy of MBF AmStaffs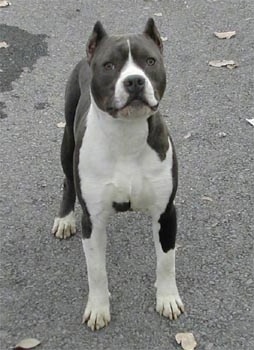 Mt. Brier's Seattle's Blue Lightning, photo courtesy of MBF AmStaffs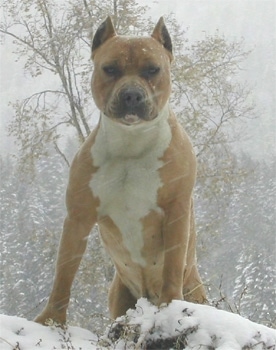 AKC CH Absolute Sky's Of Clear Blue, CGC, DNA, male, photo courtesy of MBF AmStaffs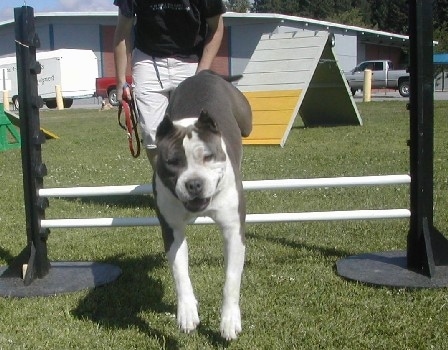 AKC CH Mount Brier's Aren't U Envious (UKC Major Pointed), photo courtesy of MBF AmStaffs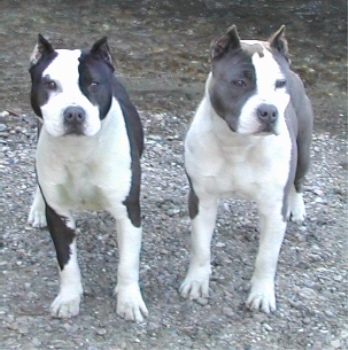 Two-Tone and her brother Mercury at ten months old, photo courtesy of MBF AmStaffs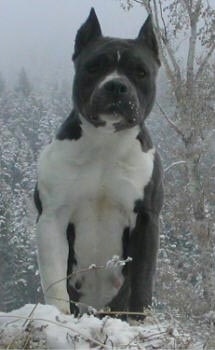 AKC CH Cirkle C's Ina Tizzy, female, photo courtesy of MBF AmStaffs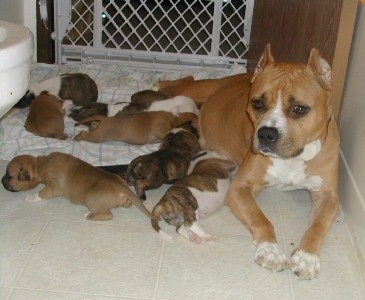 Mamma Staffy with her litter of puppies—Photo courtesy of MBF AmStaffs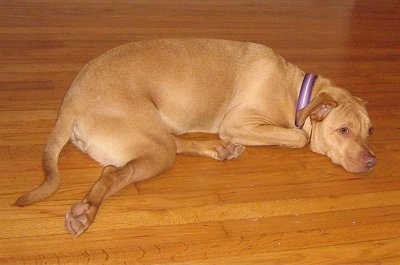 Sprocket, an American Staffordshire Terrier at 11 months old—"Sprocket and his brother Chaz, who is a Jack-A-Bee, both have Native American Names. Chaz is 'Stinky' and Sprocket is 'Runs with Stinky.'"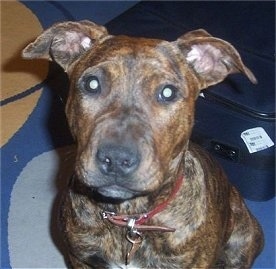 Ruby, an American Staffordshire Terrier puppy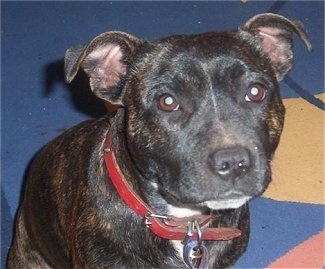 Bling, an American Staffordshire Terrier puppy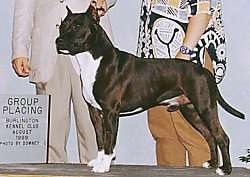 This is Am Ch. Ten. Geordi La Forge (called QUIZ). Breeder: American Pride Kennel, Owner: Antonella Cappo, Photo courtesy of American Pride Kennel (Italy)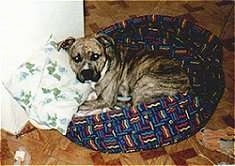 "My name is Dex and I'm a 2-year-old American Staffordshire Terrier. I live in Warsaw, Poland, with my best friend Sebastian and his parents."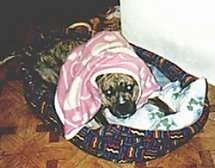 Dex the AmStaff