Louisiana Catahoula Leopard Dog Pictures
Page 1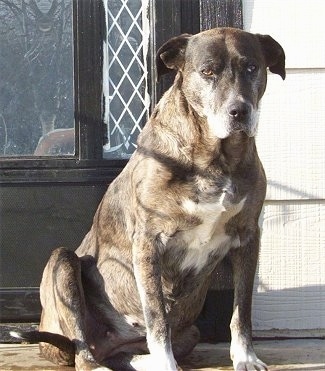 Taylor the Louisiana Catahoula at 12 years old—"She is very timid with strangers but is very loyal to our family. When our 6-year-old was a baby, if he was sleeping and we were working outside she would run to the house and sit by the step and bark if he woke up. Who needs a baby monitor when you have a Catahoula? Oftentimes you can see her and our 6-year-old rolling on the grass with each other. She only has two weaknesses, leftovers and lightning storms. Taylor has had a few run-ins with porcupines; she has a limp on her left hind leg, where she had a quill work its way through." Owned by Murray, Kendra and Donovan Brooker from Lea Park, Alberta, Canada
Other Names
Catahoula Leopard Dog
Catahoula Hog Dog
Catahoula Cur
Louisiana Catahoula Cur
Leopard Dogs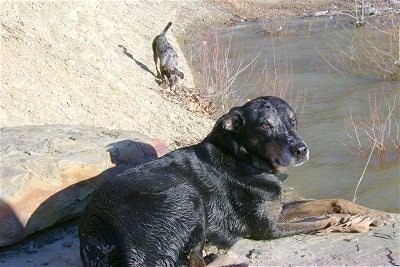 Dooby the Catahoula at 12 years old—"These are my babies, Dooby and Whiskey. I got Dooby (the black dog w/ brown eyes) when I volunteered at an adoption center in Mississippi 12 years ago. She is still a pup at heart. She was the runt of the litter and the cutest li'l doggy I'd ever seen. Whiskey is my new li'l boy! He is about 6 months old and growing every day. I have a feeling he is gonna be much bigger than Doob. I found him on Dogster and fell in love w/ him because he resembled Dooby so much in the face. I'm only fostering him at the moment, but I don't think we could ever part w/ him. He has beautiful coat and awesome mis-matched eyes (like Dooby's sister had). They are excellent companions and sleep w/ me at night. Dooby is very protective and doesn't like strangers but once you become her friend she is very loving. I was afraid when I brought Whiskey home that Dooby would not appreciate him, but when Dooby came up to check him out, he did not show any fear. (Dooby has a tendency to dominate submissive dogs.) They have gotten along exceptionally well. They love to go to the lake and get wet and dirty. They love to run in wide open spaces, but they are both very well behaved in my one-bedroom apartment."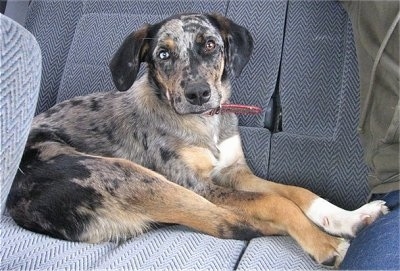 Whiskey the Catahoula puppy at 6 months old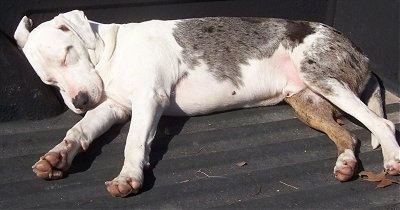 2-year-old Louisiana Catahoula Leopard Dog named Elvis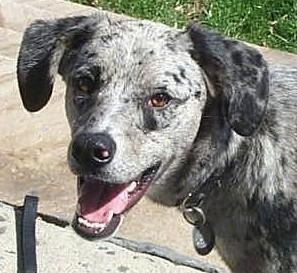 Dakota the Catahoula Leopard Dog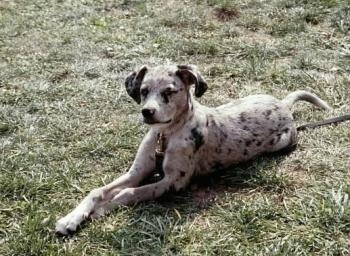 Dakota Catahoula Leopard Dog as a pupy laying in the grass.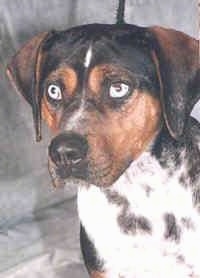 Photo courtesy of Cottonwood Kennel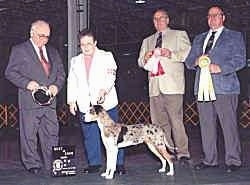 Photo courtesy of Cottonwood Kennel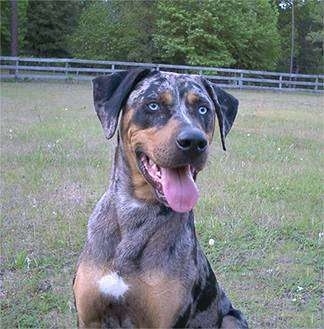 This is Flip the blue-eyed Catahoula Leopard Dog—Photo courtesy of Shadyspot Catahoulas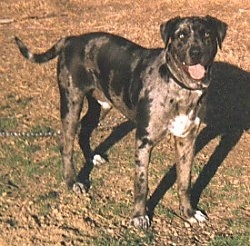 Photo courtesy of Black Oak Catahoulas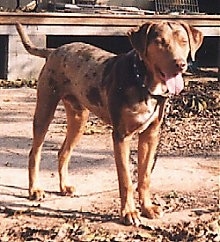 Photo courtesy of Black Oak Catahoulas