Louisiana Catahoula Leopard Dog Pictures
Page 2
Speckles the Catahoula Cur (Louisiana Catahoula Leopard Dog) at 10 years old—"She is a very loving and obedient dog. She loves to play (fetch, chase) toys. I have 3 young children and she is very gentle with them. She is protective of our family, including me, my husband, our 3 kids, my in-laws that live 2 houses down and across the street, our house, their house, my car, my husband's car, and my father-in law's truck. The only thing she has no tolerance for is cats and small non-domesticated animals. Since this breed was once used to hunt pigs, we assume it is just in her blood. She will not eat her dog food in front of anyone but will look up at us as if to say "Quit looking and go on so I can eat my food, you big dummy." I also own a male Lhasapoo that is 10 months old. Speckles is very tolerant of his puppy ways, will not bite him, but only barks at him in a way that scares him into stopping whatever he is doing—at least for a few minutes. Speckles has gotten arthritis in the last couple of years and cannot jump in the truck and ride like she used to. Very loyal, smart, sweet dog."
Other Names
Catahoula Leopard Dog
Catahoula Hog Dog
Catahoula Cur
Louisiana Catahoula Cur
Leopard Dogs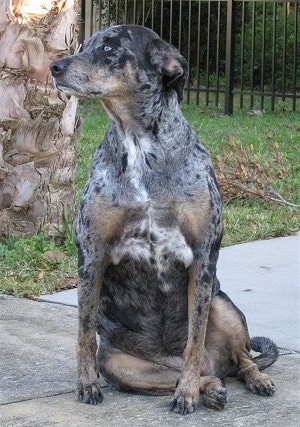 Cookie the Louisiana Catahoula Leopard Dog at 5 years old—her owner says, "She was born in Florida and still resides there with me. She is pretty much a house dog and a favorite in the neighborhood. She is friendly with everyone outside, but is more protective when inside the home. She chases certain cats, but has 3 that she seems to have bonded with for some reason and does not chase. She likes other dogs and does not initiate negative vibes with them, but is quick to let them know she is not going to be a pushover. She's stubborn and does everything at her own pace, unless you raise your voice or change your demeanor toward her. Then she picks it up a notch. She has one brown eye and the other is mostly white with a touch of brown. She is very loving and a constant companion."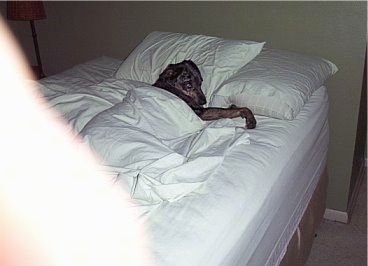 "Cookie sleeps in my bed at night and you don't even know she's there. No scratching, itching, licking, chewing, etc. She does shed quite a bit and that has taken some getting used to. I just wash my sheets and bed covers a lot more now."
Sadie, Louisiana Catahoula Leopard dog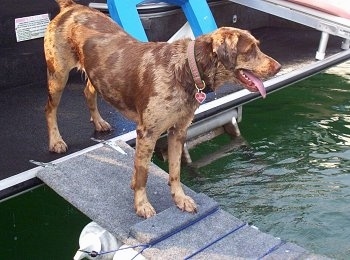 Sadie preparing for a swim off of the houseboat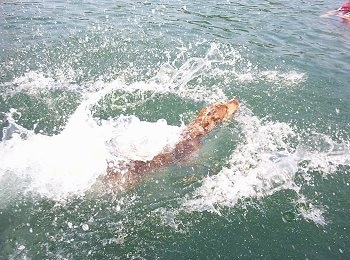 Sadie in action...she's off fetching her hedgehog stuffed animal.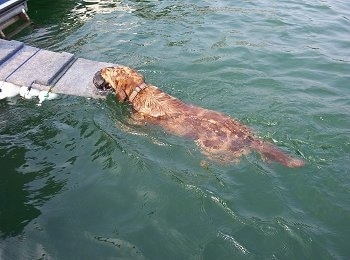 Sadie returning to the houseboat on the ramp her owners built for her after retrieving her toy. She's ready to go again! Her owners can't get her to stop!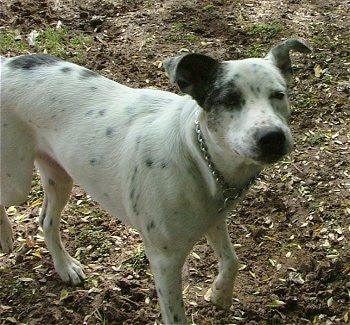 Blue the Louisiana Catahoula Leopard Dog—"He is about the sweetest and most loving dog; he is a mama's boy."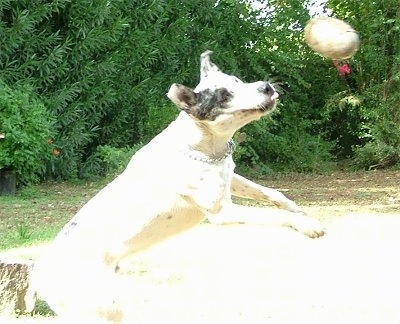 Blue the Louisiana Catahoula Leopard Dog
Blue the Louisiana Catahoula Leopard Dog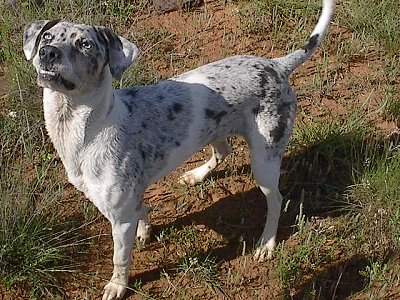 Blue the Catahoula Leopard Dog at 1 year old—""Blue" Bayou is a rescue story, my husband and I found her in the woods while deer hunting. She was about 6 weeks old at the time."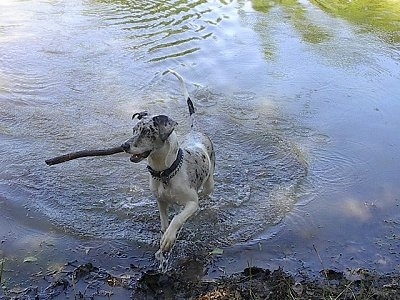 "Blue the Catahoula Leopard Dog at 18 months—swimming for a stick is her favorite pastime."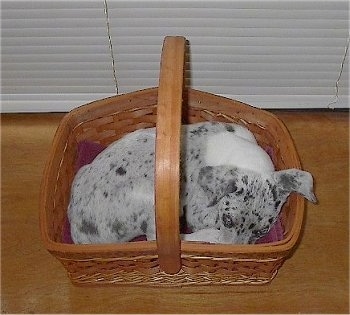 "Blue basket case, 8 weeks old"