Rescue a Great Dane
Great Dane Puppies for Sale
Great Dane Pictures
(Deutsche Dogge) (German Mastiff)
Page 6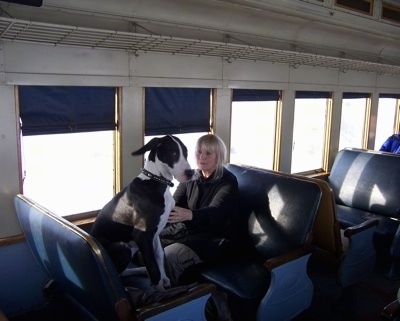 "Annie, my Great Dane on her first train ride—when I bought the tickets I said we had a puppy dog that was only eight months old, if I pay for her seat, can we bring our dog on board? And they said, it's a puppy? OK sure just pay 10 dollars for the dog. I gave them the money then brought her inside. Their eyeballs got really big, but everyone in the train was happy to have her there (in Utah). She is a full-blooded Dane female who stood 32 inches to shoulder at 10 months. Looks like she's going to be a little bigger than most females, not much but a little."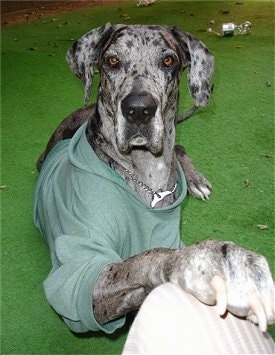 Freya, a merle colored Great Dane at 1 year and 8 months old weighs around 150 pounds or 70 kilograms, and she is 30.5", or 78 cm, tall.
____________________________________________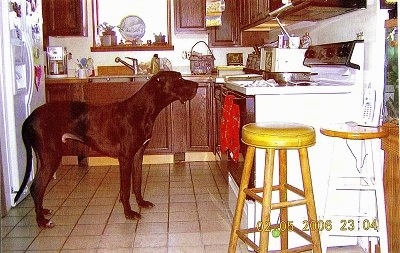 Hoss the Great Dane thinks if he stares long enough the pan might come to him. He's always hungry.
____________________________________________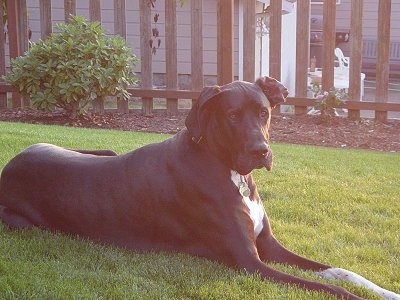 "Super Moby Tanker AKA Tank, a Great Dane at 2 years old, weighing 210 lbs. and 38" tall at the rear—his dad is 6'5" tall and 355 lbs. The ultimate "lap dog.""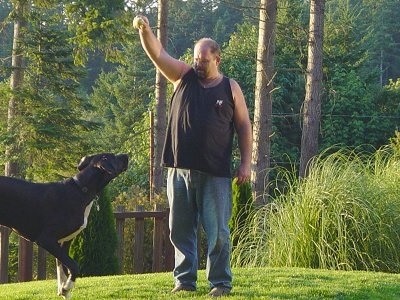 Tank the Great Dane at 2 years old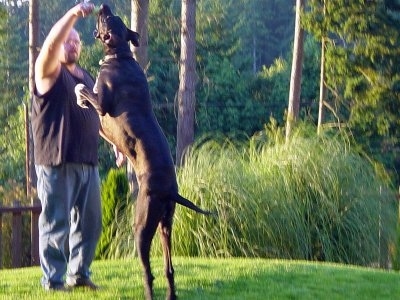 Tank the Great Dane at 2 years old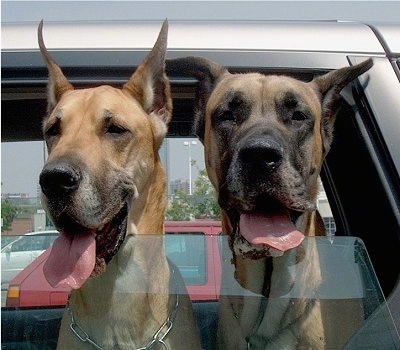 "This is Zeus on the left at 3 years old and Memphis on the Right at 2 years old. Memphis just got weighed in at 182 lbs. Zeus passed away from bloat 3 days after this photo."
____________________________________________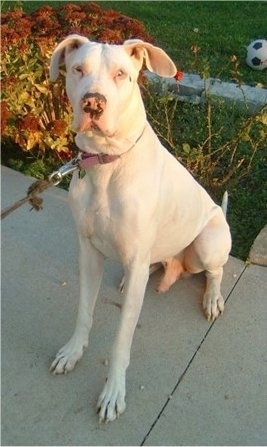 "This is Brutis. He is the result of harlequin / merle breeding and has been deaf since birth. Very loving yet protective of his property and his people. He is great on commands with sign language and very eager to please. He is 8 years old in these pictures. He has minor arthritis in one knee and is on 10ml of Metacam for it. He is a smaller male Dane at 130 lbs."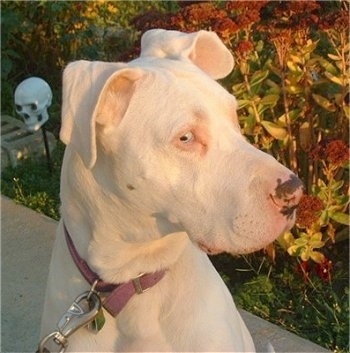 Brutis the white Great Dane at 8 years old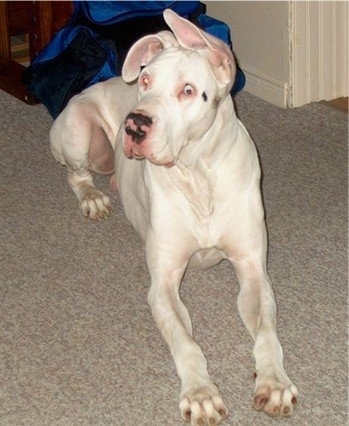 Brutis the white Great Dane at 8 years old
Great Dane Dogs: Collectable Vintage Figurines