Great Dane Pictures
(Deutsche Dogge) (German Mastiff)
Page 1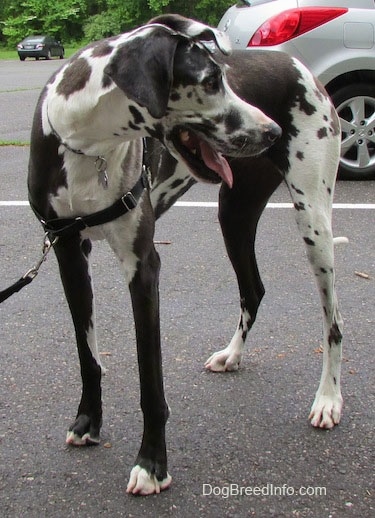 Molly the harlequin Great Dane at 4 years old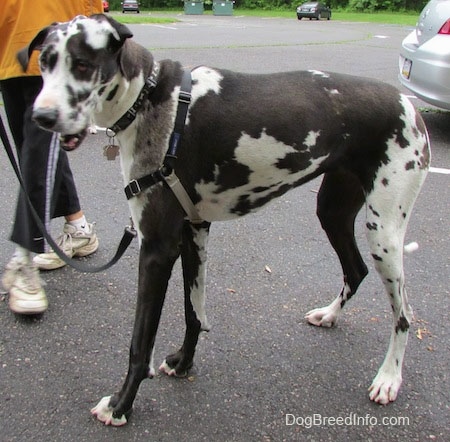 Molly the harlequin Great Dane at 4 years old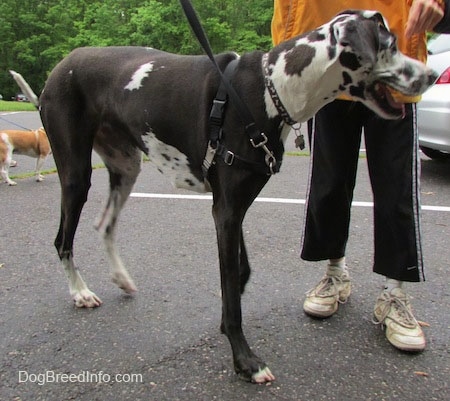 Molly the harlequin Great Dane at 4 years old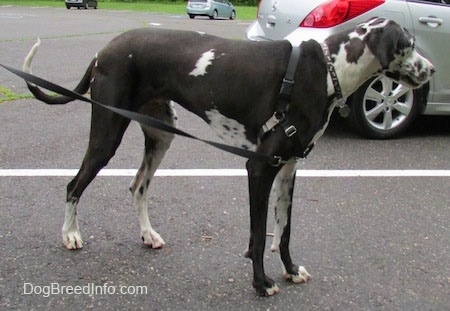 Molly the harlequin Great Dane at 4 years old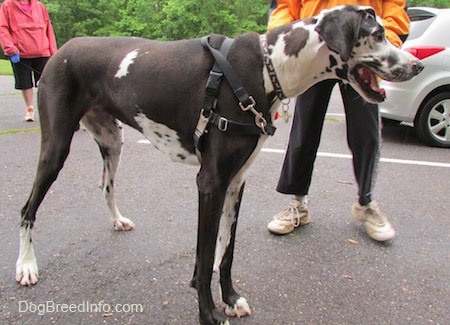 Molly the harlequin Great Dane at 4 years old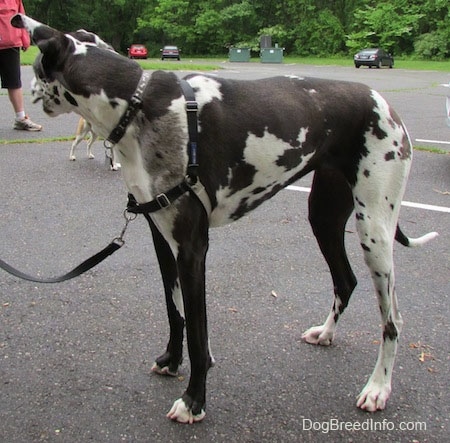 Molly the harlequin Great Dane at 4 years old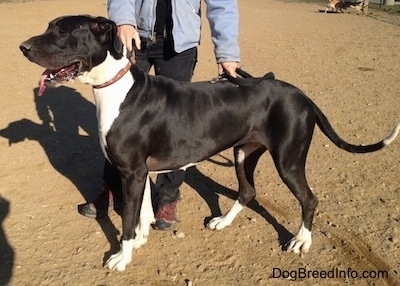 Othilia the Great Dane at 2 and a half years old—Othilia was the runt of her litter. Her breeder labeled her worth less than the other puppies because she was not going to grow as large as her littermates. Fortunately Othilia can't read the paper that states the height that was chosen for her breed and her self-esteem was not affected. Everyone who meets her thinks she's pretty special. It will be interesting to see if she lives longer than the other giant Great Danes, as extra-large breed dogs tend to have shorter lives compared to smaller dogs.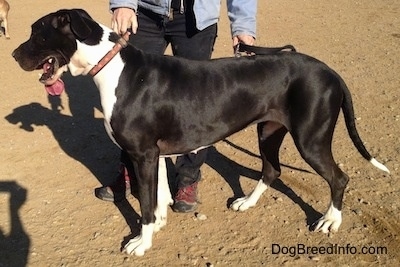 Othilia the black and white Great Dane at 2 and a half years old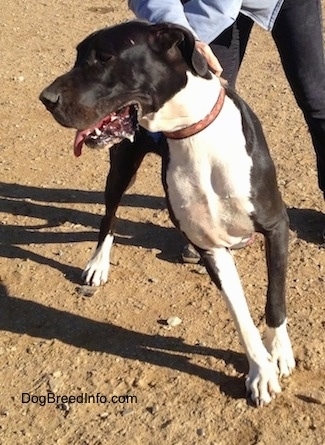 Othilia the black and white Great Dane at 2 and a half years old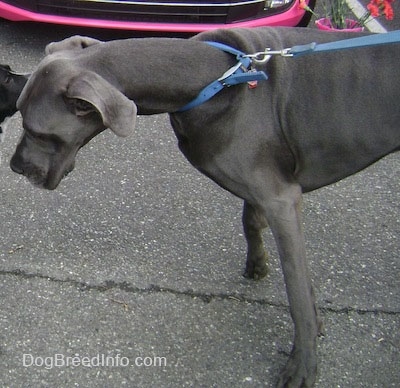 Adult rescue gray colored Great Dane at 4 years old in the process of being trained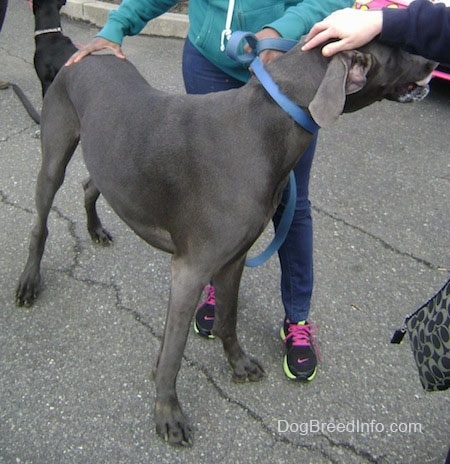 Adult rescue gray colored Great Dane at 4 years old getting socialized
"This is my Herschel, a chocolate Great Dane. Herschel was everything the seller promised. He is very reserved and sweet, and just an incredibly happy dog at all times. His tail never stops wagging! Herschel absolutely loves attention and affection and he is so eager to please. When I command him to shake paws, I can specifically state "right paw" or "left paw" and no matter how I change it up on him, Herschel always gets it correct. He is also getting very good about determining colors. I can place a number of different colored balls at the end of the room and command him to bring a ball to me by color. If I try to trick him and hide one of the balls out of sight, and then call the color, he will not pick a substitute. He will simply wait until I bring him the correct ball or call a color that actually is on the floor! Another unusual thing that he does is that when it is time to go potty, he will just stand at the door without making a sound. It's not that big of a deal now, but when he was little, he was prone to accidents by the door if I didn't notice him standing there."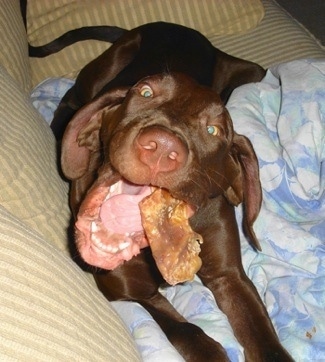 "Herschel absolutely loves pig ears. When he gets one as a special reward for doing something good, he appreciates it to no end and lets me know it. He loves his family and his big brother Floyd. And even though he's only 8 months now, he has become a very good watch dog in his own right."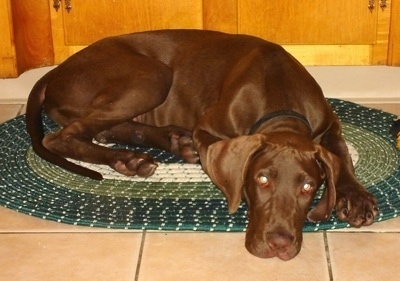 "This is Herschel when we first brought him home; he was 4 months old and weighed 51 pounds. Today he is a healthy 118-pound bundle of love."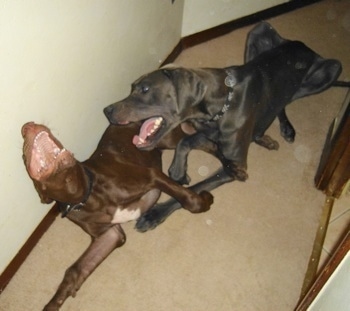 Herschel, a chocolate Great Dane puppy playing with Floyd, a blue Great Dane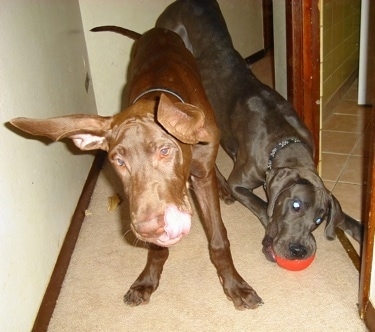 Herschel, a chocolate Great Dane puppy with Floyd, a blue Great Dane—see More of Herschel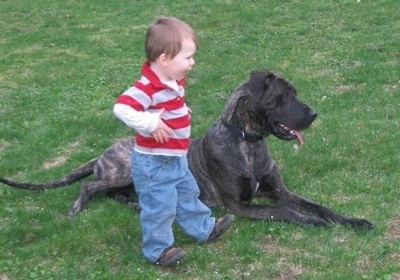 "Kaiser was adopted at 9 months old. He is now a year old and he has adjusted to our family as if this is where he has always been. He is truly a gentle giant. He loves to sleep on his couch and plays with our 3-year-old and 1-year-old. Some people are intimidated by his size but we warn that the only danger is his wagging tail! We named him Kaiser, because it means Emperor. Very appropriate!"
"I have only seen the Dog Whisperer a few times. I do use his advice on how to handle a dog on a leash. All of our dogs adjust quickly to a leash and never get ahead of us; I feel this is because we used his method from a show."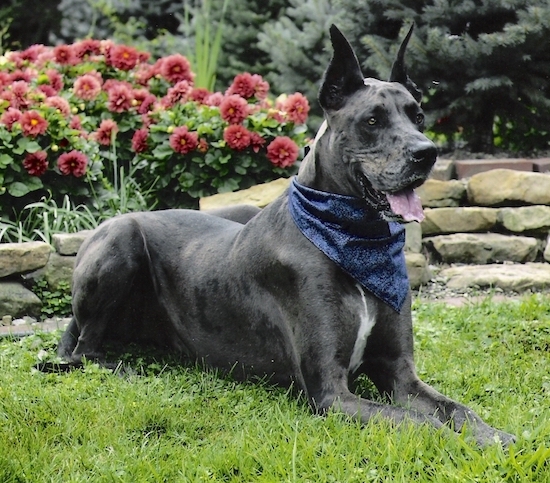 Minard the Great Dane at 4 years old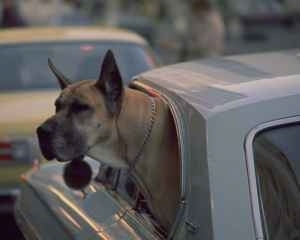 An adult Great Dane sticking his head out of a car window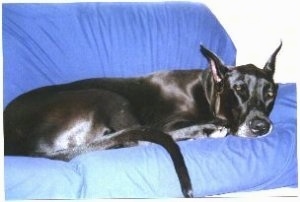 The precious pack, photo courtesy of Tara and Otto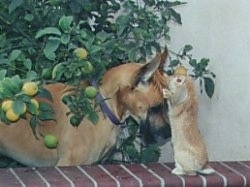 An adult tan Great Dane with a kitten crawling on its head—Champion Great Danes, photo courtesy of MacDanes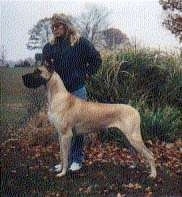 Shady Creek Danes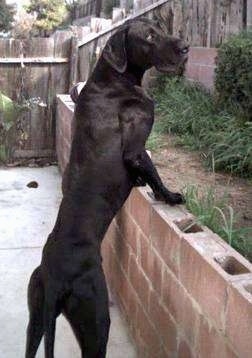 Taz the black Great Dane standing up on the wall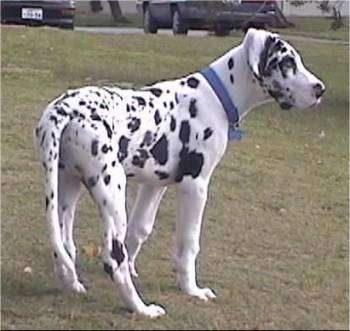 3½-month-old Kash, a black and white harlequin Great Dane puppy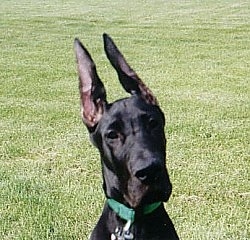 "Will I ever grow into these ears?" 16-week-old Sharcon's Delinquent Kid (call name "Dillon), photo courtesy of Sharcon Great Danes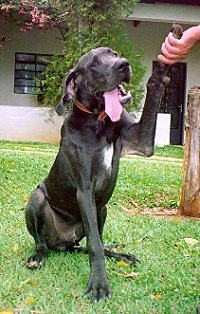 This is Lion the gray and white Great Dane shaking hands. What a cutie!