Jack Chi Pictures
(Jackhuahua) (Jackahuahua) (Jack-Chi)
Chihuahua / Jack Russell Terrier Hybrid Dogs
Page 2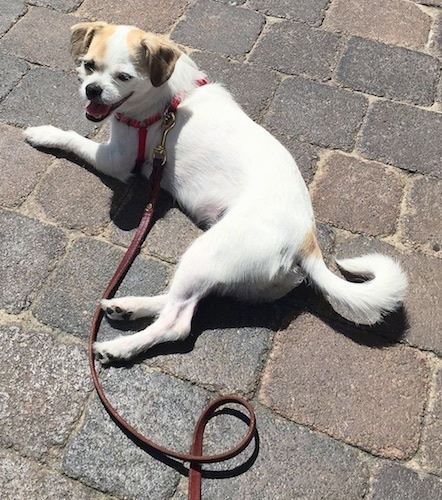 Charlotte the Jack Chi at 1 year old—"Charlotte is the first dog I have ever owned and I truly believe that I cannot get any luckier. We adopted her when she was only 3 months old from a local shelter. She is now just about 1 and a half years old. I definitely agree with other owners when they say that Jack Chi pups get the best of both temperaments. Charlotte is definitely high energy, loves to play fetch, go on walks, wrestle with other dogs, chase... BUT she is a notorious and intense cuddle buddy. Anything she can do to let you know she's there, whether she's giving you kisses or snuggling up right next to your legs. She has an incredibly sweet nature to her. She loves children, babies, and all people. Even when babies try to grab her ears and mess with her face she tries to show them how to play with her. She's a BIG TIME FOOD LOVER! She even loves vegetables and fruit! Charlotte is also very obedient, but she definitely needs to know who's boss. If she doesn't think you're the leader she won't listen to you. She's very smart and can play to your weaknesses and get you to do what you want if you're not careful! She loves playing at the dog park with all of her friends. She's definitely a lover of all dogs/people. Also one of the best things about her is that she is not like most small dog breeds cause she's not a yippy barker! She doesn't bark at me to get my attention, the only time she ever does bark is if someone knocks at the door or she sees someone outside. But as soon as they say her name and she hears them she immediately stops."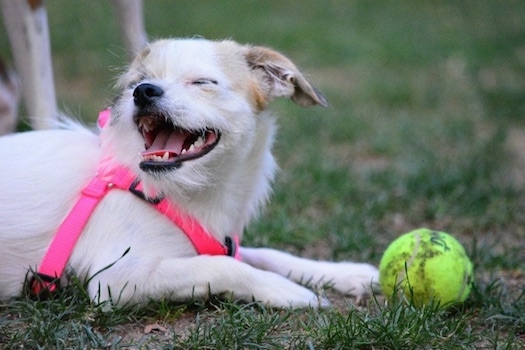 Charlotte the Jack Chi at 1 year old with her tennis ball.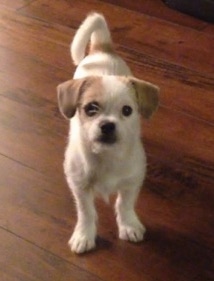 Charlotte the Jack Chi as a 6 month old puppy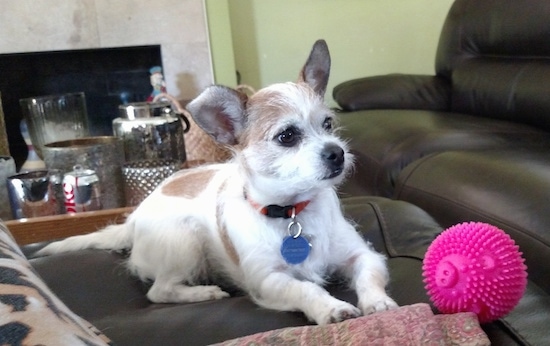 Piper the Jack Chi at 1 1/2 years old—"This is my adorable pet rescue baby! Her name is Piper and she is a Jack Chi. Piper and her "sister" Fang, who Piper roomed with, is another rescue and is some kind of Boxer, Terrier, Mini Poodle mix. They are the newest addition to our now four dog (all rescue dogs) family! Piper is INCREDIBLY smart! Loves to have her ball thrown for a little fetch game in the backyard, or else, loves cuddling up with her mommy! I am the first time owner of a Jack Chi. Piper gets on great with the other dogs, LOVES kids, and is a TRUE JOYFUL addition to our family!"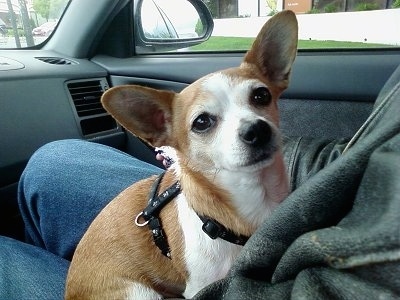 "This is a photo of our 3-year-old Jack Chi or "Jack-wow-wa" Biscuit. My name is Judi and I wanted to adopt a small dog for a very long time and a little voice in my head told me to go into a veterinary hospital that I was driving by in a small community in our county. I listened to what some would say was "intuition" and asked the staff if they knew of any small dogs needing homes. One of the ladies at the receptionist's desk said she boarded dogs and had a pair left behind from some terrible owners who wouldn't pick them up—abandoning them. As an animal lover she fostered them, but it wasn't the same as having a true home. I got to meet Biscuit and her brother—Biscuit immediately picked me out of the litter! She told me that her larger brother dominated her and that they needed to be adopted separately. I had to choose but because she chose me first, there was little I could do. We were meant to be together. You can see her coloring and face look more Chihuahua; her little body is more sturdy and her fur is definitely the wiry fur of a Jack. She weighs in around 5 or 6 pounds and has the little skip attributed to a luxated patella but otherwise she is in great shape. She loves to wear clothing. In fact, for a long time I thought that I was imagining it when I put a tank top on her, she would duck her head in as though saying, "Put it on me....now!" But I kept this thought to myself until my husband watched me do it when I brought home a new T-shirt. She eagerly sniffed it, wagged her tail and posed, ready to get in her outfit! He saw it as well. Whether she was bred on purpose or was accidental, she is a joy and in a class all by herself!"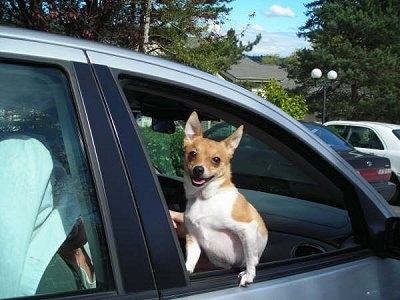 "This is Mitchy, my 2½-year-old Chihuahua / Jack Russell Terrier mix. I got him from a friend at work when he was just a baby and he is quite a character. Very hyper and always willing to play, he loves walks, fetch, tug-of-war and then naps! He's a bit skittish (I attribute this to the Chihuahua side of his temperament) around certain people and other dogs sometimes, but other than that he's a wonderful dog."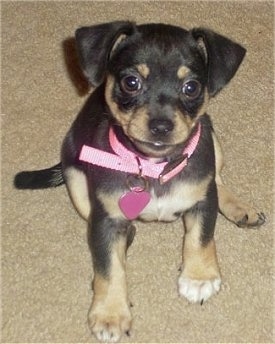 Ruby Tuesday the Jack Chi puppy at 12 weeks old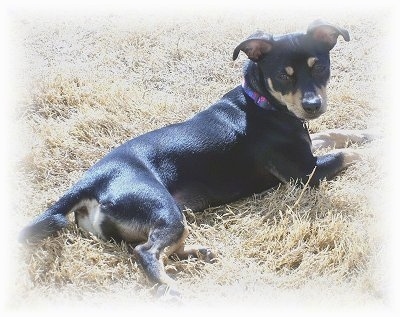 "Ruby Tuesday all grown up at 9 months old is larger than a Chihuahua, but smaller than a Jack Russell. She weighs about 13 lbs. She is a very loving and intelligent dog. She does have her moments of hyperactivity. But, she loves her people and other dogs, and loves to snuggle at night."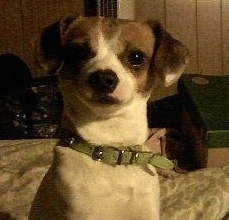 "Toby is definitely the best dog I have ever had. He goes everywhere without complaint, even work, where he is either at my side or his bed, where he gets a lot of attention! He likes to show off for the customers doing his tricks that took very little time to learn; he is very smart. He is an attention hog and loves to be a part of all the action. If you arrive at our door, he'll greet you with his favorite toy 'BEE BEE' and wag his entire body. I got him from a friend when he was 8 weeks as an anniversary present. He ran around the house the entire time while I was playing with his brother, who I thought I might get, but when I said I think I found the one I want he stopped in the middle of the hallway turned around ran straight to me, pushing his brother out of the way! He didn't stop kissing me until I was out the door with him. He definitely chose me because our friend had said he wasn't like that with anybody...he's had me around his paw ever since! He has attributed the best qualities out of both breeds; his dad was a Jack and his mom a Chi. He has the energy of a Jack and will do figure-eights until you think his heart will explode! He isn't yappy or nippy and hardly barks. He does get a bit shaky when he is scared, but is willing to take on our big old Rottweiler if he is getting more attention. He is great with children, and if he feels intimidated he will come to me and hide his head rather than snarling or nipping. Other than having patellar luxation, he is as healthy as can be. You would never be able to tell he had a problem with his knees from the amount he runs, only when he is jumping on the couch or bed do you see it! It can take up to 7-8 pre-jumps for him to actually get up! He loves to take pictures, we were at the beach and a girl was trying to get a picture of him as we were walking by. He stopped right in front of her, sat down and gave her the cutest puppy face so she could take a pic, as soon as she was done, he got up and we continued our walk! Whether or not he is a mixed breed or not, he is the best thing that has ever happened to me! He is the greatest dog ever!"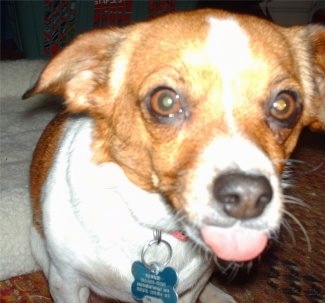 "Banksy the Jack Russell / Chihuahua mix at 2 years old is my baby girl who we found in a Taco Bell parking lot licking gum stuck to the ground. She has morphed from the skittish little girl we brought home to a playful, loving puppy. When she plays she becomes a flying dog, jumping everywhere to get the toy from you. She is loyal and won't leave your side, and she is a great little alarm dog, too. She's the best thing I've ever found in a parking lot, by far."
Taco Del the Jack Chi puppy is such a happy-go-lucky little dog and loves everything and everyone.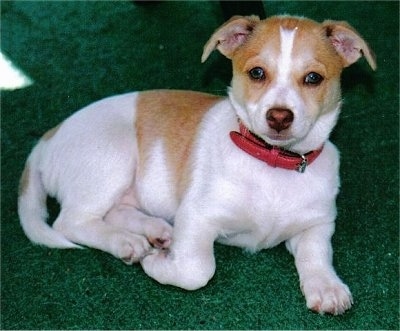 Taco Del the Jack Chi as a puppy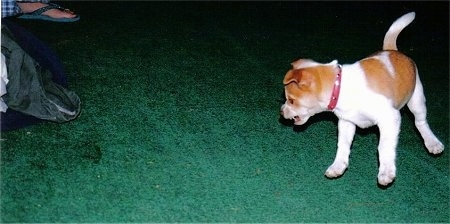 Taco Del the Jack Chi puppy is about to pounce on something! Notice how all 4 paws are off the ground!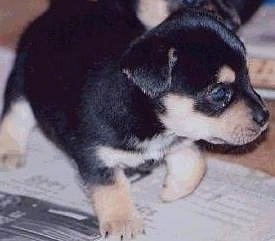 Angel the Jack Chi at 3 weeks old (her mother is a Jack Russell and father is a Chihuahua).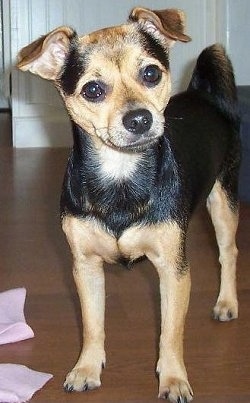 Angel the Jack Chi all grown up at 1 ½ years old (her mother is a Jack Russell and father is a Chihuahua)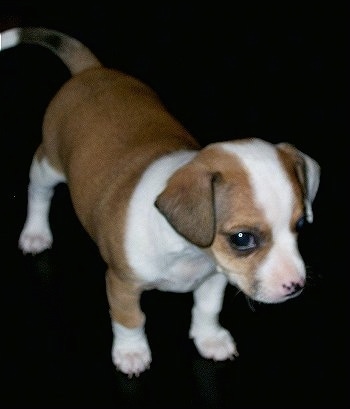 Bambi the Jack Chi (Chihuahua / Jack Russell Terrier cross) at 6 weeks old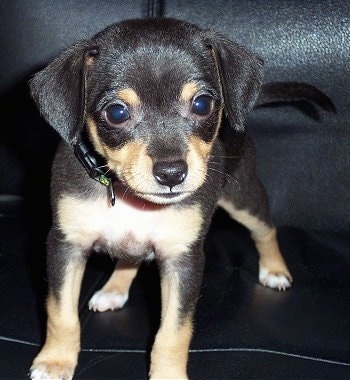 Pico the Jack Chi (Jack Russell / Chihuahua mix) puppy at 6 weeks old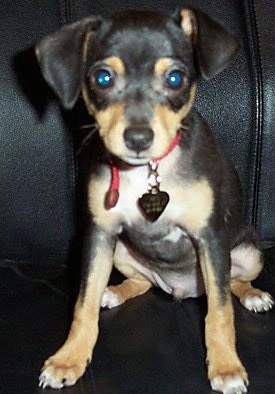 Pico the Jack Chi (Jack Russell / Chihuahua mix) puppy at 12 weeks old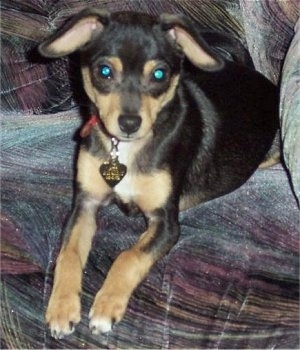 Pico the Jack Chi (Jack Russell / Chihuahua mix) puppy at 16 weeks old—"He is growing like a weed with his long legs. I think they are from daddy Chihuahua!!"
Pico the Jack Chi (Jack Russell / Chihuahua mix) at 6 months old—"He is a bundle of love and energy and we thoroughly enjoy him!!"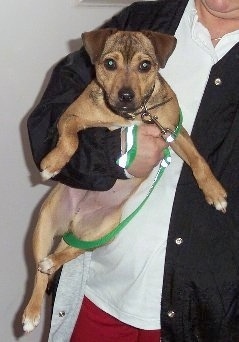 Milo the Jack Chi (Jack Russell / Chihuahua mix) at 6 months old—Milo is Pico's littermate brother, shown here at 6 months old.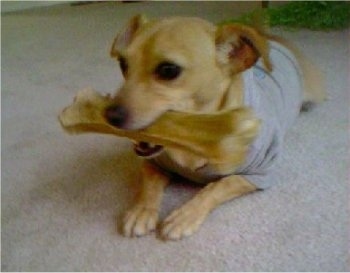 Elmo the Jack Chi (Chihuahua / Jack Russell Terrier cross) at 2 ½ years old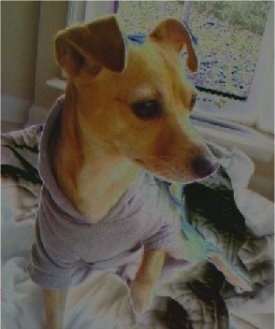 Elmo the Jack Chi (Chihuahua / Jack Russell Terrier cross) at 2 ½ years old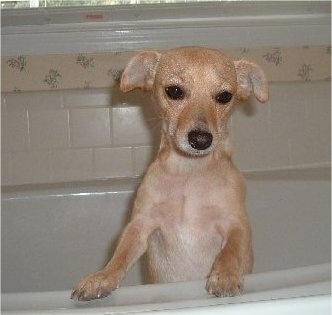 Elmo the Jack Chi (Chihuahua / Jack Russell Terrier mix) gets a bath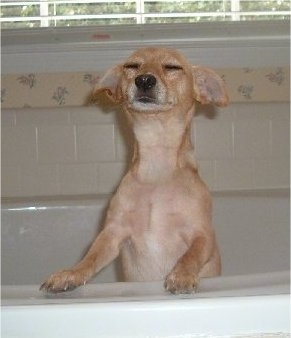 Elmo the Jack Chi (Chihuahua / Jack Russell Terrier mix) gets a bath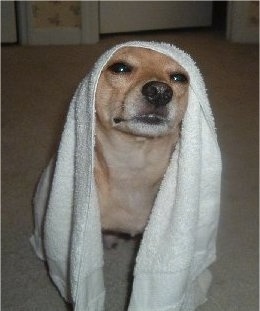 Elmo the Jack Chi (Chihuahua / Jack Russell Terrier mix) drying off after his bath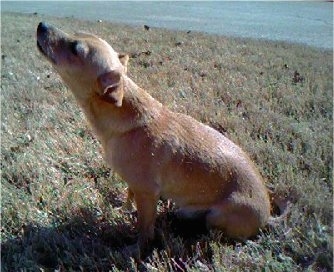 Elmo the Jack Chi (Chihuahua / Jack Russell Terrier cross) at 2 ½ years old enjoying the sun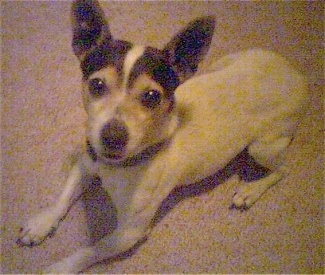 Samson the Jack Chi (Jack Russell / Chihuahua hybrid) at 10 years old—"Samson (aka Samy) is the best dog in the world! I know that every dog owner says that about their dogs, but in Samy's case it's true! My friends come to my house and say I have a rodent problem, because he is so small, but I love him to bits. He has the best temperament you could ask for even though he isn't neutered, and is very smart and easy to train. Not only this, but in the 10 years that I have had him, he has never given me any grief with his health problems (which is more than I can say for my Maltese!!) and the only little quirk is that characteristic "skip-hop" all JRTs seem to have! He has so much courage in that little heart of his, and a big bark to match, and he is not intimidated by even the largest of dogs. He's my special boy!"