Miniature Australian Shepherd and Toy Australian Shepherd Pictures
Page 2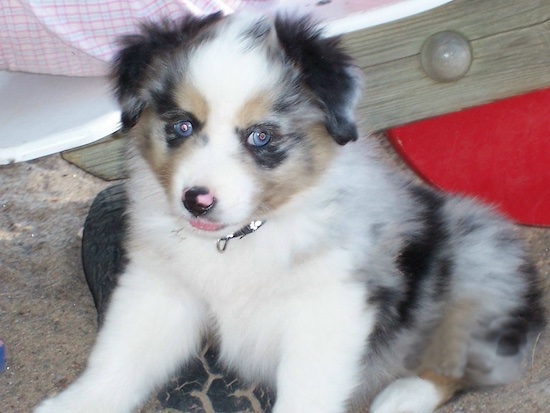 Jinxy the Miniature Australian Shepherd puppy at 7 weeks old—"We almost lost Jinxy at 8 weeks of age because he ended up getting the Parvo virus. After a 5-day stay at the vet and a lot of TLC he was as good as new"
Other Names
Miniature American Shepherd
North American Miniature Australian Shepherd
Mini Australian Shepherd
Miniature Aussie Shepherd
North American Shepherd
Mini Aussie
Mini Aussie Shepherd
Teacup Australian Shepherd
Teacup Aussie Shepherd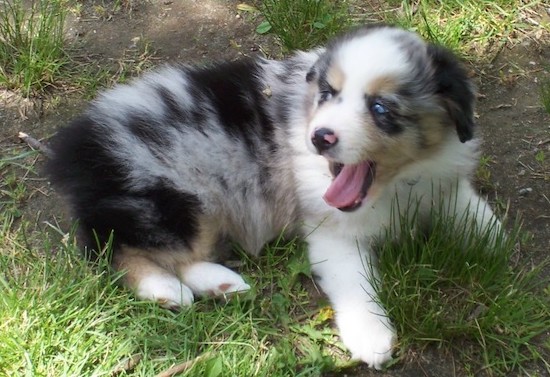 Jinxy the Miniature Australian Shepherd puppy at 7 weeks old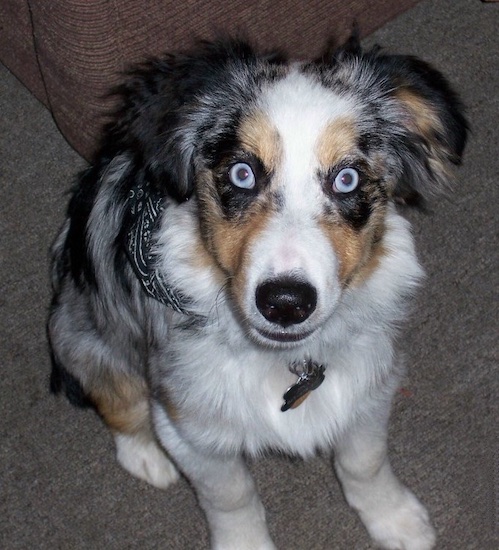 Jinxy the Miniature Australian Shepherd puppy at 5 months old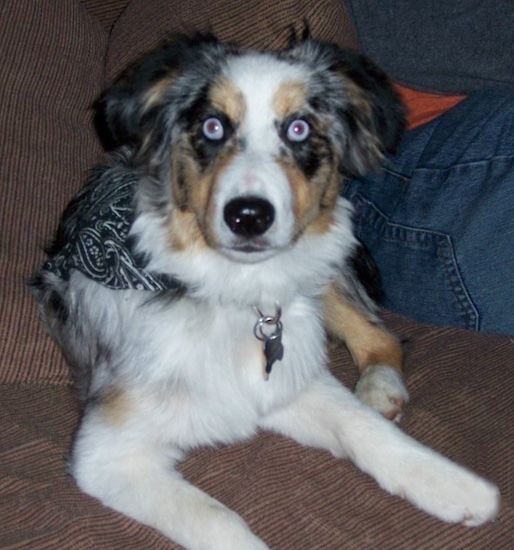 Jinxy the Miniature Australian Shepherd puppy at 5 months old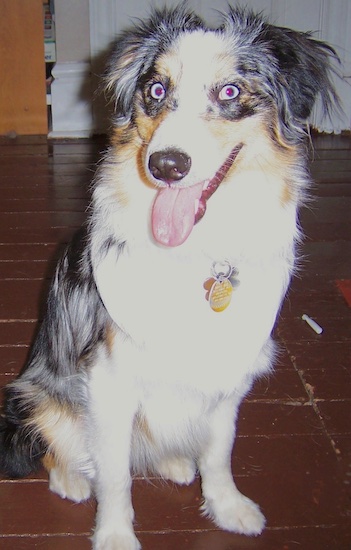 "Jinxy is now 1 year old. Today is his birthday. He weighs 26 lbs. and is around 17 inches at the withers. Jinxy should really be about 30 lbs. but due to him having Parvo as a young puppy he cannot seem to gain weight. The vets say he is healthy though, so I can deal with him being a little thin."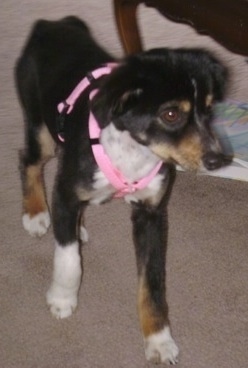 "This is my Miniature Australian Shepherd Kylie, who was 1 year 4 months at the time of this photo.
"She is purebred and came from a breeder to her first home, in Smithville, MO. Her owner put her up for free on Craigslist, claiming she was "too timid" and she just didn't like her. She was one of four dogs. I was thrilled because she was so beautiful, got along with cats and loved children. She was so sweet when I picked her up. I knew I'd made the right choice to take her home. As I was leaving, the woman said to Kylie (my dog) "This is your Christmas present—a family that can take care of you." I thought it was strange and she also didn't want me to shave her, despite the matting of her under and over coats.
"I took her immediately to the vet since I wanted to make sure she was healthy. The vet immediately said she was underweight and recommended I put her on puppy food. She was declared heartworm and parasite free. She was prescribed Advantix and a heartworm preventative. I called a groomer I knew to see if she could groom her, because she was so matted! She groomed her and told me she had ticks! Multiple ticks! It took her over 40 minutes to remove them all. I also saw how skinny she really was after she was groomed and didn't have a full coat.
"We've had her 4 weeks now and she's a joy. She has a wonderful temperament and gets along with everyone. My 4-year-old and she are buddies. She easily accepts both him and me as pack leaders. She is very fearful and timid, but I have been working with her and she's made loads of progress. We walk daily (as long as it's not cold or rainy) for about 1-2 hours. She is underweight so the walks are slow and I end them early if she's showing signs of fatigue. The first couple weeks she slept a lot since she was so underweight, but she's less tired now although she still does sleep like a puppy (with lots of activity and then crashing and falling asleep wherever she is!).
"Her biggest quirk is stealing socks! She finds them and carries them around until they are a slobbery mess! Ick! She also likes to chew cardboard. I have yet to catch her since she doesn't do it unless we're gone.
"The sweetest thing about her is the way she just melts into you when she's being petted. She has come a long way in a short time.
"I feel she is a mostly balanced dog. She's not scared of everything anymore, she walks well on a leash, she refuses to enter a doorway before a human, doesn't cry when we leave in the mornings, and she responds quickly to mild correction (such as a quick attt attt! when she's doing something naughty.) She still has some work to do with her timidity. She runs away from other dogs and cowers before people. I feel she needs more work to master these skills and become fully balanced."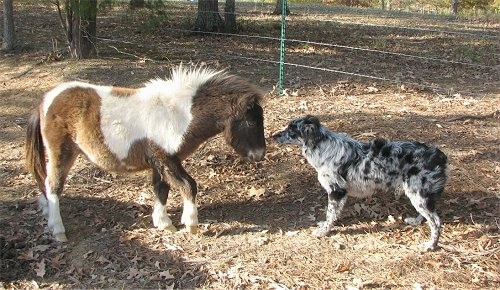 Ralphy the blue merle Miniature Australian Shepherd at 6 months old with a miniature horse.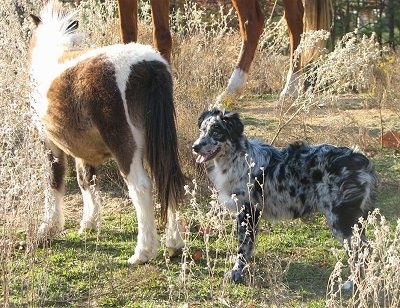 Ralphy the blue merle Miniature Australian Shepherd at 6 months old with a miniature horse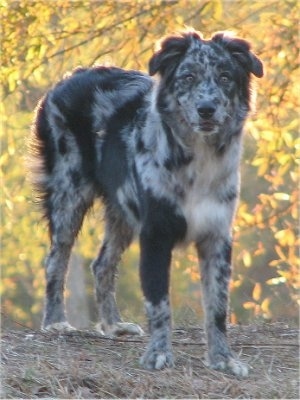 Ralphy the blue merle Miniature Australian Shepherd at 6 months old