Miniature Fox Terrier
Information and Pictures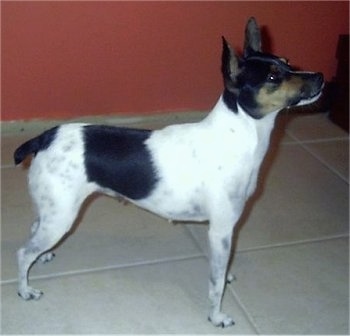 Judell Lucky, bred by J. Jones, Judell Kennels. Owned by R&C Crawford, Fleetwood Kennels. Photo used with permission.
Other Names
Mini Fox Terrier
Mini Foxi
Mini Foxie
Description
The Miniature Fox Terrier is a diminutive, agile, sweet-faced terrier that retains the hunting instincts and tenacity of its larger terrier cousins. The breed is akin to the Toy Fox Terrier and is known colloquially as the 'Mini Foxie' in its native Australia. The Miniature Fox Terrier's noble head is distinctive, with erect ears that may stand straight up or fold just at the tips. Another distinguishing feature is its articulate, oval-shaped foot. The breed standard has always allowed for the dog's tail to be docked or undocked. Natural bobtails are known to occur. There are only three permitted color combinations: black and white, tan and white and tricolor (black, white and tan).
Temperament
Loyal, inquisitive, fearless, active and adaptable, Miniature Fox Terriers have an almost dual personality: at the first sign of suspicion, danger or alarm, the demure, pampered lapdog turns instantly into a fearless watchdog, tenacious vermin killer and intrepid hunter. They are good with children who are old enough to distinguish between a dog and a plush toy, and generally get along with other pets. However, like all terriers, the Mini Fox Terrier cannot distinguish between pet rodents or pet reptiles and vermin, and should not be left alone with such animals. Do not allow them to develop Small Dog Syndrome. Do not treat them like little humans. Remember they are a canine animal. Provide for them what they instinctually need as that animal. If you do not socialize this dog and meet all of his canine instincts, he may develop a distrust with anything new or different, which can result in excessive alarm barking. It is important you take your dog out for daily pack walks.
Height, Weight
Height: 9 - 12 inches (26 - 31 cm)
Weight should be in proportion to dog's height.
Health Problems
Generally few. Mini Fox Terriers have strong constitutions and are long-lived. Breeders who are members of the Mini Foxie Club of Australia screen breeding stock against the genetic problems common in small dog breeds.
Living Conditions
These dogs are adaptable and can adjust to city or country life. Their size means they can adjust to smaller spaces. They remain popular as a safe family dog, and their low maintenance and ability to amuse themselves if given toys makes them a great choice for singles and the elderly as well.
Exercise
Mini Foxies do best with at least moderate exercise. They need to be taken on a daily walk. While out on the walk the dog must be made to heel beside or behind the person holding the lead, as in a dog's mind the leader leads the way, and that leader needs to be the human. In addition, they will enjoy playing with toys and 'smart' games in the backyard. They will happily accompany their owners on more strenuous walks and hikes, even trotting behind a horse for short stretches!
Life Expectancy
About 10 to 14 years
Litter Size
About 2 to 3 puppies
Grooming
Minimal. Mini Fox Terriers have short coats. They are always shown in a natural state. They must have regular toenail clippings.
Origin
Mini Foxies, as they are often known, have been bred in Australia (under several different names) since the 1800s. These tenacious little terriers are the descendants of fox terrier types bred in England and brought to Australia by early settlers. The breed developed along similar lines as the American Toy Fox Terrier. As far as can be determined, small Smooth Fox Terriers were crossed with Manchester (Gentlemen's) Terriers. Smaller puppies from these litters were further bred and later crossed with other small breeds such as English Toy Terrier, Whippet and Italian Greyhound. Breeders were seeking a light, fast dog that would retain the characteristics of the Fox Terrier, while hunting smaller pests such as rabbits and rodents. The Miniature Fox Terrier is an Australian breed which has bred true for generations. Its look is unique.
Group
Terrier
Recognition
ACA = American Canine Association Inc.
DRA = Dog Registry of America, Inc.
MFCA = Mini Foxie Club of Australia Inc.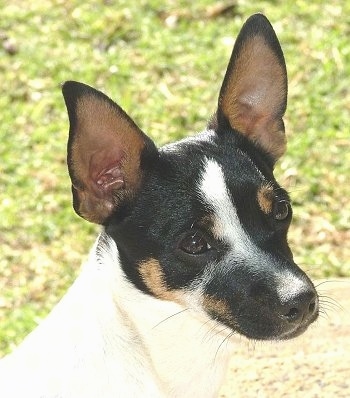 Cindy of Davmac tricolored Miniature Fox Terrier, owned by J. MacGinniskin, photo used with permission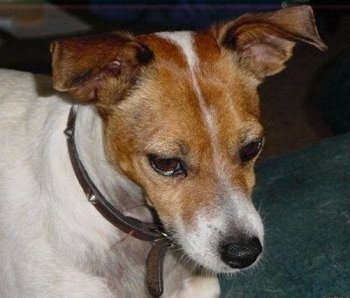 "Tipped ear" Mini Fox Terrier named Squirticus, owned by M&A Curry, photo used with permission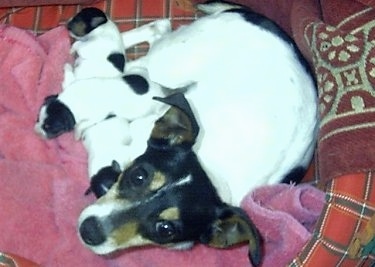 Pasqua of Ceruti Lodge with a litter of puppies, owned and bred by A. Field, photo used with permission
Tree climber: Maranoa Diane Tan and white Miniature Fox Terrier, bred by F& W Mitcherson, wwned by A&C Hoffmann, photo used with permission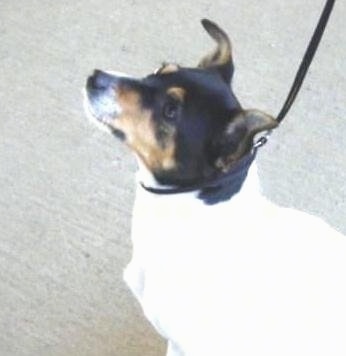 Fleetwood Amy Belle, a tricolored Miniature Fox Terrier, Bred by R&C. Crawford, Owned by J Merchant, photo used with permission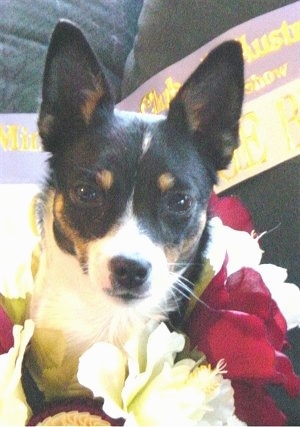 Zoe BIS headshot, Jocara Rhiannan tricolored Miniature Fox Terrier, Best in Show - Castle Hill, New South Wales, November 2006, bred by J Merchant, owned by M&A Curry, photo used with permission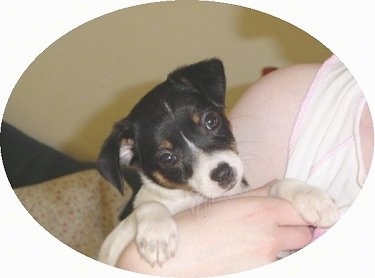 Zoe pup, Jocara Rhiannan tricolored Miniature Fox Terrier as a puppy, bred by J Merchant, owned by M&A Curry, photo used with permission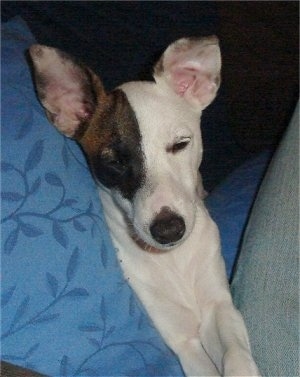 Missy the Mini Fox Terrier puppy at 4 months old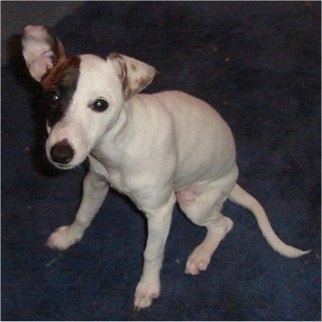 Missy the Mini Fox Terrier puppy at 4 months old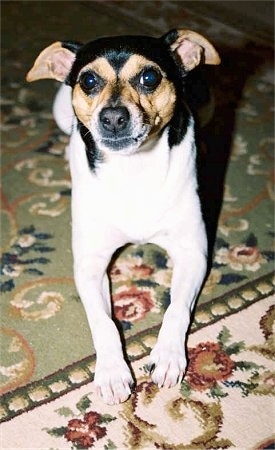 "Me...me me me me me me...." Lucy, our Miniature Fox Terrier—Lucy's owner says, "What a wonderful breed of dog. I enjoy her more every day. :)"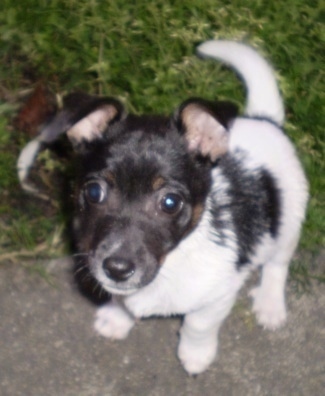 "My dog is called Buddy and he is just a puppy in this picture. He is a purebred Mini Foxie and he is an active little dog. He loves playing with other dogs and sleeping under the covers in his own bed. He dislikes swimming and driving in the car for long trips, as he gets car sick. He has a bad habit of jumping up on people and the outside table. His good habits are he is a good security dog and he never fights with other dogs."