Miniature Pinscher Pictures
(Zwergpinscher) (Min Pin)
Page 4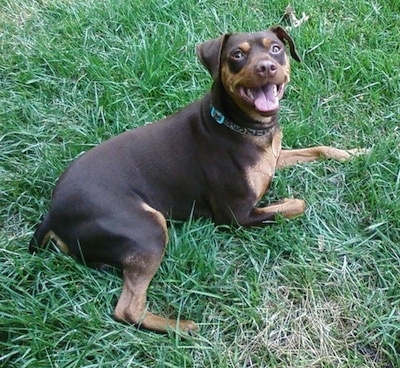 "Here are some pics of my "big boned" Min Pin Dasher aka Dash. Sometimes it's hard to tell in photos but he is chocolate and tan. He's a great dog! Humorous to watch, cuddly, housetrained and social. He is also great with kids. I wanted to send some pics to your website to show owners of other "big boned" Min Pins they are not alone. Our dogs are just as good looking as the tiny ones."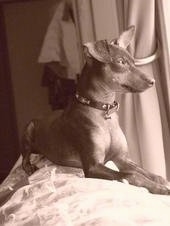 "My name is Taylor Jade. I am a Miniature Pinscher. My mommy rescued me from a wonderful foster home two years ago. When she rescued me, she was living by herself and she tells me all the time that I kept her going, and kept her from being lonely. I was three months old when I came to my new home, and since then our family has grown! I now have a wonderful daddy, and three sisters and a brother. One of my sisters is a yellow Lab and the rest of my siblings are also Miniature Pinschers. I love snuggling and playing with my family. I am a true daddy's girl! I used to be a mommy's girl, but then I met dad! Mom doesn't mind, she loves him too. My favorite is when my mommy takes me places. We have a new house that I love! I am really spoiled (if I do say so myself) and love playing my mommy's heart strings. She tells me all the time that I shouldn't eat people food, but if I make my eyes really big, sometimes she shares just a little bit of her food with me! I try to listen very well, but sometimes I can't help it and get into things I'm not supposed to. Mommy and daddy get mad, but I've found if I pout, then they don't stay mad too long. Sometimes I can't help but be very jealous when mommy and daddy are playing with the other dogs! This is my favorite picture of me, my mommy took it a couple of months after I came to live with her. I hope you enjoy it!"
Zoë (left) at about 1 year and Tyson at as a puppy at 7 weeks old sitting with their owner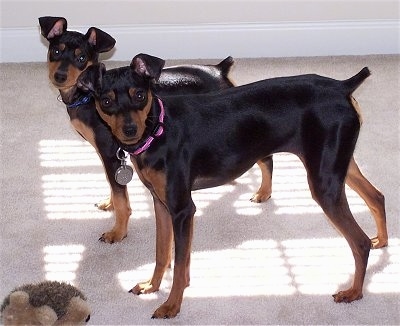 Zoë at 1 ½ and Tyson at 6 months old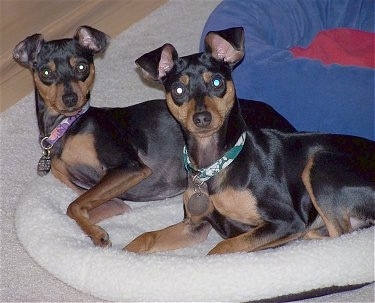 Zoë at 2 years old and Tyson at 11 months old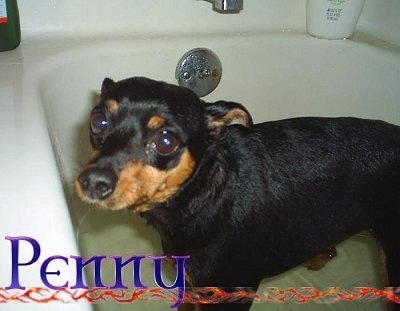 Penny the Miniature Pinscher in the bath tub getting all cleaned up.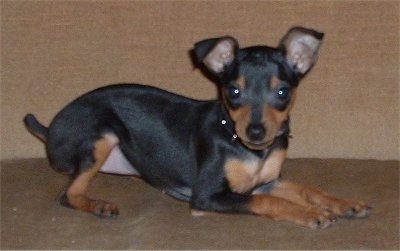 Piper the Min Pin puppy at 3 ½ months old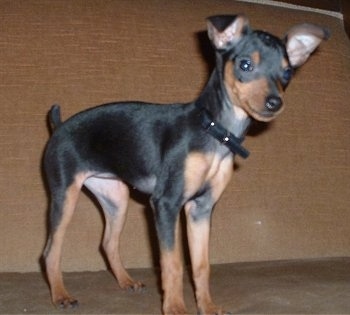 Piper the Min Pin puppy at 3 ½ months old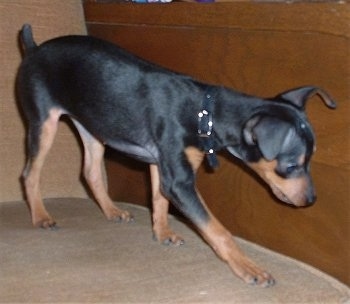 Piper the Min Pin puppy at 3 ½ months old
Piper the Min Pin puppy at 3 ½ months old