Rescue a Pocket Beagle
Pocket Beagle Puppies for Sale
Pocket Beagle
(Mini Beagle) (Olde English Pocket Beagle) (Miniature Beagle) (Toy Beagle) (Teacup Beagle)
Riley the Pocket Beagle puppy at 4 months old
Pronunciation

Your browser does not support the audio tag.

Description

A hardy, sturdy squarely-built, small hound, the Pocket Beagle has a sleek, easy-care, short coat that can come in any hound color, for example, tricolor, black and tan, red and white, orange and white, or lemon and white. The coat is close, hard and of medium length. The Pocket Beagle looks like a small English Foxhound. The skull is broad and slightly rounded, and the muzzle is straight and square. The feet are round and strong. The black nose has full nostrils for scenting. The long, wide ears are pendant. The brown or hazel eyes have a characteristic pleading expression. The tail is carried gaily, but never curled over the back. Pocket Beagles have a distinct howl / bay of a bark when they are on the hunt.

Temperament

The Pocket Beagle is a gentle, sweet, lively and curious dog that just loves everyone! A happy little tail-wagger! Sociable, brave, intelligent, calm and loving. Excellent with children and generally good with other dogs, but should not be trusted with non-canine pets, unless they are socialized with cats and other household animals when they are young. Pocket Beagles have minds of their own. They are determined and watchful and require patient, firm training along with a true pack leader. This breed doesn't like being left alone. Consider buying two if you will be gone a lot. To avoid separation anxiety, be your dog's pack leader, and make sure your dog gets enough meaningful exercise, such as a pack walk, along with nose exercises where he can use his hunting instincts. A Pocket Beagle has a loud baying cry that was a delight to hunting horsemen, but can be disturbing to family and neighbors. Pocket Beagles have a tendency to follow their own noses. They may take off on their own exploration if let off their leashes in an unfenced area.

Height, Weight

Height: 7 - 12 inches (18 - 30 cm)
Weight: 7 - 15 pounds (3 - 7 kg)

Health Problems

Some lines can be prone to heart disease, epilepsy, eye and back problems. Also prone to chondroplasia aka dwarfism (warped front legs, like a Basset's).

Living Conditions

Pocket Beagles will do okay in an apartment if they get plenty of chances to be outdoors. They are very active indoors and a small yard will be sufficient.

Exercise

Energetic and possessing great stamina, the Pocket Beagle needs plenty of exercise, which includes a daily walk. A yard of reasonable size will take care the rest of its requirements. Always use a lead when walking this breed or you will be running the risk of it disappearing in search of wild game.

Life Expectancy

About 12-15 years

Litter Size

2 - 14 puppies, average 7

Grooming

The Pocket Beagle's smooth, shorthaired coat is easy to look after. Brush with a firm bristle brush, and bathe with mild soap only when necessary. Dry shampoo occasionally. Be sure to check the ears carefully for signs of infection and keep the nails trimmed. This breed is an average shedder.

Origin

The Pocket Beagle is a smaller version of the standard Beagle. The smaller Beagle originated in England. Used as a hunting dog, it could travel under shrubs, brush and bushes and was used to hunt small animals such as rabbits. The name Old English Pocket Beagle originated because the hunters would carry the dogs in their saddlebags. It is said these original small size Beagles had become extinct, however they have been re-created and are now being bred once again.

Group

Hound

Recognition

DRA, ACA
DRA = Dog Registry of America, Inc.
ACA = American Canine Association Inc.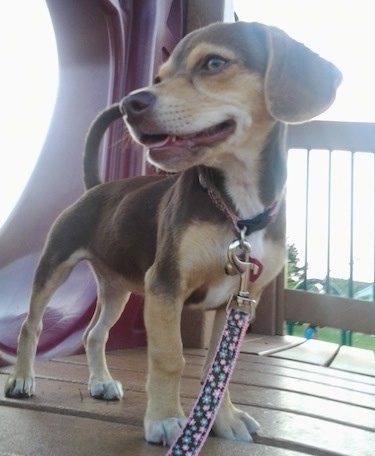 Chloe the Pocket Beagle as a puppy at 4 months old—"Chloe is a hyper, feisty, active puppy. She is very stubborn and likes to do things her way. Like all Beagles she follows her nose. She loves to eat and go for walks. Even though she is stubborn, she is very smart. She is already potty trained and know sit and lie down. She loves to play with her toys and take long naps. She is a barker and barks at anything. Even with all her trouble she is a great and loving dog."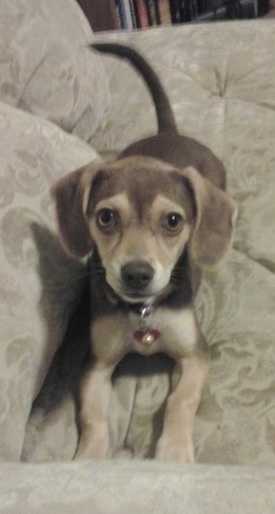 Chloe the Pocket Beagle as a puppy at 4 months old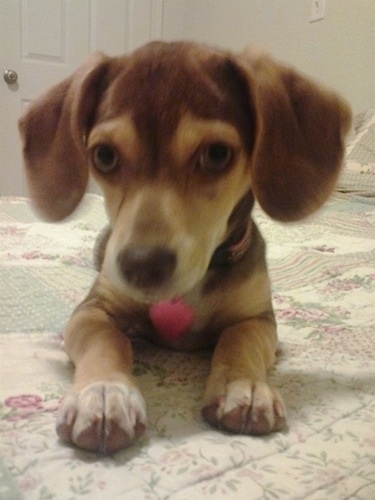 Chloe the Pocket Beagle as a puppy at 4 months old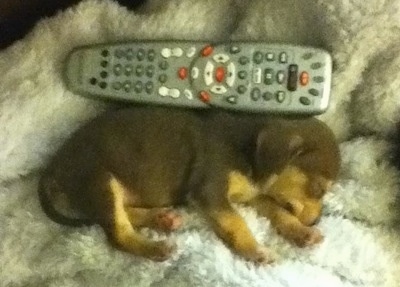 Chloe the Pocket Beagle as a young puppy
______________________________________________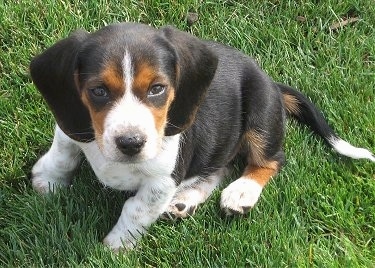 Riley the Pocket Beagle puppy at 4 months old

Litter of Olde English Pocket Beagle puppies, photo courtesy of Pocket Beagles USA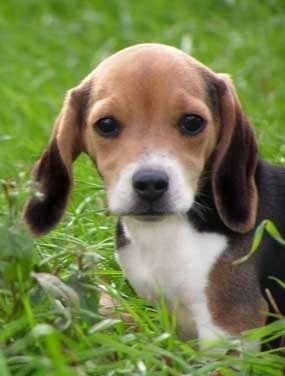 Pocket Beagle puppy, photo courtesy of Pocket Beagles USA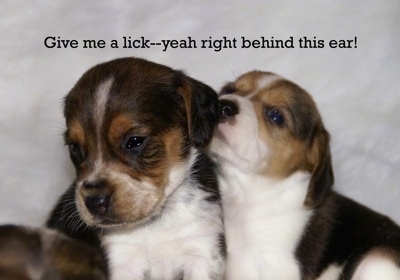 Pocket Beagle puppies, photo courtesy of Pocket Beagles USA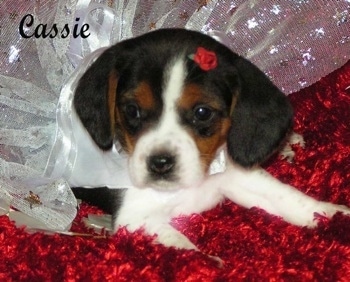 Cassie the Pocket Beagle puppy, photo courtesy of Pocket Beagles USA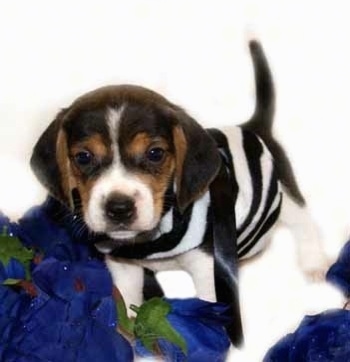 Mac the Pocket Beagle puppy, photo courtesy of Pocket Beagles USA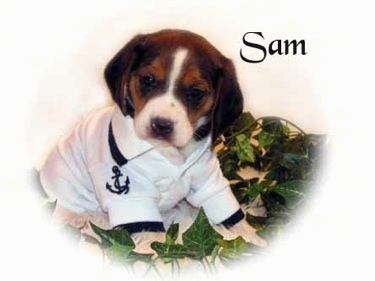 Sam the Pocket Beagle puppy, photo courtesy of Pocket Beagles USA
Small Dogs vs. Medium and Large Dogs