Rescue a Small Swiss Hound
Small Swiss Hound Puppies for Sale
Small Swiss Hound
(Smaller Swiss Hound) (Schweizerischer Niederlaufhund) (Small Bernese Hound) (Berner Niederlaufhund) (Small Jura Hound) (Jura Niederlaufhund) (Small Lucerne Hound) (Luzerner Niederlaufhund) (Small Schwyz Hound) (Schwyzer Niederlaufhund) (Smaller Bernese) (Bernese Swiss Hound - Small)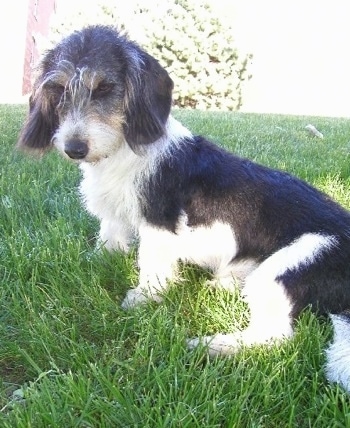 Ago Vom Farnsberghof is a rough-coated variety of the Small Bernese Hound, also known as a Berner Niederlaufhund.—"His registered name in Switzerland is Ago Vom Farnsberghof. He is the best dog in the world, all the way around. The best hunting dog, the most laid-back dog, the friendliest, most intelligent, but I am—of course—prejudice. My dog Ago is called a "rough coat"; very rare in the Berner Niederlaufhund family (perhaps one in forty are rough coated)."
Description

There are four varieties that differ only in color. They are as follows:

Small Bernese Hound (Berner Niederlaufhund) - black and white with tan markings over the eyes, often considered tricolor. This variety has two coat types, smooth and rough. The rough coat has a coarse-haired, harsh, single coat with a small beard on the face.

Small Jura Hound (Jura Niederlaufhund) - smooth single coat, black with tan markings above the eyes, with some white.

Small Lucerne Hound (Luzerner Niederlaufhund) - smooth white coat speckled with grey or black to give a blue appearance, with black patches and tan marks over the eyes.

Small Schwyz Hound (Schwyzer Niederlaufhund) - smooth white coat with yellow-red to orange-red patches.

This medium-sized breed is a smaller version of the "Swiss Hound" type Schweizer Laufhund. It is rectangular in shape, moderately long and well built. It has a clean, noble head with a friendly alert facial expression. The chest and ribcage are broad and deep, giving plenty of heart and lung room. Limbs are lean and robust. When moving slowly, the tail is carried hanging down; in action, it is curved slightly upwards. When seen from the front, the head is rather long and slender, gradually getting broader toward the cheeks. This dog possesses a soft undercoat covered by a dense, hard outer coat.

Temperament

The Small Swiss Hound is a hunting dog in the most specific meaning of the word. It is able to hunt on difficult terrain. It has an excellent nose, driving the game with great determination. Friendly, companionable, reliable and strong, it makes an excellent companion. Temperament varies from calm to lively depending on the amount of exercise received. Do not allow this dog to develop Small Dog Syndrome. Always provide for your dog what it instinctually need as an animal.

Height, Weight

Height: 13 - 17 inches tall (33 - 43cm) by 36 - 42 inches long (91 - 106 cm)
Weight: 18 - 33 pounds (8 - 15 kg)

Health Problems

Generally a healthy breed.

Living Conditions

This very rural dog needs to hunt. It needs grass, trees and dirt. It is not a city or apartment dog. Ideally, a farm environment is best.

Exercise

It should be taken on daily, long walks. As with all dogs, exercise is key. Be aware, however, that the Small Swiss Hound is a scenthound, and a walk takes a little longer than with a dog that isn't a scenthound.

Life Expectancy

12-14 years

Grooming

Grooming is important.

Origin

Originating in Switzerland, the Schweizer Niederlaufhunde, or Small Swiss Hound, is a smaller version of the Swiss Hound. There are four varieties of the Small Swiss Hound which vary only in color. At the turn of the century, the sport of shoots (hunting grounds) was introduced into several Swiss Cantons. The popular medium-sized Swiss Hounds (Schweizer Laufhunde) were too fast for enclosed shoots. So it was decided to replace them with smaller short-legged scenthounds. The new smaller breed, bred through planned selection of stock and suitable crossing, was called "Niederlaufhund ("short-legged scenthound"). It is relatively low on leg, with attractive coat colors similar to those of the medium-sized Swiss Hounds (Schweizer Laufhunde). It has a cry when hunting and searching that is music to a handler's ears. This breed has a very passionate determination to find game and to do track work. The Schweizer Niederlaufhund Club, first known by the name "Schweizerischer Dachsbracken Club," was founded on June 1, 1905.

Group

Scent Hound, Hunting, FCI group 6

Recognition

FCI, DRA, ACA
FCI = Fédération Cynologique Internationale
DRA = Dog Registry of America, Inc.
ACA = American Canine Association Inc.
.

Small Dogs vs. Medium and Large Dogs