Texas Heeler Pictures
Australian Cattle Dog / Australian Shepherd Dog Hybrid Dogs
Page 3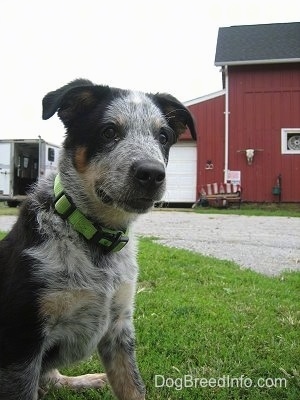 "This is Dean, an F1b Texas Heeler hybrid at 11 weeks old. His mother was a Texas Heeler; his father a Blue Heeler. Dean was adopted by Clover Leaf Stables, a horse farm in DE. Dean just loves everyone. When I first met Dean he came over and licked my face. Then he rolled over for a belly rub. Dean met Bruno the Boxer Puppy. At first Dean barked at Bruno and Bruno was not too sure about Dean. After about 10 minutes, the two of them had hit it off playing. Dean is noticeably a faster runner than Bruno. Dean would run circles around Bruno, and let Bruno catch up and Dean would roll onto his belly. Dean was displaying submissive behaviors. He's a very good dog to have at a horse farm. Clover Leaf Stables offers horse riding lessons, trail rides, birthday parties, camps and much more. A group of "barn girls" around the ages of 10 on up often come to the barn just to hang out and help with the horses. It's a great place for kids to learn about horses."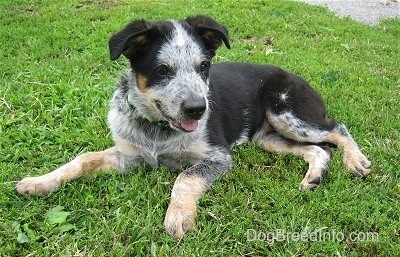 Dean the F1b hybrid Texas Heeler Puppy at 11 weeks old—"Dean's a happy boy living on the horse farm."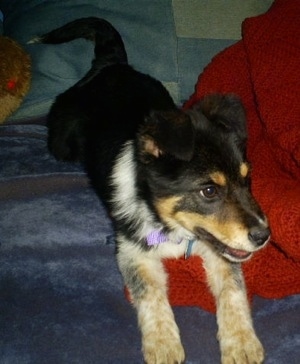 "We got Layla from a shelter when she was approx. 3 1/2 months old. She is so smart! Completely housetrained in 3 days, learned how to sit the first day we had her and come/stay/no within days. Although, she loves to watch the toilet flush, her little head goes round and round, we now have to keep the lid down so she doesn't drink out of the toilet.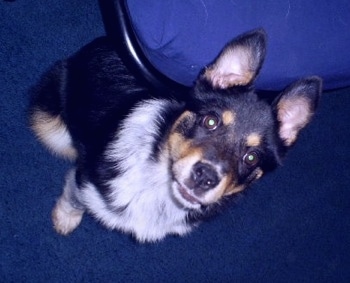 "We've been anticipating if her ears will stand up or not; today they did for the first time!"