Texas Heeler Pictures
Australian Cattle Dog / Australian Shepherd Dog Hybrid Dogs
Page 2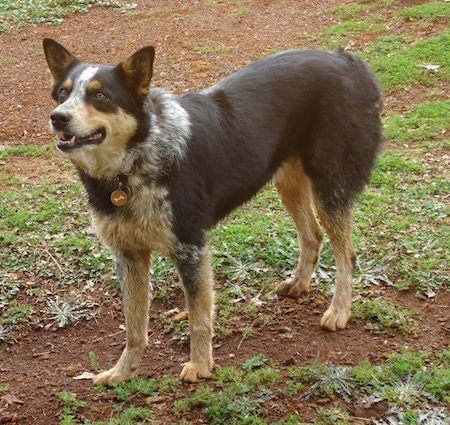 Cash the Texas Heeler—"Cash came to me as a stray 6-month-old puppy in the winter of 2007. He weighs in at 40 pounds and probably stands around 19 inches at the withers. His activity level varies with what I am doing. He has always been able to read my moods extremely well and his energy reflects that. He is extremely smart but extremely hardheaded at times. When I first got Cash, I lived in a small apartment and I took him for long walks/jogs twice a day. We now live on a large farm and he loves his freedom. I used Cesar Millan training techniques on him and he has done fabulous. Cash trusts me wholeheartedly and there isn't anything I can't ask him to do. He is always a pleasure at the vet's office and one of their favorite patients. For a herding breed, he gets along really well with cats as long as he is introduced to them as kittens. He "trains" them to run so that he can herd them but he never harms them. I wouldn't say that he has an extremely outgoing personality. He is a little wary of strangers but is accepting when he sees that I am. He has never been a lovey dovey kids dog but he loves my twins. In the seven years I have had him, he has only licked my face once. He isn't a kisser but he will give your hand an occasional lick."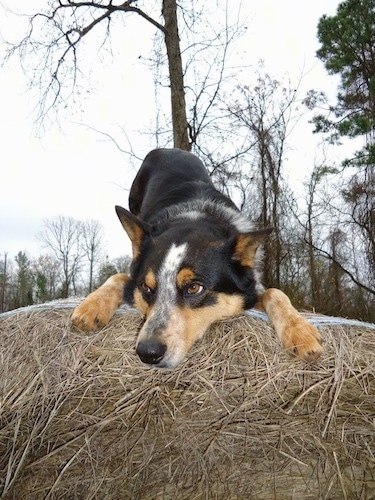 Cash the Texas Heeler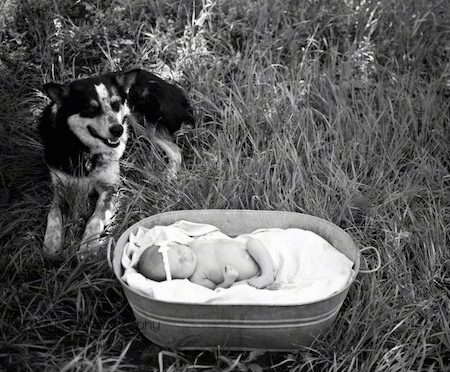 Cash the Texas Heeler with the baby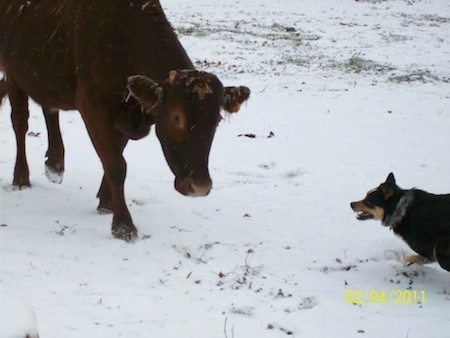 Cash the Texas Heeler herding a cow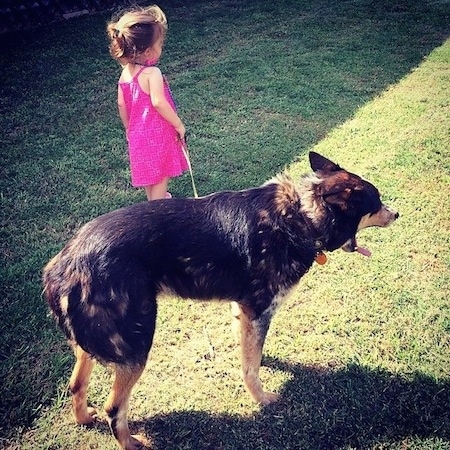 Cash the Texas Heeler with the little girl
"Rocky the Texas Heeler at 9 years old—his father is a Blue Heeler and his mother is an Australian Shepherd. He is a wonderful combination of smart and playful. He guards the house, but loves nothing more than playing fetch with his squeaky toy. And he'll corner flies in windows and chomp them down—no need for a fly swatter here! He will always be an affectionate, loving puppy dog."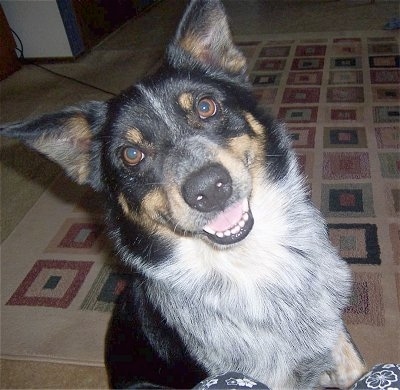 "Azulito, a beloved Texas Heeler at 4 years old—his mother is a purebred Australian Shepherd from a working cattle ranch, and his father a purebred Australian Cattle Dog (awesome Frisbee dog). Azulito is smart, beautiful and has a very wonderful personality. He has a lot of energy, likes to swim and run, but loves being an "Australian Couch" dog when he can get away with it."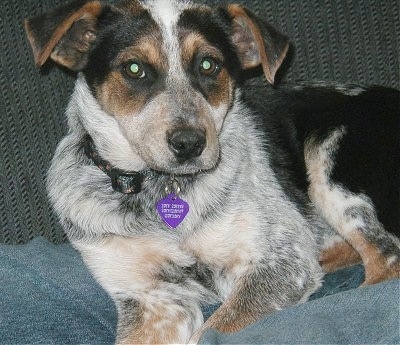 "This is our 2-year-old "puppy" Zoey. She's an Australian Shepherd / Blue Heeler mix. She is by far the best doggie we have ever owned and she just loves nothing more to be loved, played with and to please us all the time! SHE IS THE BEST DOG IN THE WORLD!!!"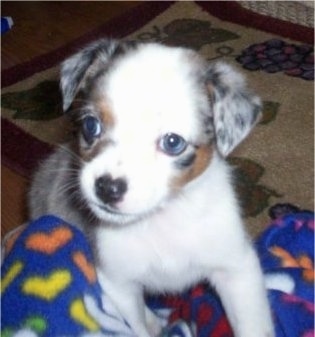 "This is Tassle. He is a Texas Heeler that LOVES shoes. In these pictures he is 7 weeks old. He is a crazy little thing. He has pretty partial blue eyes and long legs. He is wild. He doesn't like loud noises or pianos. He is a great little puppy."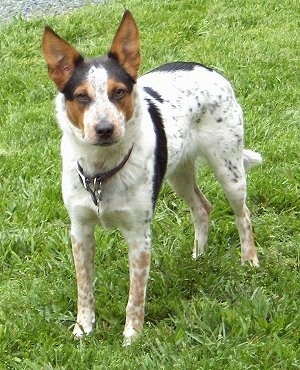 "Sugar, an Australian Cattle Dog / Australian Shepherd mix breed at 1 year old—she is the smartest dog I have ever known."