Vanguard Bulldog
Information and Pictures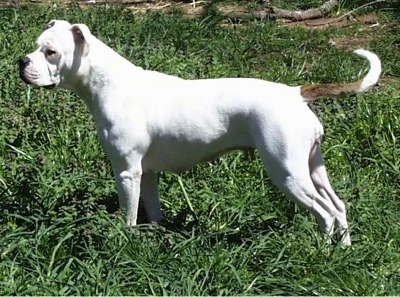 Photo Courtesy of Kaolin Kennels
Other Names
--
Pronunciation
VAN-gahrd BUHL-dawg
Description
A medium- to large-sized bully type dog. The coat is short and smooth in a variety of colors and markings.
Temperament
The Vanguard Bulldog is a very functional and versatile bulldog. It is an excellent guardian for the family and/or farm with a natural and superb protection drive, active and highly athletic. It needs a firm, confident, consistent pack leader. Well-socialize and obedience train your Vanguard Bulldog at an early age. These dogs need to be around people and know their place in their pack to be truly happy, needing a strong-minded pack leader who can tell the dog what is expected of them. Without enough daily mental and physical exercise they will become high strung and may become hard to handle.
Height, Weight
Height: Males 18 - 21 inches (24 - 53 cm) Females 17 - 21 inches (43 - 53 cm)
Weight: Males 40 - 65 pounds (18 - 29 kg) Females 35 - 60 pounds (16 - 27 kg)
Health Problems
None noted.
Living Conditions
The Vanguard Bulldog will do okay in an apartment if it is sufficiently exercised.
Exercise
The Vanguard Bulldog needs daily exercise and should be taken on a long walk or jog. Without enough exercise the Vanguard Bulldog can become destructive.
Life Expectancy
12-16 years
Grooming
The Vanguard Bulldog requires little grooming. The short coat is easy to groom. Comb and brush with a firm bristle brush, and bathe only when necessary. This breed is an average shedder.
Origin
Southern U.S.
Group
Working
Recognition
BBC = Backwoods Bulldog Club
DRA = Dog Registry of America, Inc.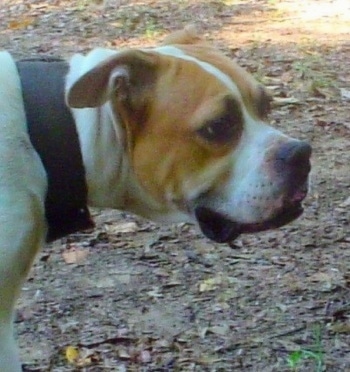 Adult Vanguard Bulldog—Photo courtesy of Kaolin Kennels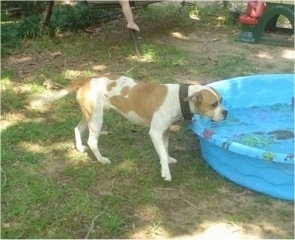 An adult Vanguard Bulldog about to get in the splash pool—Photo courtesy of Kaolin Kennels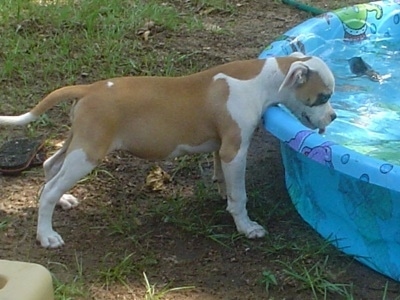 A Vanguard Bulldog puppy drinking from the splash pool—Photo courtesy of Kaolin Kennels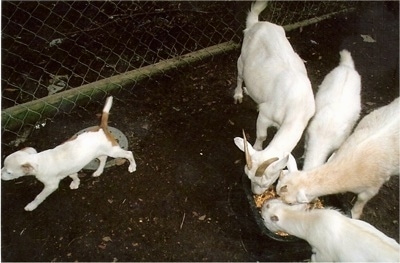 Vanguard Bulldog puppy with the goats, photo courtesy of Kaolin Kennels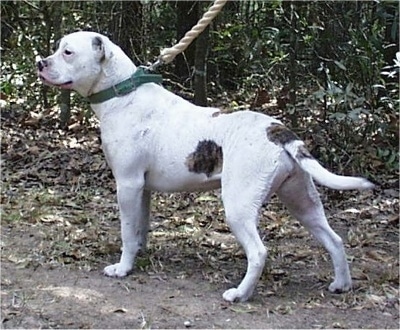 Photo courtesy of Kaolin Kennels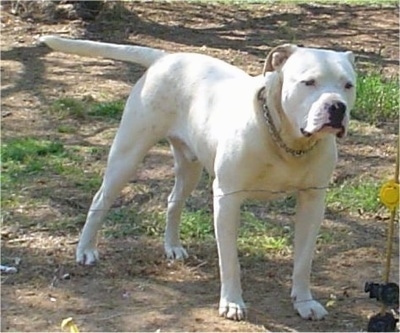 Adult Vanguard Bulldog—Photo courtesy of Kaolin Kennels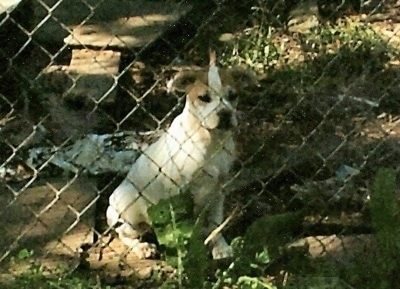 Vanguard Bulldog puppy—Photo courtesy of Kaolin Kennels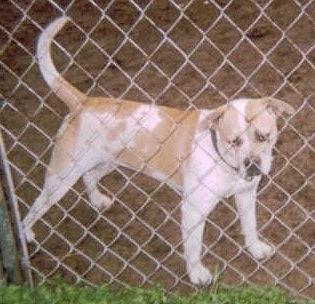 Adult Vanguard Bulldog—Photo courtesy of Kaolin Kennels